Missouri police have used pepper spray against protesters outside a Donald Trump rally in Kansas City. 
Mounted police were caught on camera spraying into a crowd holding up placards denouncing the Republican frontrunner as  violent protests continued to dog his campaign.
Kansas City police did not say if the use of pepper spray was on demonstrators or Trump supporters but they made two arrests.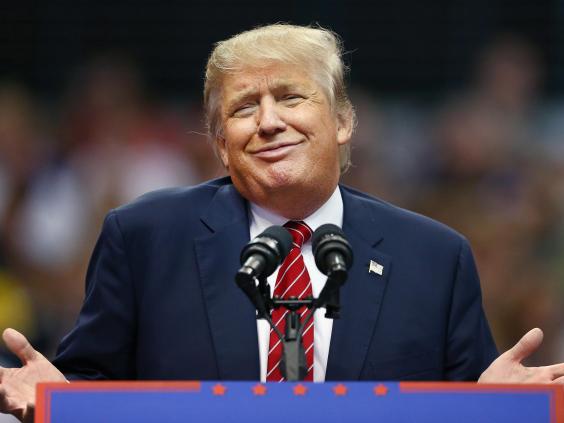 Television images showed one protester rubbing his eyes and saying that he had been sprayed.
As a boisterous group of protesters gathered outside the theatre where Mr Trump spoke in Kansas City, the event concluded without significant incident. Police say the majority of people exercised their rights to gather peacefully.
Mr Trump's remarks were interrupted about a dozen times by protesters who managed to get into the theatre and they were escorted out.
The billionaire businessman had asked police to arrest protesters in Kansas City, saying fear of an "arrest mark" on people's records may put an end to the near-constant disruptions at his rallies.
He blamed Democrat contender Bernie Sanders' supporters for trouble at his rallies, referring to the left-wing Vermont politician as "Bernie our communist friend" and calling him a "lousy" senator.
Some signs for Mr Sanders have appeared at the protests but there is no indication of an organised effort from his Democratic campaign to undermine Mr Trump or that Mr Sanders' supporters were dominating the demonstrations. Mr Trump said he had seen some Hillary Clinton signs too.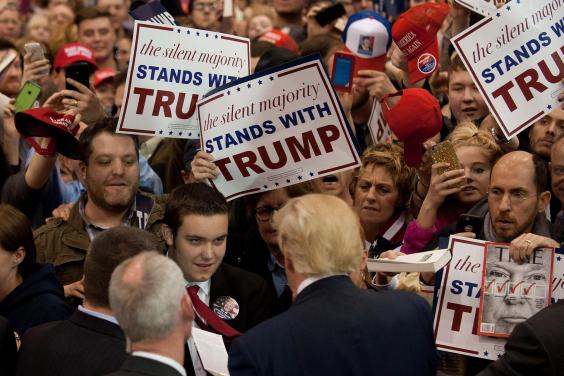 It comes as the increasing protests against Mr Trump seemed to seem to have disrupt his campaign. 
He blamed the last minute cancellation of a campaign event in Chicago on Friday on "thug" supporters of Mr Sanders and Ms Clinton but claimed they had "totally energised America" to fight against them. 
He brushed off the appearance of protesters at the Kansas City rally,  repeatedly ridiculing them as people with a "little weak voice", saying: "Go home to mommy."
Even while stirring up his boisterous supporters, he asked security to be "very gentle" when taking the protesters out.
About 20 minutes into his remarks, more than a dozen demonstrators were escorted out, offering little resistance. Most of them were white.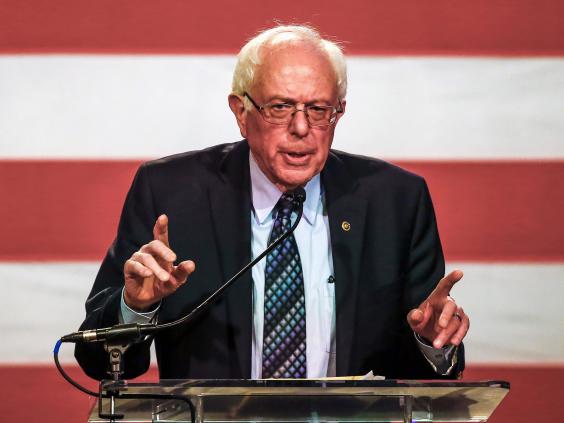 Mr Trump was eager to engage them, saying: "There is nothing so interesting as a Trump rally."
But despite his bluster, he was visibly shaken after an audience member tried to breach the security barrier at an event in Ohio on Saturday.
Republican National Committee chairman Reince Priebus said that with the world watching the US presidential election, political leaders in both parties had a responsibility to ensure that the "discourse we engage in promotes the best of America".
Mr Priebus never mentioned Mr Trump by name and focused his comments on leaders in both parties, saying he hoped voters could exercise their First Amendment rights in a manner "that is respectful of our fellow Americans".
He added that violence "is never the answer".
Meanwhile Marco Rubio was the victor in the Republican caucuses in Washington DC, the third presidential contest victory for the Florida senator after wins in the Minnesota caucuses and the Puerto Rico primary.
Donald Trump's most controversial quotes
Donald Trump's most controversial quotes
1/14 On Isis:

"Some of the candidates, they went in and didn't know the air conditioner didn't work and sweated like dogs, and they didn't know the room was too big because they didn't have anybody there. How are they going to beat ISIS?"

Getty

2/14 On immigration:

"I will build a great wall — and nobody builds walls better than me, believe me —and I'll build them very inexpensively. I will build a great, great wall on our southern border, and I will make Mexico pay for that wall. Mark my words."

Reuters

3/14 On Free Trade:

"Free trade is terrible. Free trade can be wonderful if you have smart people. But we have stupid people."

PAUL J. RICHARDS | AFP | Getty Images

4/14 On Mexicans:

"When Mexico sends its people, they're not sending their best. They're sending people that have lots of problems. They're bringing drugs. They're bringing crime. They're rapists."

Getty

5/14 On China:

"I just sold an apartment for $15 million to somebody from China. Am I supposed to dislike them?... I love China. The biggest bank in the world is from China. You know where their United States headquarters is located? In this building, in Trump Tower."

Getty Images

6/14 On work:

"If you're interested in 'balancing' work and pleasure, stop trying to balance them. Instead make your work more pleasurable."

AP

7/14 On success:

"What separates the winners from the losers is how a person reacts to each new twist of fate."

8/14 On life:

"Everything in life is luck."

AFP

9/14 On ambition:

"You have to think anyway, so why not think big?"

Getty Images

10/14 On his opponents:

"Bush is totally in favour of Common Core. I don't see how he can possibly get the nomination. He's weak on immigration. He's in favour of Common Core. How the hell can you vote for this guy? You just can't do it."

Reuters

11/14 On Obamacare:

"You have to be hit by a tractor, literally, a tractor, to use it, because the deductibles are so high. It's virtually useless. And remember the $5 billion web site?... I have so many web sites, I have them all over the place. I hire people, they do a web site. It costs me $3."

Getty Images

12/14 On Barack Obama:

"Obama is going to be out playing golf. He might be on one of my courses. I would invite him. I have the best courses in the world. I have one right next to the White House."

PA

13/14 On himself:

"Love him or hate him, Trump is a man who is certain about what he wants and sets out to get it, no holds barred. Women find his power almost as much of a turn-on as his money."

Getty Images

14/14 On America:

"The American Dream is dead. But if I get elected president I will bring it back bigger and better and stronger than ever before and we will make America great again."

GETTY
He picked up 10 delegates with his Washington win, with nine delegates for runner-up Ohio governor John Kasich, who was just 50 votes behind.
None of the other candidates in the race won enough votes to earn any delegates.
Additional reporting by AP
Reuse content