Elections are meant of course to be about candidates offering competing visions for the future -ideas, solutions, policy prescriptions. But tonight in America it will just be about the numbers.
Can Jason Carter, the grandson of the former president, get the votes in Georgia to be its next governor?  Above all, can the Republicans pick up the six seats they need to take control of the US Senate?
Yet if voters in these American midterms are hard pressed to remember a single actual idea put to them by a candidate, they will tell you how bloated the entire process has become, especially if they live in a state with important competitive contests. They know that these have been the costliest midterms in history and that most of the cash sloshing about has funded blizzards of negative TV advertising.
This, in other words, has been American election, not of issues, but of excesses. 
Spending on all the races – for one third of the seats in the US Senate, all of the House of Representatives, as well as for governorships in 27 states – has reached almost $4 billion. 
In Florida, $150 million has been spent just in the governors' race between Rick Scott, the Republican incumbent, and his challenger, Charlie Crist.
US midterms
US midterms
1/14 US midterms

Candidates are fighting for all 435 seats in the House of Representatives.

The lower house of the United States Congress currently has a Republican majority

Getty

2/14 US midterms

33 of the 100 seats in the US Senate are up for grabs.

The upper house of the United States Congress currently has a Democratic majority

AFP/Getty

3/14 US midterms

President Barack Obama is braced for a potential clobbering from voters.

If the Republicans emerge as the majority party in the Senate, the impact would be considerable

Getty

4/14 US midterms

Michelle Nunn: Democratic US Senate candidate for Atlanta, Georgia

Getty

5/14 US midterms

Nunn is in a tight race with Republican candidate David Perdue

Getty

6/14 US midterms

Jason Carter: Democratic candidate for Governor of Georgia.

The grandson of 39th US President, Jimmy Carter, is surging against the incumbent Republican Nathan Deal

Getty

7/14 US midterms

In Florida Charlie Crist, once a Republican governor of the state, now turned Democrat, is trying to oust Rick Scott, the Republican incumbent

Getty

8/14 US midterms

Republican Wisconsin Governor Scott Walker is hoping to win a second term

If he does, he will be considered possible presidential material

Getty

9/14 US midterms

Andrew Cuomo, Governor of New York, is also a possible future president, this time for the Democrats

Getty

10/14 US midterms

Will Martha Coakley, a former Massachusetts Attorney General, be elected as the next Democratic governor of that state?

AFP/Getty

11/14 US midterms

And an incumbent John Hickenlooper hang on for the Democrats as Governor of Colorado?

Getty

12/14 US midterms

Potential Republican Presidential candidates include Senator Rand Paul...

Getty

13/14 US midterms

... Republican Senator Ted Cruz

Getty

14/14 US midterms

And former Florida Governor Jeb Bush

Getty
These are the first elections held since a pair of decisions by the US Supreme Court essentially unshackled outside groups and rich individuals vying to influence the final outcome. Money has poured into critical contests like it was Christmas. Look at North Carolina, where Republican Thom Tillis is trying to take the US Senate seat of Democrat Kay Hagan. That contest has burned through $108 million. Of that, $76 million came from outside groups desperate for their person to win.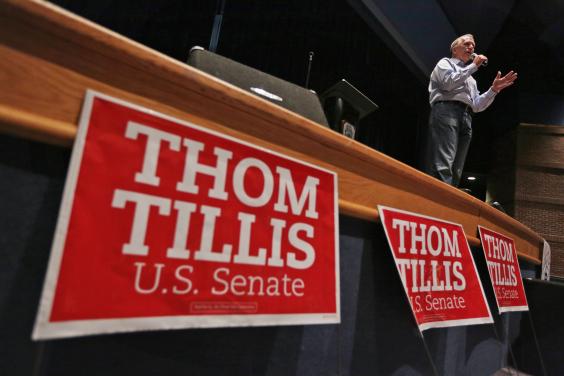 Especially profligate have been the Super-PACs, political action committees, controlled by David and Charles Koch, industrialist brothers from Kansas with a strict conservative-libertarian worldview, and by Karl Rove, the former campaign guru to Republican presidents.
Mr Rove's American Crossroads and Crossroads GPS spent $46.7 million backing Republican runners.  On the Democrat side, Tom Steyer, a hedge fund billionaire, has channeled tens of millions to candidates with strong environmental records.
It has been a tsunami of cash that has flowed largely into the coffers of televisions stations and their owners. For viewers that has meant a ceaseless onslaught of political ads, most of them attack ads.  North Carolinians have endured $62 million worth of spots in their Senate race – that's no fewer than 102,000 of them over the span of the campaign. The various political ads cut in Georgia have been run 65,000 times. Because of a tight Senate race in Alaska, it has been more expensive to place an ad on TV in Anchorage during the election than in the far larger television market of Chicago.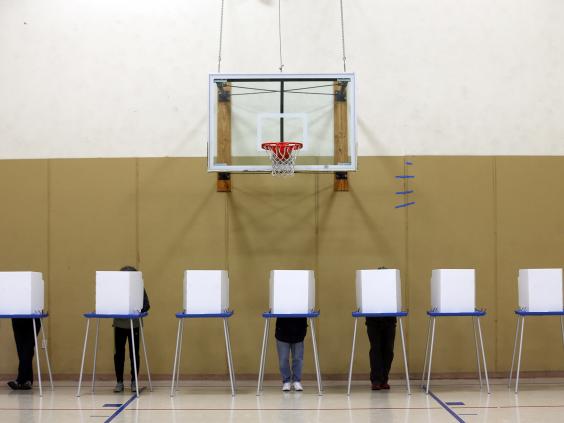 It's enough wear anyone out. Finally television viewers can get back to enjoying ads from car and laundry detergent makers. The candidates can finally rest too. Mr Carter claimed that on Saturday and Sunday alone he traveled 1,350 miles campaigning across the state. Even non-candidate campaigners, the so-called surrogates, are exhausted. Hillary Clinton has just done 45 events in 54 days.
Amidst all these numbers, here is one that may make any American weep. If you're going into the kiosk to pick your candidate today, know that according to one estimate anyway there is only a 1-in-60 million chance of your vote actually changing the outcome of whichever race you are voting in. After all that.
Reuse content