An American activist has exposed the apparent ease of electoral fraud in North Carolina by being given 20 votes while posing as a different person each time.
James O'Keefe, president of the Project Veritas Action group, said he used the online electoral roll to look for "inactive voters" who were unlikely to vote in the midterm elections after years without casting a ballot.
He and his team narrowed down the list to 30-year-old men he could pose as, then memorised their publicly listed names and addresses and visited polling stations taking early votes across North Carolina.
It is one of 19 US states where no identification is required to vote. Other areas have varying laws, requiring documents but no photos, for example, or allowing only a strict list of photo ID.
Hidden cameras showed Mr O'Keefe approach electoral officials and ask if they had his chosen name on the list, posing as them if they confirmed it with the memorised details.
In one case, an official did not even require him to state his assumed name and address but fed him the details.
The man stated Mr O'Keefe's fake identity, giving him a ballot paper after he confirmed "yes" to each line.
"So I just sign this and then I'll be able vote afterwards?" Mr O'Keefe asked.
He was given a ballot paper 20 times but did not commit fraud by signing them or voting.
To make the ruse harder for himself, Mr O'Keefe asked some centres if he needed to show ID or offered to get it from his car.
"You know what I completely forgot my driver's license," he said on one occasion.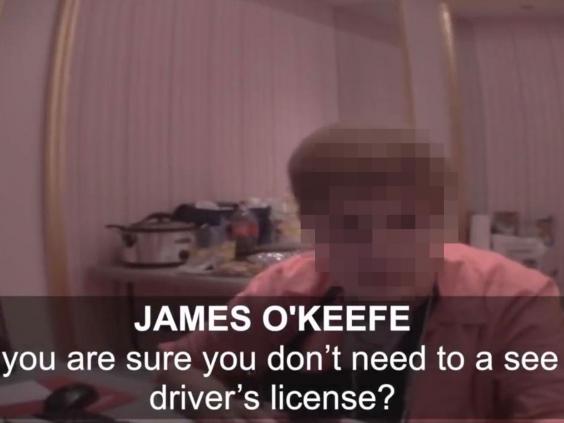 "You don't need it," an official replied, insisting that she was "positive" when Mr O'Keefe asked if she was sure.
The video only showed his sting failing on one occasion, when officials broke state rules to request identification because the man he was posing as had not voted in years.
"Of all of the undercover investigations I've conducted, this was by far the easiest," said Mr O'Keefe. "They were willing to pass out fraudulently obtained ballots like it was Halloween candy."
The makers of the film said the stunt proved that "the opportunity for fraud on a massive scale is way too easy" in states that require no ID, because of the millions of inactive voters.
North Carolina is changing its own laws (the Voter Information Verification Act) from the beginning of 2016, requiring voters to show photo identification when they arrive to vote in person.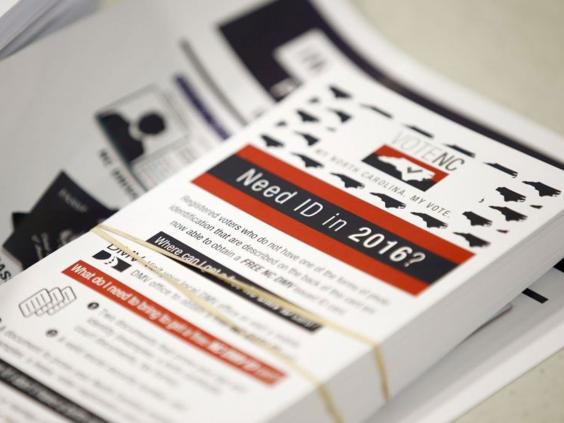 "Until 2016, most voters will not be required to show any form of identification when they vote," a statement on the state government website said.
There have also been calls for identification to be a requirement for elections in Britain, where it is currently only needed in Northern Ireland.
A report by the Electoral Commission earlier this year called for voters to need to show photo ID by no later than the 2019 European and local government elections to minimise the risk of fraud.
All seats in the House of Representatives and 33 of 100 seats in the US Senate were up for election in the midterm elections closing today, along with positions state governors and other officials.
US midterms
US midterms
1/14 US midterms

Candidates are fighting for all 435 seats in the House of Representatives.

The lower house of the United States Congress currently has a Republican majority

Getty

2/14 US midterms

33 of the 100 seats in the US Senate are up for grabs.

The upper house of the United States Congress currently has a Democratic majority

AFP/Getty

3/14 US midterms

President Barack Obama is braced for a potential clobbering from voters.

If the Republicans emerge as the majority party in the Senate, the impact would be considerable

Getty

4/14 US midterms

Michelle Nunn: Democratic US Senate candidate for Atlanta, Georgia

Getty

5/14 US midterms

Nunn is in a tight race with Republican candidate David Perdue

Getty

6/14 US midterms

Jason Carter: Democratic candidate for Governor of Georgia.

The grandson of 39th US President, Jimmy Carter, is surging against the incumbent Republican Nathan Deal

Getty

7/14 US midterms

In Florida Charlie Crist, once a Republican governor of the state, now turned Democrat, is trying to oust Rick Scott, the Republican incumbent

Getty

8/14 US midterms

Republican Wisconsin Governor Scott Walker is hoping to win a second term

If he does, he will be considered possible presidential material

Getty

9/14 US midterms

Andrew Cuomo, Governor of New York, is also a possible future president, this time for the Democrats

Getty

10/14 US midterms

Will Martha Coakley, a former Massachusetts Attorney General, be elected as the next Democratic governor of that state?

AFP/Getty

11/14 US midterms

And an incumbent John Hickenlooper hang on for the Democrats as Governor of Colorado?

Getty

12/14 US midterms

Potential Republican Presidential candidates include Senator Rand Paul...

Getty

13/14 US midterms

... Republican Senator Ted Cruz

Getty

14/14 US midterms

And former Florida Governor Jeb Bush

Getty
Barack Obama's Democrats claimed they had the edge in North Carolina but the overall outcome is expected to be a shift to the right with gains for the Republicans.
The conservative party only needs six seats for a Senate majority and 13 more in the House of Representatives would give it the largest share there since 1946.
North Carolina's State Board of Elections has not yet replied to The Independent's request for a comment.
Reuse content