A uniformed sheriff's deputy has been shot in a "cold blooded" and "execution-style killing" while refuelling at a petrol station in the US.
Deputy Daren H. Goforth, 47, was shot from behind after he had refuelled his police vehicle in a station in Telge and West, Houston, on Friday night.
The unidentified gunman reportedly shot the officer from behind, walking up and then firing again when deputy Goforth had fallen to the ground.
"He was literally gunned down in what appears to be an unprovoked, execution-style killing," Harris County Sheriff Ron Hickman told CNN.
"I have been in law enforcement for 45 years, I have never seen anything this cold-blooded."
There has been no indication of the gunman's motive. Deputy Goforth had investigated an incident approximately 30 minutes prior to the shooting, but authorities said it remained unclear if the two events were connected.
A manhunt for the suspect, who drove away from the scene in a red Ford Ranger, is underway.
"He (the suspect) did not say anything," said Deputy Thomas Gilliland, a spokersperson for the sheriff's office. "If anyone saw anything ... any leads we can get."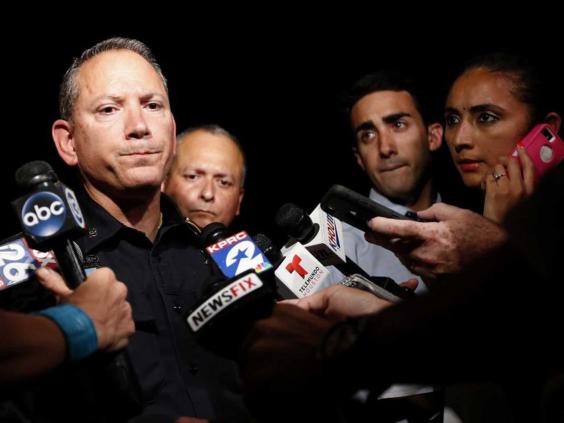 Sheriff Hickman, who vowed the gunman would be held responsible, said Deputy Goforth was a ten-year veteran of the force and a married father-of-two.
"Our hearts go out to them," he said. "It strikes us in the heart to simply be a target because you are wearing a badge."
The suspect has been described as a dark-complexioned man, roughly 5ft 10in, wearing a white t-shirt and red shorts. He is thought to be between 20 and 25 years old.
Reuse content