The former head of Mossad's intelligence directorate has expressed reservations about Donald Trump's claim that he has the "absolute right" to share secret information with foreign officials.
Israel is believed to be the source of classified intelligence on Isis allegedly passed by the President to Russian foreign minister Sergey Lavrov and ambassador Sergey Kislyak in a closed-door meeting last week.
There are fears the reported disclosure of information gained under an intelligence sharing agreement could damage global security cooperation with the US.
Brigadier General Amnon Sofrin, a retired senior official in Israel's foreign intelligence agency, said such agreements are subject to "unwritten rules" observed for decades.
"They say that you [the US] cannot make any use of sensitive information without any coordination or without asking my [Israel's] permission," he told journalists in a call organised by a pro-Israel advocacy group.
"For every use you want to make use of this information, firstly you have to ask my permission and second you have to take in consideration the sensitivity of the source."
Brigadier General Sofrin said restrictions do not apply to heads of state, who have the "ability and mandate" to use classified information according to political considerations.
"But nevertheless the leader should ask his people about the sensitivity of the information, or consult at least with senior intelligence officers on its uses," he added.
"We don't know what was transferred between Mr Trump and Mr Lavrov…it may cause big problems for us because it can put sources at risk and damage our activities."
Brigadier General Sofrin said any complaint by Mossad would normally be made directly to the CIA, to understand what information was passed over and try to mitigate any risks.
He does not believe the scandal will cause lasting damage to the "very intimate" security relationship between the US and Israel, adding: "None of us in the Israeli intelligence community like this event but I think it can be put aside and allow Mr Trump's visit to be successful."
The allegations broke just days before Mr Trump visits Israel during his first foreign tour, which has already been beset by disagreements over a planned trip to the Western Wall, which sits in occupied East Jerusalem.
Israeli's ambassador to the US, Ron Dermer, said it has "full confidence in our intelligence sharing relationship with the United States", while Israeli defence minister Avigdor Lieberman said a "deep, meaningful and unprecedented" security relationship would continue.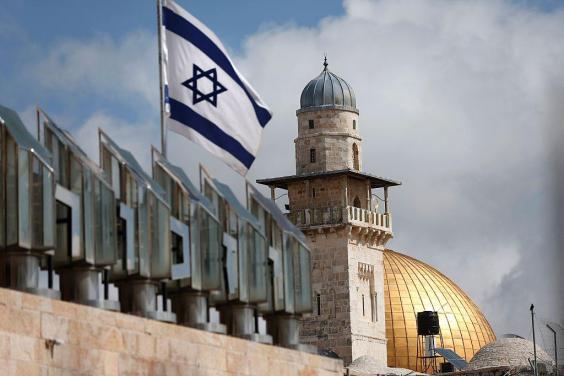 But the claims have sparked disquiet following a series of apparently contradictory statements from the White House and Mr Trump.
Hours after top officials claimed the original Washington Post report on disclosures was "false", the President tweeted that he had the "absolute right" to share "facts pertaining to terrorism and airline flight safety" with Russia.
The information appears to be related to the basis for a ban imposed by the US and UK in March on laptops and tablets from being taken in hand luggage from 10 airports in Muslim-majority countries, which could be expanded to Europe. 
Aides have maintained that no "inappropriate" information was shared but repeatedly failed to deny the intelligence passed on was classified.
HR McMaster, the national security adviser, claimed the real threat to national security was leakers "releasing information to the press."
The biggest names involved in the Trump-Russia investigation
The biggest names involved in the Trump-Russia investigation
1/11 Paul Manafort

Mr Manafort is a Republican strategist and former Trump campaign manager. He resigned from that post over questions about his extensive lobbying overseas, including in Ukraine where he represented pro-Russian interests.

Getty Images

2/11 Mike Flynn

Mr Flynn was named as Trump's national security adviser but was forced to resign from his post for inappropriate communication with Russian Ambassador to the US Sergey Kislyak. He had misrepresented a conversation he had with Mr Kislyak to Vice President Mike Pence, telling him wrongly that he had not discussed sanctions with the Russian.

Getty Images

3/11 Sergey Kislyak

Mr Kislyak, the Russian ambassador to the US, is at the centre of the web said to connect President Donald Trump's campaign with Russia.

Reuters

4/11 Roger Stone

Mr Stone is a former Trump adviser who worked on the political campaigns of Richard Nixon, George HW Bush, and Ronald Reagan. Mr Stone claimed repeatedly in the final months of the campaign that he had backchannel communications with WikiLeaks founder Julian Assange and that he knew the group was going to dump damaging documents to the campaign of Democratic candidate Hillary Clinton - which did happen. Mr Stone also had contacts with the hacker Guccier 2.0 on Twitter, who claimed to have hacked the DNC and is linked to Russian intelligence services.

Getty Images

5/11 Jeff Sessions

The US attorney general was forced to recuse himself from the Trump-Russia investigation after it was learned that he had lied about meeting with Russian Ambassador to the US Sergey Kislyak.

Getty Images

6/11 Carter Page

Mr Page is a former advisor to the Trump campaign and has a background working as an investment banker at Merrill Lynch. Mr Page met with Russian Ambassador to the US Sergey Kislyak during the 2016 Republican National Convention in Cleveland. Mr Page had invested in oil companies connected to Russia and had admitted that US Russia sanctions had hurt his bottom line.

Reuters

7/11 Jeffrey "JD" Gorden

Mr Gordon met with Russian Ambassador to the US Sergey Kislyak during the 2016 Republian National Convention to discuss how the US and Russia could work together to combat Islamist extremism should then-Republican presidential candidate Donald Trump win the election. The meeting came days before a massive leak of DNC emails that has been connected to Russia.

Creative Commons

8/11 Jared Kushner

Mr Kushner is President Donald Trump's son-in-law and a key adviser to the White House. He met with a Russian banker appointed by Russian President Vladimir Putin in December. Mr Kushner has said he did so in his role as an adviser to Mr Trump while the bank says he did so as a private developer. Mr Kushner has also volunteered to testify in the Senate about his role helping to arrange meetings between Trump advisers and Russian Ambassador to the US Sergey Kislyak.

Getty Images

9/11 James Comey

Mr Comey was fired from his post as head of the FBI by President Donald Trump. The timing of Mr Comey's firing raised questions around whether or not the FBI's investigation into the Trump campaign may have played a role in the decision.

Getty Images

10/11 Preet Bharara

Mr Bahara refused, alongside 46 other US district attorney's across the country, to resign once President Donald Trump took office after previous assurances from Mr Trump that he would keep his job. Mr Bahara had been heading up several investigations including one into one of President Donald Trump's favorite cable television channels Fox News. Several investigations would lead back to that district, too, including those into Mr Trump's campaign ties to Russia, and Mr Trump's assertion that Trump Tower was wiretapped on orders from his predecessor.

Getty Images

11/11 Sally Yates

Ms Yates, a former Deputy Attorney General, was running the Justice Department while President Donald Trump's pick for attorney general awaited confirmation. Ms Yates was later fired by Mr Trump from her temporary post over her refusal to implement Mr Trump's first travel ban. She had also warned the White House about potential ties former National Security Adviser Michael Flynn to Russia after discovering those ties during the FBI's investigation into the Trump campaign's connections to Russia.

Getty Images
In an off-camera briefing, White House press secretary Sean Spicer repeatedly refused to comment on specific allegations but at one point appeared to confirm intelligence was passed on.
When a journalist asked whether the US had reached out to the ally that provided the information, he replied: "I'm not going to comment on specifically where it came from."
He added: "My understanding is the President, of course, has classification authority…so the President can always discuss common threats or common issues with other heads of government or other government officials as he deems appropriate to tackle the threats our country faces."
The fact the information reportedly went to Russia during investigations into alleged links between Mr Trump's campaign team and the Kremlin has generated alarm, as well as Moscow's ties with Iran, China and the Syrian government.
Vladimir Putin told a press conference Mr Trump did not pass secrets to his foreign minister and claimed he was prepared to provide a transcript of talks to prove it.
The Russian President dismissed the scandal as a symptom of "political schizophrenia" in the US but did not elaborate on the source of transcript.
His announcement on Wednesday followed security fears over revelations American media were barred from the White House meeting but a photographer from a Russian state news agency was allowed inside after officials were apparently misled over his role.
Reuse content