Donald Trump has stormed out of an executive order signing ceremony without signing the orders after being questioned over Michael Flynn and Russia.
Exactly a week after his vow to "repeal and replace" Obamacare imploded in Congress, the President told assembled reporters he was going to "get down to some serious business".
The two executive orders, sitting on his desk in the Oval Office, aimed to put his drive for American trade and manufacturing jobs back at the top of the agenda, ordering a study into the cause of US trade deficits and a crackdown on import duty evasion.
"We're going to investigate all trade abuses, and, based on those findings, we will take necessary and lawful action to end those many abuses," Mr Trump said, before handing over to Commerce Secretary Wilbur Ross and National Trade Council Director Peter Navarro.
But after Mike Pence hailed a "great day for the American economy" in a planned speech, Mr Trump took back the podium to cut the event short.
"Thank you everybody, you're going to see some very, very strong results very, very quickly – thank you very much," he said, before swiftly walking towards the door.
Mr Pence gave him a passing tap on the arm as other attendees at the signing ceremony appeared confused, with Mr Trump flashing a thumbs up before leaving the Oval Office.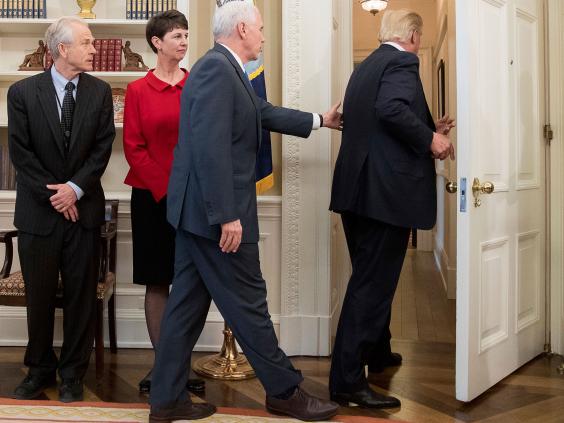 The President appeared to become flustered as a reporter called out questions on his former national security adviser Mr Flynn, who Mr Trump claimed should "ask for immunity" in investigations into links between his administration and the Russian government.
"With your tweet, were you trying tell the Justice Department to grant immunity to Michael Flynn?" he could be heard asking.
"Were you trying to do that Mr President, was that your intention sir?"
The Vice President rushed to the doorway and had a brief word with his superior, presumably to tell him he had forgotten to sign the executive orders waiting on his desk.
Mr Trump motioned towards himself before disappearing into a corridor, leaving Mr Pence to collect the documents and lead the group out in front of bemused members of the press.
He is thought to have signed the orders later behind closed doors, with the White House publishing the full text online.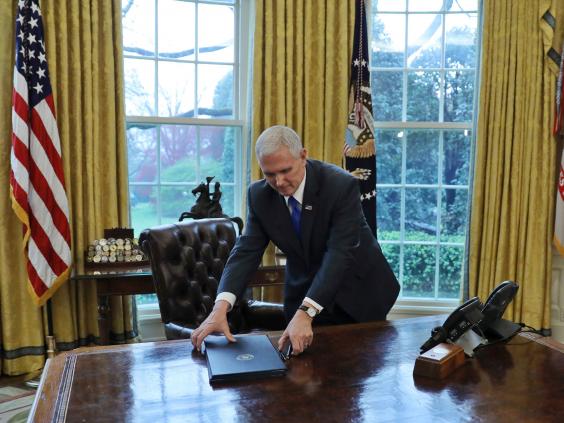 The incident unfolded on the White House's official live stream of the event but was cut from an edited video later posted on Mr Trump's personal Twitter account.
A lawyer for Mr Flynn said he was in talks with congressional committees investigating Russia's alleged interference in the US election to testify before them in exchange for immunity from prosecution.
He was forced to resign from his role as national security adviser after admitting he gave the Vice President "incomplete information" about discussions with the Russian ambassador over sanctions.
Mr Trump took to Twitter to urge Mr Flynn to "ask for immunity in that this is a witch hunt (excuse for big election loss), by media & Dems, of historic proportion!"
Critics swiftly pointed out that the President had himself attacked the practice after Democratic staff were given immunity in the Hillary Clinton email investigation.
"If you're not guilty of a crime, what do you need immunity for?" he asked a supporters' rally.
The controversial orders Donald Trump has already issued
The controversial orders Donald Trump has already issued
1/9 Trump and the media

White House Press Secretary Sean Spicer takes questions during the daily press briefing

Getty Images

2/9 Trump and the Trans-Pacific Partnership

Union leaders applaud US President Donald Trump for signing an executive order withdrawing the US from the Trans-Pacific Partnership negotiations during a meeting in the Roosevelt Room of the White House in Washington DC. Mr Trump issued a presidential memorandum in January announcing that the US would withdraw from the trade deal

Getty

3/9 Trump and the Mexico wall

A US Border Patrol vehicle sits waiting for illegal immigrants at a fence opening near the US-Mexico border near McAllen, Texas. The number of incoming immigrants has surged ahead of the upcoming Presidential inauguration of Donald Trump, who has pledged to build a wall along the US-Mexico border. A signature campaign promise, Mr Trump outlined his intention to build a border wall on the US-Mexico border days after taking office

Getty Images

4/9 Trump and abortion

US President Donald Trump signs an executive order as Chief of Staff Reince Priebus looks on in the Oval Office of the White House. Mr Trump reinstated a ban on American financial aide being granted to non-governmental organizations that provide abortion counseling, provide abortion referrals, or advocate for abortion access outside of the United States

Getty Images

5/9 Trump and the Dakota Access pipeline

Opponents of the Keystone XL and Dakota Access pipelines hold a rally as they protest US President Donald Trump's executive orders advancing their construction, at Columbus Circle in New York. US President Donald Trump signed executive orders reviving the construction of two controversial oil pipelines, but said the projects would be subject to renegotiation

Getty Images

6/9 Trump and 'Obamacare'

Nancy Pelosi who is the minority leader of the House of Representatives speaks beside House Democrats at an event to protect the Affordable Care Act in Los Angeles, California. US President Donald Trump's effort to make good on his campaign promise to repeal and replace the healthcare law failed when Republicans failed to get enough votes. Mr Trump has promised to revisit the matter

Getty Images

7/9 Donald Trump and 'sanctuary cities'

US President Donald Trump signed an executive order in January threatening to pull funding for so-called "sanctuary cities" if they do not comply with federal immigration law

AP

8/9 Trump and the travel ban

US President Donald Trump has attempted twice to restrict travel into the United States from several predominantly Muslim countries. The first attempt, in February, was met with swift opposition from protesters who flocked to airports around the country. That travel ban was later blocked by the Ninth Circuit Court of Appeals. The second ban was blocked by a federal judge a day before it was scheduled to be implemented in mid-March

SANDY HUFFAKER/AFP/Getty Images

9/9 Trump and climate change

US President Donald Trump sought to dismantle several of his predecessor's actions on climate change in March. His order instructed the Environmental Protection Agency to reevaluate the Clean Power Plan, which would cap power plant emissions

Shannon Stapleton/Reuters
"Have you ever seen anything so corrupt in your life? Have you ever seen a greater embarrassment to our country?" 
Mr Trump has been struggling to move attention away from the continuing scandal over Russia's alleged interference in his favour but has suffered several embarrassing defeats on his attempted immigration bans and healthcare reforms.
His latest executive orders came before he meets with Chinese President Xi Jinping in Florida, a summit that promises to be fraught with trade tensions.
Mr Trump said he and Mr Xi were "going to get down to some serious business" and vowed that "the theft of American prosperity" by foreign countries would end.
One of the orders directed the Commerce Department and the US trade representative to conduct a 90-day review of the causes of massive trade deficits, with the second trade will non-payment and under-collection of anti-dumping and anti-subsidy duties on foreign goods.
Additional reporting by Reuters
Reuse content