Donald Trump fired FBI director James Comey in order to stop an investigation which could have "potentially ruinous consequences for the administration," the New York Times has said in an editorial.
The paper said that by firing Mr Comey, the President has cast doubt on further investigation into the Trump campaign's potential links to Russia, which could become "one of the biggest political scandals" in American history.
The FBI director was fired over his handling of the inquiry into Hillary Clinton's use of a private email server, the administration said.
But the Times points out Mr Trump praised Mr Comey when he told Congress he was reopening the investigation into Ms Clinton's emails.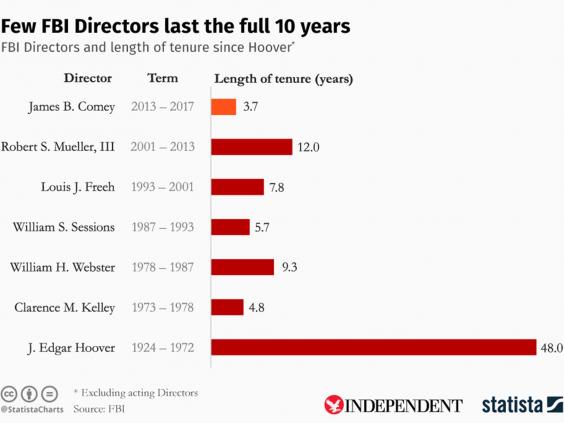 "Of course, if Mr Trump truly believed, as he said in his letter of dismissal, that Mr Comey had undermined 'public trust and confidence' in the agency, he could just as well have fired him on his first day in office," the editorial said.
"Mr Comey was fired because he was leading an active investigation that could bring down a president. Though compromised by his own poor judgment, Mr. Comey's agency has been pursuing ties between the Russian government and Mr. Trump and his associates, with potentially ruinous consequences for the administration."
The paper argued Mr Comey's inquiry "was the only aggressive effort to get to the bottom of Russia's ties to the Trump campaign."
It went on to call for the appointment of a special prosecutor to pursue the investigation.
Donald Trump's first 100 days: in cartoons
Donald Trump's first 100 days: in cartoons
1/33

Donald Trump's first 100 days in office were marred by a string of scandals, many of which caught the eye of the Independent's cartoonists

2/33

Trump's first 100 days have seen him aggressively ramp up tensions with his nuclear rivals in North Korea

3/33

Mr Trump has warned of a "major, major conflict" with the pariah nation lead by Kim Jong Un

4/33

Mr Trump dropped the "mother of all bombs" on alleged ISIS-linked militants in Afghanistan, amid an escalation of US military intervention around the globe

5/33

Mr Trump has been accused of falling short of the standards set by his predecessors in the Oval Office, including Franklin D Roosevelt

6/33

The tycoon's ascension to the White House came at a time when the balance of power is shifting away from Western nations like those in the G7 group

7/33

Western politicians, including the British Conservative party, have been accused of falling in line behind Mr Trump's proposals

8/33

Brexit is seen to have weakened Britain, reducing still further any political will to resist American leadership

9/33

Mr Trump's leadership has been marked by sudden and unexpected shifts in global policy

10/33

Trump's controversial missile strike on Syria, which killed several citizens, was seen by some analysts as an attempt to distract from his policy elsewhere

11/33

The President has also spent a large majority of his weekends golfing, rather than attending to matters of state

12/33

Though free of gaffes, a visit from Chinese president Xi Jinping spotlighted trade tensions between the two states

13/33

One major and unexpected setback came when Mr Trump's Healthcare Bill was struck down by members of his own party

14/33

Mr Trump has been a figure of fun in the media, with his approval at record lows

15/33

A string of revelations about Mr Trump's financial indiscretions did not mar his surge to the White House

16/33

Outgoing President Barack Obama was accused of wiretapping Trump Tower by his successor in America's highest office

17/33

The alleged involvement of Russian intelligence operatives in securing Mr Trump the presidency prompted harsh criticism

18/33

The explosive resignation of Security Adviser Michael Flynn, who lied about his links to the Russian ambassador, was just one scandal to hit the President

19/33

Many scandals, such as the accusation Barack Obama was implicated in phone-hacking, first broke on Mr Trump's Twitter feed

20/33

Donald Trump's election provoked mass protests in the UK, with millions signing a petition to ban him from the country

21/33

Donald Trump cited a non-existent terror attack in Sweden during a campaign rally

22/33

Donald Trump stands accused of stoking regional tensions in Eastern Asia

23/33

North Korea has launched a number of failed nuclear tests since Mr Trump took power

24/33

Theresa May formally rejected the petition calling for Mr Trump to be banned from the UK

25/33

When Mr Trump's initial so-called Muslim ban was struck down by a federal justice, the President mocked the 69-year-old as a "ridiculous", "so-called judge"

26/33

A week after his inauguration, Theresa May met with Mr Trump at the White House

27/33

Donald Trump's first days in office were marked by a hasty attempt to follow through on many of his campaign promises, including the so-called Muslim ban

28/33

Donald Trump's decision to ban citizens of many majority-Muslim countries from the US sparked mass protests

29/33

Revelations about Donald Trump's sexual improprieties were not enough to keep him from being elected President

30/33

British PM Theresa May was criticised by many in the press for cosying up to the new President

31/33

One of Mr Trump's top aides, Kelly Anne Conway, was mocked for describing mistruths as "alternative facts"

32/33

British PM Theresa May was quick to demonstrate that her political aims did not hugely differ from Mr Trump's

33/33

Donald Trump's inauguration, on 20 January 2017, sparked protests both at home and abroad
"This is a tense and uncertain time in the nation's history," the editorial said. "The president of the United States, who is no more above the law than any other citizen, has now decisively crippled the FBI's ability to carry out an investigation of him and his associates.
"There is no guarantee that Mr Comey's replacement, who will be chosen by Mr Trump, will continue that investigation; in fact, there are already hints to the contrary."
"The obvious historical parallel to Mr. Trump's action was the so-called Saturday Night Massacre in October 1973, when President Richard Nixon ordered the firing of the special prosecutor investigating Watergate, prompting the principled resignations of the attorney general and his deputy."
It concludes: "But now, there is no special prosecutor in place to determine whether the public trust has been violated, and whether the presidency was effectively stolen by a hostile foreign power.
"For that reason, the country has reached an even more perilous moment."
Reuse content