Donald Trump's administration is to review whether the US will keep its policy of nuclear disarmament. 
Christopher Ford, the National Security Council's senior director for weapons of mass destruction and counter-proliferation, said an assessment of US policy will examine whether the aim was "realistic".
"Like all administrations we're reviewing policy across the board, and that necessarily includes whether or not the goal of a world without nuclear weapons is in fact a realistic objective, especially in the near to medium term, in the light of current trends in the international security environment," he told the Carnegie International Nuclear Policy Conference.
"It's too early to say what the answers will be – looking at things with fresh eyes is not saying we will necessarily end up with different positions."
Mr Ford said there was a "tension" between the goal of nuclear disarmament and the security requirements of the US and its allies.
He argued that the "headspace" for reducing nuclear arsenals had diminished in the years since the Cold War and cuts by the US and Russia seemed unlikely while other nuclear states continue development.
Mr Trump "will not accept a second place position in the nuclear weapons arena" but is open to broader engagement with Russia on the issue, Mr Ford said.
He added that the current "threat environment" had changed substantially from when the review that established America's current aims took place under Barack Obama in 2010.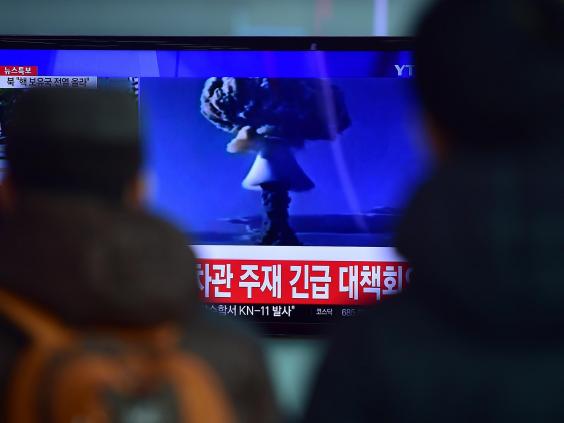 The nuclear adviser said the Trump administration would continue American opposition to a "dangerous and misbegotten" proposed treaty to ban nuclear weapons. 
UN member states voted overwhelmingly to start negotiations on a "legally binding instrument to prohibit nuclear weapons, leading towards their total elimination" last year.
A conference on the issue will be held in New York starting on 27 March but the treaty was opposed by nuclear powers including the US, Britain, Russia, France and Israel.
Mr Trump has not made any official policy statement on nuclear weapons but has touched on the issue repeatedly in his speeches and tweets.
Questioned about his warm statements towards Vladimir Putin at a press conference in February, the President warned that war between the US and Russia would be a "nuclear holocaust like no other".
Mr Trump has repeatedly hit out at a "dangerous" landmark agreement struck with Iran to limit its capability, accusing the country of being the "number one terrorist state".
But Mr Ford said that unless otherwise decided, the US would adhere to the terms of the Iran nuclear deal.
The US President has also criticised North Korea in recent days, accusing Pyongyang of "behaving very badly" with continued efforts to develop a long-range nuclear weapon.
Before being appointed as Mr Trump's top nuclear advisor, Mr Ford was chief council for the Senate Foreign Relations Committee and worked in the bureau of arms control and international security under George W Bush.
The controversial orders Donald Trump has already issued
The controversial orders Donald Trump has already issued
1/9 Trump and the media

White House Press Secretary Sean Spicer takes questions during the daily press briefing

Getty Images

2/9 Trump and the Trans-Pacific Partnership

Union leaders applaud US President Donald Trump for signing an executive order withdrawing the US from the Trans-Pacific Partnership negotiations during a meeting in the Roosevelt Room of the White House in Washington DC. Mr Trump issued a presidential memorandum in January announcing that the US would withdraw from the trade deal

Getty

3/9 Trump and the Mexico wall

A US Border Patrol vehicle sits waiting for illegal immigrants at a fence opening near the US-Mexico border near McAllen, Texas. The number of incoming immigrants has surged ahead of the upcoming Presidential inauguration of Donald Trump, who has pledged to build a wall along the US-Mexico border. A signature campaign promise, Mr Trump outlined his intention to build a border wall on the US-Mexico border days after taking office

Getty Images

4/9 Trump and abortion

US President Donald Trump signs an executive order as Chief of Staff Reince Priebus looks on in the Oval Office of the White House. Mr Trump reinstated a ban on American financial aide being granted to non-governmental organizations that provide abortion counseling, provide abortion referrals, or advocate for abortion access outside of the United States

Getty Images

5/9 Trump and the Dakota Access pipeline

Opponents of the Keystone XL and Dakota Access pipelines hold a rally as they protest US President Donald Trump's executive orders advancing their construction, at Columbus Circle in New York. US President Donald Trump signed executive orders reviving the construction of two controversial oil pipelines, but said the projects would be subject to renegotiation

Getty Images

6/9 Trump and 'Obamacare'

Nancy Pelosi who is the minority leader of the House of Representatives speaks beside House Democrats at an event to protect the Affordable Care Act in Los Angeles, California. US President Donald Trump's effort to make good on his campaign promise to repeal and replace the healthcare law failed when Republicans failed to get enough votes. Mr Trump has promised to revisit the matter

Getty Images

7/9 Donald Trump and 'sanctuary cities'

US President Donald Trump signed an executive order in January threatening to pull funding for so-called "sanctuary cities" if they do not comply with federal immigration law

AP

8/9 Trump and the travel ban

US President Donald Trump has attempted twice to restrict travel into the United States from several predominantly Muslim countries. The first attempt, in February, was met with swift opposition from protesters who flocked to airports around the country. That travel ban was later blocked by the Ninth Circuit Court of Appeals. The second ban was blocked by a federal judge a day before it was scheduled to be implemented in mid-March

SANDY HUFFAKER/AFP/Getty Images

9/9 Trump and climate change

US President Donald Trump sought to dismantle several of his predecessor's actions on climate change in March. His order instructed the Environmental Protection Agency to reevaluate the Clean Power Plan, which would cap power plant emissions

Shannon Stapleton/Reuters
Shortly after his inauguration in 2009, Mr Obama declared his ultimate aim of a world without nuclear weapons, saying their spread could "lead to the extermination of any city on the planet".
In a visit to Hiroshima last year, he told survivors of the atomic bombing: "Among those nations like my own that hold nuclear stockpiles, we must have the courage to escape the logic of fear and pursue a world without them.
"We may not realise this goal in my lifetime but persistent effort can roll back the possibility of catastrophe."
Mr Obama was the first serving American president to visit the Japanese city, where the US dropped its first atomic bomb in 1945, killing an estimated 140,000 people.
Reuse content