Donald Trump's spokesman says he cannot confirm whether the President believes climate change is a hoax because they have not "had an opportunity to have that discussion".
Sean Spicer repeatedly deflected questions on Mr Trump's personal briefs at a heated press briefing following his withdrawal from the Paris climate agreement.
"What does the President actually believe about climate change - does he still believe it's a hoax?" a reporter asked.  
"Can you clarify that?  Because apparently nobody else at the White House can."
Mr Spicer responded by saying: "I have not had an opportunity to have that discussion."
Later questioned on whether he could have the conversation with Mr Trump and report back at the next press briefing, he replied: "If I can, I will."
The President made numerous controversial statements on climate change before his election victory, including calling global warming a "hoax" and claiming it was "created by and for the Chinese" to damage American trade.
The White House spokesman told reporters he was "not privy" to conversations between Mr Trump and the Secretary of State on the issue, or detail how the President came to his decision.
When asked whether the move to withdraw from the Paris Agreement had been easy or difficult, Mr Spicer said: "I honestly don't know.  
"I mean, that's what…the President is the ultimate decider, and when he comes to make a decision.
"When he gets the information that is required he lets us know that has a decision and he announces it."
Scott Pruitt, the head of the Environmental Protection Agency had already evaded questions on Mr Trump's personal beliefs on global warming at the same briefing.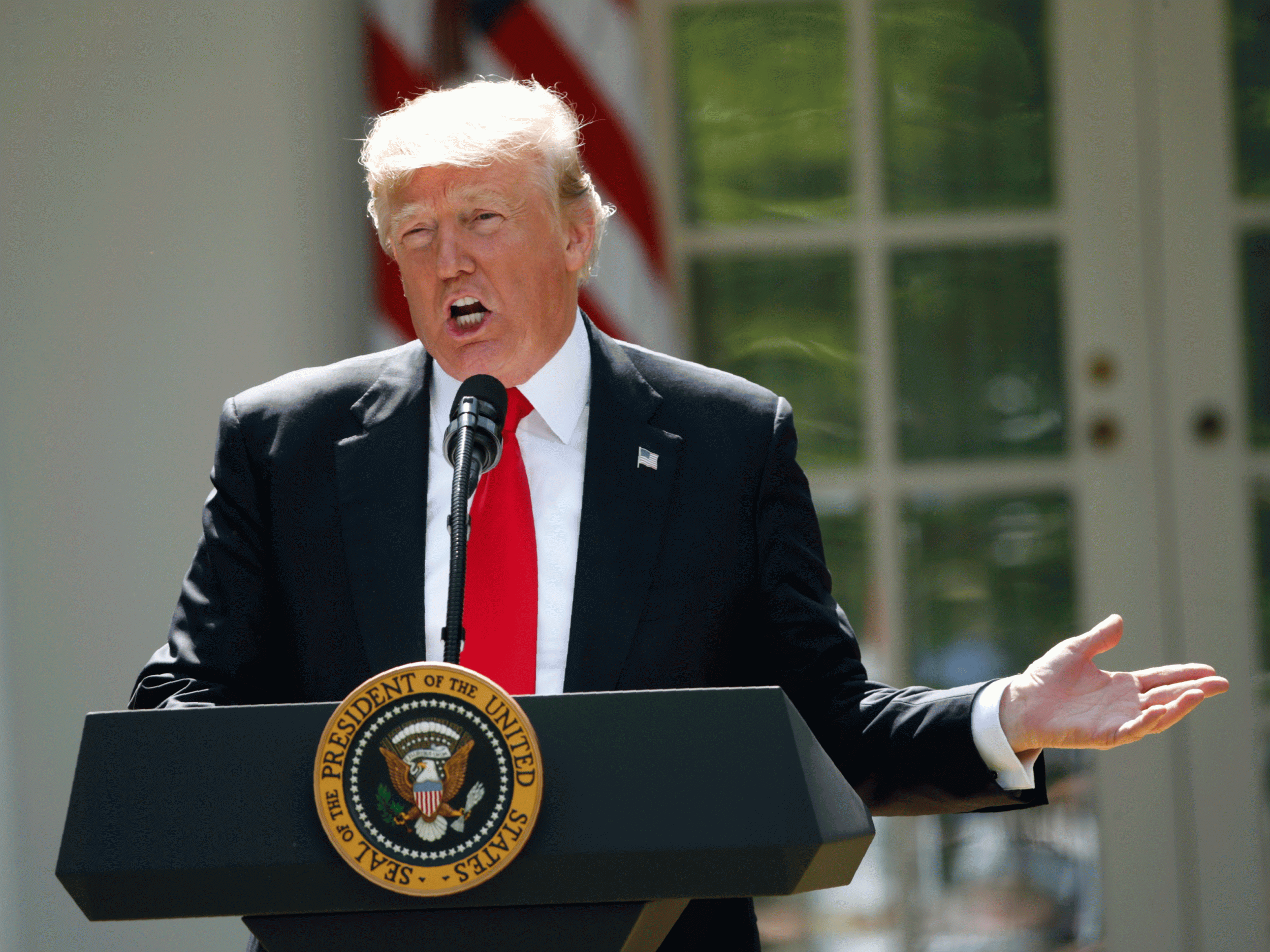 "His decision was, no, and that was the extent of our discussions," said Mr Pruitt, himself a prolific defender of the fossil fuel industry and sceptic over human-caused climate change.
Mr Spicer said he was also unable to speak for the President on John McCain's claim that Vladimir Putin is a greater threat to the US than Isis or on a mounting scandal surrounding Jared Kushner.
"How can you not answer questions about it when the President himself tweets about it?" one reporter asked.
Mr Trump's announcements frequently contradict those by his aides, with discrepancies over the firing of James Comey and passing of intelligence to Russia sparking serious questions on the credibility of White House communications.
Mr Spicer's repetition of a Fox News pundit's claim British intelligence agencies had "wiretapped" Trump Tower in efforts to defend the President in March sparked outrage, before the White House attempted to backtrack.
His first ever press briefing saw him fail to support Mr Trump's disproved assertion that the crowd at his inauguration was bigger than Barack Obama's, before Mr Spicer was forced to defend the President's claim the media was not reporting on terror attacks.
The biggest names involved in the Trump-Russia investigation
The biggest names involved in the Trump-Russia investigation
1/11 Paul Manafort

Mr Manafort is a Republican strategist and former Trump campaign manager. He resigned from that post over questions about his extensive lobbying overseas, including in Ukraine where he represented pro-Russian interests.

Getty

2/11 Mike Flynn

Mr Flynn was named as Trump's national security adviser but was forced to resign from his post for inappropriate communication with Russian Ambassador to the US Sergey Kislyak. He had misrepresented a conversation he had with Mr Kislyak to Vice President Mike Pence, telling him wrongly that he had not discussed sanctions with the Russian.

Getty Images

3/11 Sergey Kislyak

Mr Kislyak, the Russian ambassador to the US, is at the centre of the web said to connect President Donald Trump's campaign with Russia.

Reuters

4/11 Roger Stone

Mr Stone is a former Trump adviser who worked on the political campaigns of Richard Nixon, George HW Bush, and Ronald Reagan. Mr Stone claimed repeatedly in the final months of the campaign that he had backchannel communications with WikiLeaks founder Julian Assange and that he knew the group was going to dump damaging documents to the campaign of Democratic candidate Hillary Clinton - which did happen. Mr Stone also had contacts with the hacker Guccier 2.0 on Twitter, who claimed to have hacked the DNC and is linked to Russian intelligence services.

Getty Images

5/11 Jeff Sessions

The US attorney general was forced to recuse himself from the Trump-Russia investigation after it was learned that he had lied about meeting with Russian Ambassador to the US Sergey Kislyak.

Getty Images

6/11 Carter Page

Mr Page is a former advisor to the Trump campaign and has a background working as an investment banker at Merrill Lynch. Mr Page met with Russian Ambassador to the US Sergey Kislyak during the 2016 Republican National Convention in Cleveland. Mr Page had invested in oil companies connected to Russia and had admitted that US Russia sanctions had hurt his bottom line.

Reuters

7/11 Jeffrey "JD" Gorden

Mr Gordon met with Russian Ambassador to the US Sergey Kislyak during the 2016 Republian National Convention to discuss how the US and Russia could work together to combat Islamist extremism should then-Republican presidential candidate Donald Trump win the election. The meeting came days before a massive leak of DNC emails that has been connected to Russia.

Creative Commons

8/11 Jared Kushner

Mr Kushner is President Donald Trump's son-in-law and a key adviser to the White House. He met with a Russian banker appointed by Russian President Vladimir Putin in December. Mr Kushner has said he did so in his role as an adviser to Mr Trump while the bank says he did so as a private developer. Mr Kushner has also volunteered to testify in the Senate about his role helping to arrange meetings between Trump advisers and Russian Ambassador to the US Sergey Kislyak.

Getty Images

9/11 James Comey

Mr Comey was fired from his post as head of the FBI by President Donald Trump. The timing of Mr Comey's firing raised questions around whether or not the FBI's investigation into the Trump campaign may have played a role in the decision.

Getty Images

10/11 Preet Bharara

Mr Bahara refused, alongside 46 other US district attorney's across the country, to resign once President Donald Trump took office after previous assurances from Mr Trump that he would keep his job. Mr Bahara had been heading up several investigations including one into one of President Donald Trump's favorite cable television channels Fox News. Several investigations would lead back to that district, too, including those into Mr Trump's campaign ties to Russia, and Mr Trump's assertion that Trump Tower was wiretapped on orders from his predecessor.

Getty Images

11/11 Sally Yates

Ms Yates, a former Deputy Attorney General, was running the Justice Department while President Donald Trump's pick for attorney general awaited confirmation. Ms Yates was later fired by Mr Trump from her temporary post over her refusal to implement Mr Trump's first travel ban. She had also warned the White House about potential ties former National Security Adviser Michael Flynn to Russia after discovering those ties during the FBI's investigation into the Trump campaign's connections to Russia.

Getty Images
A frequent stumbling block for White House communications staff has been over investigations into alleged links between Mr Trump's campaign team and Russia.
In the wake of the firing of Mr Comey, Mr Spicer and Sarah Huckabee Sanders claimed the President lost faith in the FBI director's leadership and was simply listening to the Deputy Attorney General's recommendation. 
But in a television interview afterwards, Mr Trump said he took the decision partly because "this Russia thing with Trump and Russia is a made-up story".
Senior White House officials dismissed reports the President had shared classified information with the Russian foreign minister as a "false story", but Mr Trump effectively confirmed it with a series of tweets claiming he had the "absolute right" to share information on terrorism.
His frequent attacks on "leakers" have also been read as unwitting confirmation of anonymously sourced reports from the intelligence community, while Mr Trump has himself admitted his spokespeople can be wrong.
"As a very active President with lots of things happening, it is not possible for my surrogates to stand at podium with perfect accuracy!" he tweeted last month.
"Maybe the best thing to do would be to cancel all future "press briefings" and hand out written responses for the sake of accuracy?"

Reuse content