Donald Trump is facing mounting pressure to completely scrap America's consumer protection agency, the man lined up by the President to head the watchdog has revealed.
Loan sharks, payday lenders and rogue debt collectors could be given carte blanche to rip off American customers as part of a touted shake up of the Consumer Financial Protection Bureau (CFPB). 
Randy Neugebauer, considered the favourite to replace the current director of the CFPB, said Mr Trump was facing pressure from inside the Republican Party to dismantle the agency entirely.
Following Mr Trump's election last November, he emerged as the frontrunner to take charge of the watchdog. The former Texan Congressman, who retired in January, held talks with the then-President-Elect in Trump Tower shortly before his inauguration. 
Speaking exclusively to The Independent in his first interview since the new administration was installed in the White House, Mr Neugebauer said his meeting with Mr Trump included discussions about deregulating financial markets and gutting the CFPB.
"Some of my colleagues want to do away with the CFPB," he said. "I don't think you want to do away with consumer protection but you want to change it.
"The government ought not to be telling you what kind of financial products are appropriate for you."
The CFPB is tasked with protecting the public from unfair or abusive practices by mortgage servicers, payday lenders, and debt collectors.
The controversial orders Donald Trump has already issued
The controversial orders Donald Trump has already issued
1/9 Trump and the media

White House Press Secretary Sean Spicer takes questions during the daily press briefing

Getty Images

2/9 Trump and the Trans-Pacific Partnership

Union leaders applaud US President Donald Trump for signing an executive order withdrawing the US from the Trans-Pacific Partnership negotiations during a meeting in the Roosevelt Room of the White House in Washington DC. Mr Trump issued a presidential memorandum in January announcing that the US would withdraw from the trade deal

Getty

3/9 Trump and the Mexico wall

A US Border Patrol vehicle sits waiting for illegal immigrants at a fence opening near the US-Mexico border near McAllen, Texas. The number of incoming immigrants has surged ahead of the upcoming Presidential inauguration of Donald Trump, who has pledged to build a wall along the US-Mexico border. A signature campaign promise, Mr Trump outlined his intention to build a border wall on the US-Mexico border days after taking office

Getty Images

4/9 Trump and abortion

US President Donald Trump signs an executive order as Chief of Staff Reince Priebus looks on in the Oval Office of the White House. Mr Trump reinstated a ban on American financial aide being granted to non-governmental organizations that provide abortion counseling, provide abortion referrals, or advocate for abortion access outside of the United States

Getty Images

5/9 Trump and the Dakota Access pipeline

Opponents of the Keystone XL and Dakota Access pipelines hold a rally as they protest US President Donald Trump's executive orders advancing their construction, at Columbus Circle in New York. US President Donald Trump signed executive orders reviving the construction of two controversial oil pipelines, but said the projects would be subject to renegotiation

Getty Images

6/9 Trump and 'Obamacare'

Nancy Pelosi who is the minority leader of the House of Representatives speaks beside House Democrats at an event to protect the Affordable Care Act in Los Angeles, California. US President Donald Trump's effort to make good on his campaign promise to repeal and replace the healthcare law failed when Republicans failed to get enough votes. Mr Trump has promised to revisit the matter

Getty Images

7/9 Donald Trump and 'sanctuary cities'

US President Donald Trump signed an executive order in January threatening to pull funding for so-called "sanctuary cities" if they do not comply with federal immigration law

AP

8/9 Trump and the travel ban

US President Donald Trump has attempted twice to restrict travel into the United States from several predominantly Muslim countries. The first attempt, in February, was met with swift opposition from protesters who flocked to airports around the country. That travel ban was later blocked by the Ninth Circuit Court of Appeals. The second ban was blocked by a federal judge a day before it was scheduled to be implemented in mid-March

SANDY HUFFAKER/AFP/Getty Images

9/9 Trump and climate change

US President Donald Trump sought to dismantle several of his predecessor's actions on climate change in March. His order instructed the Environmental Protection Agency to reevaluate the Clean Power Plan, which would cap power plant emissions

Shannon Stapleton/Reuters
It has powers to take action against companies that break the law and in a recent case sued a law firm for allegedly "scamming 9/11 heroes out of money intended to cover medical costs".
The watchdog also acts on cases of suspected age or race discrimination.
But Mr Neugebauer is leading calls for the agency in its current form to be dismantled and his appointment to lead it would likely see the watchdog lose much of its clout. 
He claimed American consumers were being suffocated with regulations and should be free to choose loans and mortgages, regardless of whether the deals on offer were good or bad.  
​Mr Neugebauer said he would accept an offer from the President to run the agency "depending on what the long-range plan is".
"We had a broad discussion. We did not discuss a specific job. It has been rumoured, but an offer has not been extended."
Mr Neugebauer, who represented west Texas's 19th congressional district, also voiced his support for payday lenders, despite a lack of transparency and often crippling rates of interest that have led to calls for them to be banned. 
"Millions and millions of people use payday lending as a source of credit because they have poor credit scores," he said. 
He also gave his backing to the President's executive order calling for a review of the 2010 Dodd-Frank financial regulations.
Obama-era rules designed to curb the riskiest actions of banks before the financial crisis had been an overreaction, he said.
"Blanket regulation over the entire financial market is impacting some of the entities that possibly were part of the cause, but in many cases entities that really didn't have anything to do with the crisis are affected.
"Many folks, including myself, think we went too far."
Under the CPFB's current director, Richard Cordray, billions of dollars have been returned to consumers caught up in credit scams or malpractice in the banking sector.
But Mr Neugebauer suggested that the problem was being overstated, and said individual states were often doing a better job than the federal agency.
"Obviously there are people out there that abuse the system, but people have [already] taken action against those," he said on the sidelines of an event at London Metropolitan University.
"There is some uniformity that can come from having consumer protection at a federal level [but] I think the states have done a pretty good job."
The CFPB has been under threat since a federal appeals court found in October the agency's structure was unconstitutional.
The court also ruled that the US president should be able to dismiss the director at will, putting at risk the job of Mr Cordray, whose five year term doesn't end until 2018.
The agency was born out of the 2010 Dodd-Frank Wall Street reform law and is considered one of Barack Obama's top domestic policy achievements.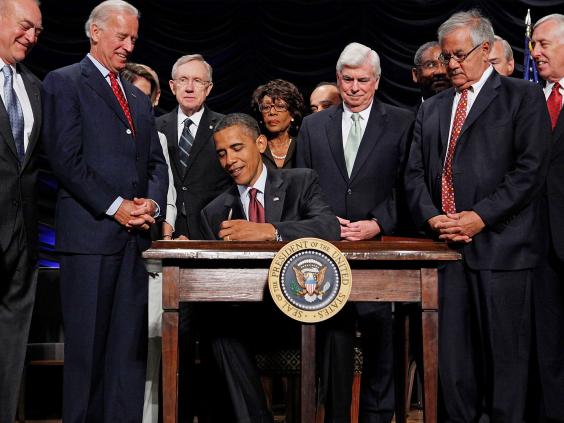 However, it is hated by libertarians who say it is guilty of mission creep and should be reformed or disbanded.
Fellow Texas Republicans senator Ted Cruz and representative John Ratcliffe introduced a one-page bill to kill the bureau entirely last month.
Winding up the agency would prove hugely controversial, and even some in the banking sector have warned against clipping the CFPB's wings.
Reuse content