Nearly two-thirds of Americans oppose President Donald Trump's plan to build a wall along the US border with Mexico — and even more are convinced he will fail to keep his promise to make Mexico pay for it, 
Mr Trump's insistence that the US' southern neighbour will foot the bill for the scheme led to a very public falling out with Mexico's president, Enrique Peña Nieto, who had vowed not to cough up. Following a series of tweets by Mr Trump about the "badly needed wall", Mr Peña Nieto cancelled a planned visit to Washington.
The graphic below, created for The Independent by statistics agency Statista, indicates 70 per cent of Americans believe they will eventually be on the hook for the wall, to the tune of at least $120 per household.
Based on a survey carried out by Pew Research Centre, it also suggests just 16 per cent believe Mr Trump's assurances that Mexico will pay.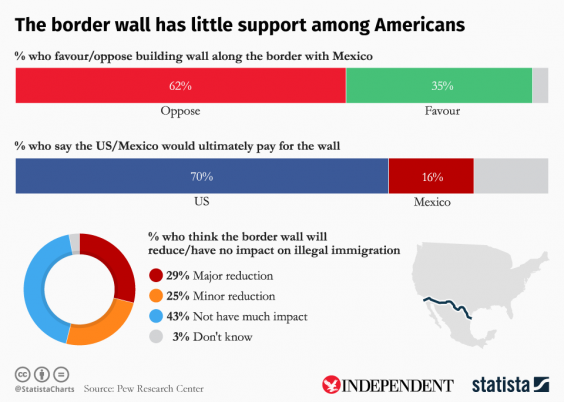 Mr Trump has said the price would drop "way down" once he became involved in the planning process. According to a leaked Department of Homeland Security report, the barrier could cost as much as $21bn (£17bn) and take more than three years to construct.
Some 650 miles of fencing already in place has come at a cost of $7bn ($5.6bn) and Mr Trump's plans require extending the barrier into increasingly remote and mountainous regions, which raises the building costs significantly.
The proportion of Americans who oppose the wall has increased since election day, from 54 per cent to 62 per cent.
The controversial orders Donald Trump has already issued
The controversial orders Donald Trump has already issued
1/9 Trump and the media

White House Press Secretary Sean Spicer takes questions during the daily press briefing

Getty Images

2/9 Trump and the Trans-Pacific Partnership

Union leaders applaud US President Donald Trump for signing an executive order withdrawing the US from the Trans-Pacific Partnership negotiations during a meeting in the Roosevelt Room of the White House in Washington DC. Mr Trump issued a presidential memorandum in January announcing that the US would withdraw from the trade deal

Getty

3/9 Trump and the Mexico wall

A US Border Patrol vehicle sits waiting for illegal immigrants at a fence opening near the US-Mexico border near McAllen, Texas. The number of incoming immigrants has surged ahead of the upcoming Presidential inauguration of Donald Trump, who has pledged to build a wall along the US-Mexico border. A signature campaign promise, Mr Trump outlined his intention to build a border wall on the US-Mexico border days after taking office

Getty Images

4/9 Trump and abortion

US President Donald Trump signs an executive order as Chief of Staff Reince Priebus looks on in the Oval Office of the White House. Mr Trump reinstated a ban on American financial aide being granted to non-governmental organizations that provide abortion counseling, provide abortion referrals, or advocate for abortion access outside of the United States

Getty Images

5/9 Trump and the Dakota Access pipeline

Opponents of the Keystone XL and Dakota Access pipelines hold a rally as they protest US President Donald Trump's executive orders advancing their construction, at Columbus Circle in New York. US President Donald Trump signed executive orders reviving the construction of two controversial oil pipelines, but said the projects would be subject to renegotiation

Getty Images

6/9 Trump and 'Obamacare'

Nancy Pelosi who is the minority leader of the House of Representatives speaks beside House Democrats at an event to protect the Affordable Care Act in Los Angeles, California. US President Donald Trump's effort to make good on his campaign promise to repeal and replace the healthcare law failed when Republicans failed to get enough votes. Mr Trump has promised to revisit the matter

Getty Images

7/9 Donald Trump and 'sanctuary cities'

US President Donald Trump signed an executive order in January threatening to pull funding for so-called "sanctuary cities" if they do not comply with federal immigration law

AP

8/9 Trump and the travel ban

US President Donald Trump has attempted twice to restrict travel into the United States from several predominantly Muslim countries. The first attempt, in February, was met with swift opposition from protesters who flocked to airports around the country. That travel ban was later blocked by the Ninth Circuit Court of Appeals. The second ban was blocked by a federal judge a day before it was scheduled to be implemented in mid-March

SANDY HUFFAKER/AFP/Getty Images

9/9 Trump and climate change

US President Donald Trump sought to dismantle several of his predecessor's actions on climate change in March. His order instructed the Environmental Protection Agency to reevaluate the Clean Power Plan, which would cap power plant emissions

Shannon Stapleton/Reuters
Mr Trump is to re-introduce another flagship anti-immigration policy this week with an updated travel ban. The President has chosen not to fight a court ruling that struck down the original ban on travellers from seven Muslim-majority countries, and will instead introduce a new version featuring "minor technical differences".
The first ban, signed on 27 January, temporarily restricted entry to the US for citizens of Iraq, Iran, Syria, Sudan, Somalia, Yemen and Libya — and indefinitely to Syrian refugees.
It caused widespread confusion at airports in the US and elsewhere, but was blocked after three federal judges ruled it was not legitimate.
There has been a backlash to Mr Trump's crackdown on illegal immigrants already inside the US, with Washington state governor Jay Inslee banning his staff from cooperating with enforcement agents unless the law requires it.
State agencies are also ordered not to collect any more information on people than strictly necessary, and not to deny anyone services based on their citizenship.
John Kelly, the homeland security secretary, said during a visit to Mexico that there would be "no mass deportations" as Mr Trump's promise to "immediately" remove large numbers of undocumented migrants is implemented.
Thousands of new Immigration and Customs Enforcement officers are to be hired.
Mr Trump told business executives at a recent meeting that his administration was "getting drug lords out".
"We're getting really bad dudes out of this country, at a rate that nobody's ever seen before," he added.
Reuse content