The FBI did wiretap Trump Tower to monitor Russian activity, but it had nothing to do with the 2016 Presidential election, it has been reported.
Between 2011 and 2013 the Bureau had a warrant to spy on a high-level criminal Russian money-laundering ring, which operated in unit 63A of the iconic skyscraper — three floors below Mr Trump's penthouse.
The investigation led to the indictment of more than 30 people, including alleged mafia boss Alimzhan Tokhtakhounov, according to ABC News.
"He is a major player," said Mike Gaeta, the agent who led the 2013 FBI investigation, in a 2014 interview.
"He is prominent. He has extremely good connections in the business world as well as the criminal world, overseas, in Russia, Ukraine, Uzbekistan, other countries."
The suspected mobster – who is accused of moving $50m (£40m) in illegal money to the US – remains at large, even after Interpol issued a red notice for his detention.
Revelations about the surveillance came after Mr Trump claimed that previous US President Barack Obama had "wiretapped" his headquarters.
The President has failed to provide any evidence for the allegation – made in a string of tweets – and a congressional committee investigating the allegation said it did not believe it happened.
FBI director James Comey further undermined the claims on Tuesday when he told a congressional intelligence hearing he "had no information that supports those tweets".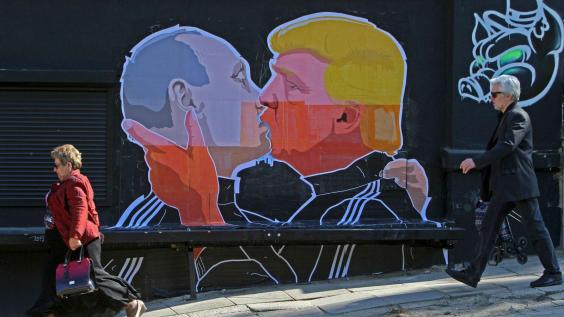 Five months after alleged mafia leader Mr Tokhtakhounov was indicted, the fugitive appeared near Mr Trump in the VIP section of the Russian Miss Universe pageant.
Mr Trump was not implicated in the 2013 money-laundering probe.
An investigation by ABC found that Mr Trump's properties have hosted a disproportionate number of Russians, including some with criminal records. 
The Trump Organization responded saying it does not track buyers by nationality.
Reuse content