There is no link between immigration and increased levels of crime, a study spanning four decades has concluded.
Donald Trump has said his administration will publish a weekly list of criminal offences committed by non-US citizens – despite evidence showing "little support for the notion that more immigrants lead to more crime".
A team of researchers led by the University at Buffalo in New York examined census data and crime reports from 200 US cities in the years between 1970 and 2010.
They found "strong and stable evidence" that crime rates are not linked to immigration, said the study's lead author Robert Adelman, adding: "The results are very clear."
Higher levels of immigration are in fact related to a drop in some types of crime, they discovered.
"The results show that immigration does not increase assaults and, in fact, robberies, burglaries, larceny, and murder are lower in places where immigration levels are higher," said Dr Adelman, an Associate Professor of Sociology at the university.
An executive order signed by Mr Trump on the fifth day of his presidency includes a clause requiring the Secretary of Homeland Security to "on a weekly basis, make public a comprehensive list of criminal actions committed by aliens".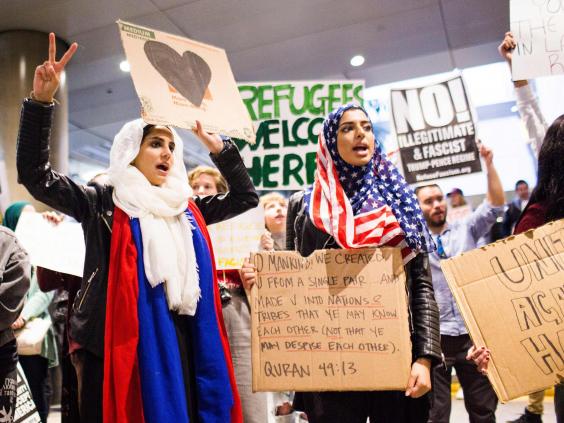 On signing the order, which said people living in the US without the right to do so "present a significant threat to national security and public safety", the President read out the names of US citizens who have been murdered by unauthorised immigrants.
But the order does not specify that only crimes committed by illegal immigrants should be published, raising the prospect of offences committed by any immigrant being included on the list even if the person is living in the US legally.
Human Rights Watch said the move was a sign of Mr Trump's "xenophobia" and was "shocking in the extreme".
And Frank Sharry, executive director of campaign group America's Voice, which is against restrictive immigration laws, told Fox News the President had announced the policy because he "wants the American people to think that most undocumented immigrants are criminals".
"Every expert knows the opposite is true, but he wants to spread the 'Big Lie' to justify what he intends to do – which is to try to force millions of immigrants out of the country," he said.
Previous research has shown that people born overseas are less likely to commit crimes than those born in the US.
Figures from the US Justice Department analysed by the Cato Institute think tank found immigrants were one-half to one-fifth as likely to be jailed when compared with American citizens.
About seven per cent of the country's population are non-citizens, while five per cent of prisoners in state and federal prisons fall into that category.
The new study, published in the Journal of Ethnicity in Criminal Justice, used a large, far-reaching dataset in an attempt to explore wider societal trends related to immigration patterns, said Dr Adelman.
"We are not claiming that immigrants are never involved in crime," he said. "What we are explaining is that communities experiencing demographic change driven by immigration patterns do not experience significant increases in any of the kinds of crime we examined.
"It's important to base our public policies on facts and evidence rather than ideologies and baseless claims that demonise particular segments of the US population without any facts to back them up."
Mr Trump has promised to build a wall at the border between the US and Mexico and has pledged to deport as many as three million illegal immigrants, substantially broadening the remit of the Department of Homeland Security to include those with minor convictions as well as those known to have committed serious crimes. 
The controversial orders Donald Trump has already issued
The controversial orders Donald Trump has already issued
1/8 Trump and the media

White House Press Secretary Sean Spicer takes questions during the daily press briefing

Getty Images

2/8 Trump and the Trans-Pacific Partnership

Union leaders applaud US President Donald Trump for signing an executive order withdrawing the US from the Trans-Pacific Partnership negotiations during a meeting in the Roosevelt Room of the White House in Washington DC

Getty

3/8 Trump and the Mexico wall

People protest against US President Donald Trump's inauguration next to a fake wall with a Mexican national flag and a dummy representing him in Mexico City

Getty Images

4/8 Trump and the Mexico wall

A US Border Patrol vehicle sits waiting for illegal immigrants at a fence opening near the US-Mexico border near McAllen, Texas. The number of incoming immigrants has surged ahead of the upcoming Presidential inauguration of Donald Trump, who has pledged to build a wall along the US-Mexico border

Getty Images

5/8 Trump and abortion

US President Donald Trump signs an executive order as Chief of Staff Reince Priebus looks on in the Oval Office of the White House

Getty Images

6/8 Trump and the Dakota Access pipeline

Opponents of the Keystone XL and Dakota Access pipelines hold a rally as they protest US President Donald Trump's executive orders advancing their construction, at Columbus Circle in New York. US President Donald Trump signed executive orders reviving the construction of two controversial oil pipelines, but said the projects would be subject to renegotiation

Getty Images

7/8 Trump and the Dakota Access pipeline

US actress and political activist Jane Fonda attends a rally with opponents of the Keystone XL and Dakota Access pipelines as they protest US President Donald Trump's executive orders advancing their construction, at Columbus Circle in New York

Getty Images

8/8 Trump and 'Obamacare'

Nancy Pelosi who is the minority leader of the House of Representatives speaks beside House Democrats at an event to protect the Affordable Care Act in Los Angeles, California. The Republican-led US Senate has launched their much-anticipated effort to repeal the Affordable Care Act by passing a budget blueprint which would allow them to begin rolling back the health care reforms

Getty Images
Facebook star and right-wing commentator Tomi Lahren sparked outrage when she described refugees as "rapeugees".
During a conversation with fellow right-wing commentator Graham Allen on online television show The Blaze, Ms Lahren questioned celebrities' right to talk about an issue that, she said, may not directly impact their own lives.
"They will never have refugees or rapeugees in their back yard," she said. "I don't think they're going to pump refugees into Beverly Hills."
And far-right news site Breitbart, previously run by Mr Trump's chief strategist Steve Bannon, has a topic page dedicated to "black crime".
There are an estimated 11.4 million unauthorised immigrants living in the United States, according to the US government.
California is home to several sanctuary cities that grant certain rights to undocumented migrants and which are at risk of losing federal funding after Mr Trump's election.