The acting head of the FBI has said the agency will continue to investigate alleged links between Russia and Donald Trump's campaign – but will not routinely update the White House.
Andrew McCabe, who assumed leadership of the investigative agency following the firing of James Comey, said the ousting of the former director would not impact the ongoing probe. He also said it had sufficient resources to pursue the investigation.
"The work of the men and women of the FBI. continues despite any changes in circumstances," he said, responding to Florida senator Marco Rubio, Republican of Florida.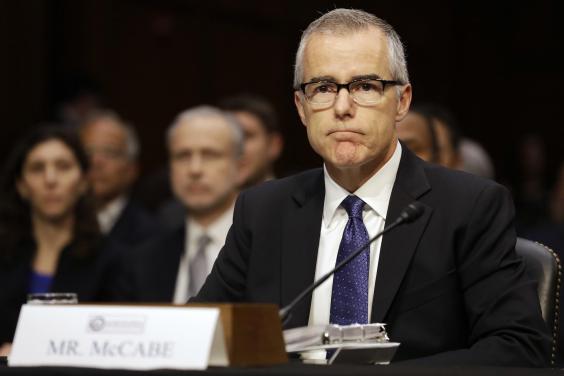 "There has been no effort to impede our investigation to date. Simply put, you cannot stop the men and women of the FBI from doing the right thing."
Mr McCabe also said he believed the agency had sufficient resources to continue its probe into alleged Russian interference in the 2016 US election. He said he was not aware of reports that Mr Comey had asked for more.
"If you are referring to the Russia investigation, I do. I believe we have the adequate resources to do it and I know that we have resourced that investigation adequately," he said.
Scrambling to defend the president firing of Mr Comey, the White House had earlier said the 56-year-old had lost the confidence of the majority of the rank-and-file members of the investigative agency. 
With no small irony, it claimed his handing of the probe into Hillary Clinton's use of a private email server had rendered his position untenable. In truth, Mr Trump had praised Mr Comey for carrying out the investigation, and on several occasions during the 2016 election campaign had said he admired his "guts".
The biggest names involved in the Trump-Russia investigation
The biggest names involved in the Trump-Russia investigation
1/11 Paul Manafort

Mr Manafort is a Republican strategist and former Trump campaign manager. He resigned from that post over questions about his extensive lobbying overseas, including in Ukraine where he represented pro-Russian interests.

Getty

2/11 Mike Flynn

Mr Flynn was named as Trump's national security adviser but was forced to resign from his post for inappropriate communication with Russian Ambassador to the US Sergey Kislyak. He had misrepresented a conversation he had with Mr Kislyak to Vice President Mike Pence, telling him wrongly that he had not discussed sanctions with the Russian.

Getty Images

3/11 Sergey Kislyak

Mr Kislyak, the Russian ambassador to the US, is at the centre of the web said to connect President Donald Trump's campaign with Russia.

Reuters

4/11 Roger Stone

Mr Stone is a former Trump adviser who worked on the political campaigns of Richard Nixon, George HW Bush, and Ronald Reagan. Mr Stone claimed repeatedly in the final months of the campaign that he had backchannel communications with WikiLeaks founder Julian Assange and that he knew the group was going to dump damaging documents to the campaign of Democratic candidate Hillary Clinton - which did happen. Mr Stone also had contacts with the hacker Guccier 2.0 on Twitter, who claimed to have hacked the DNC and is linked to Russian intelligence services.

Getty Images

5/11 Jeff Sessions

The US attorney general was forced to recuse himself from the Trump-Russia investigation after it was learned that he had lied about meeting with Russian Ambassador to the US Sergey Kislyak.

Getty Images

6/11 Carter Page

Mr Page is a former advisor to the Trump campaign and has a background working as an investment banker at Merrill Lynch. Mr Page met with Russian Ambassador to the US Sergey Kislyak during the 2016 Republican National Convention in Cleveland. Mr Page had invested in oil companies connected to Russia and had admitted that US Russia sanctions had hurt his bottom line.

Reuters

7/11 Jeffrey "JD" Gorden

Mr Gordon met with Russian Ambassador to the US Sergey Kislyak during the 2016 Republian National Convention to discuss how the US and Russia could work together to combat Islamist extremism should then-Republican presidential candidate Donald Trump win the election. The meeting came days before a massive leak of DNC emails that has been connected to Russia.

Creative Commons

8/11 Jared Kushner

Mr Kushner is President Donald Trump's son-in-law and a key adviser to the White House. He met with a Russian banker appointed by Russian President Vladimir Putin in December. Mr Kushner has said he did so in his role as an adviser to Mr Trump while the bank says he did so as a private developer. Mr Kushner has also volunteered to testify in the Senate about his role helping to arrange meetings between Trump advisers and Russian Ambassador to the US Sergey Kislyak.

Getty Images

9/11 James Comey

Mr Comey was fired from his post as head of the FBI by President Donald Trump. The timing of Mr Comey's firing raised questions around whether or not the FBI's investigation into the Trump campaign may have played a role in the decision.

Getty Images

10/11 Preet Bharara

Mr Bahara refused, alongside 46 other US district attorney's across the country, to resign once President Donald Trump took office after previous assurances from Mr Trump that he would keep his job. Mr Bahara had been heading up several investigations including one into one of President Donald Trump's favorite cable television channels Fox News. Several investigations would lead back to that district, too, including those into Mr Trump's campaign ties to Russia, and Mr Trump's assertion that Trump Tower was wiretapped on orders from his predecessor.

Getty Images

11/11 Sally Yates

Ms Yates, a former Deputy Attorney General, was running the Justice Department while President Donald Trump's pick for attorney general awaited confirmation. Ms Yates was later fired by Mr Trump from her temporary post over her refusal to implement Mr Trump's first travel ban. She had also warned the White House about potential ties former National Security Adviser Michael Flynn to Russia after discovering those ties during the FBI's investigation into the Trump campaign's connections to Russia.

Getty Images
On Wednesday, White House deputy press secretary Sarah Huckabee Sanders said Mr Comey had committed "atrocities" during the investigation.
"It's been an erosion of confidence," she said. "The Department of Justice lost confidence, bipartisan members of Congresss made it clear that they had lost confidence and rank and file members at the FBI had lost confidence in their director."
Mr McCabe rejected the White House's claim that Mr Comey had lost the backing of FBI officers. 
"Director Comey enjoyed broad support within the FBI and still does to this day," Mr McCabe said at the hearing. "The vast majority of FBI employees enjoyed a deep and positive connection to Director Comey.
During a Senate hearing, Republican Senator Andrew Burr asked Mr McCabe if he ever heard Mr Comey tell the President he wasn't the subject of an investigation. Mr McCabe said he "can't comment on any conversations the director may have had with the President".
But Mr McCabe did vow to tell the Senate Intelligence Committee if the White House tried to interfere with the bureau's Russia probe – though he asserted that there had "been no effort to impede our investigation to date".
Reuse content