No actual workers, cheering or otherwise, were there when Wisconsin governor Scott Walker took his latest steps to castrate organised labour in his state while casting an ever more confident eye towards Washington and the White House.
Mr Walker's crusade against union power in a state that was once the cradle of the labour movement in America is almost done. The passing of a law, excoriated by President Barack Obama in a rare swipe at the leader of a state, underscores the rightwards shift Mr Walker is undertaking to consolidate his position at the top of Republican hopefuls for 2016. "I'm deeply disappointed that a new anti-worker law in Wisconsin will weaken, rather than strengthen workers in the new economy," Mr Obama said in a statement.
With 40 pens – one each for his ideologue allies from the state legislature huddled around him – Mr Walker did the deed on Monday inside a water meter factory just north of Milwaukee. It was the ceremonial signing of a so-called 'Right to Work' law that forbids enterprises from entering labour deals with unions that oblige workers to pay them dues.
Randy Bryce, 50, was high above a muddy construction site welding together steel beams when Mr Walker signed the law. He is among the Wisconsin angry. Just ask his family. It was last week when he was in a book shop in Caledonia, where he lives, when from the corner of his eye he caught his son, Ben, eight, letting fly at a book he'd seen on a table. It was a memoir by Mr Walker, the governor's face on the front.
A member of Ironworkers Local 8, Mr Bryce called the Right to Work law a "blatant political attack" against him and other working men and women. Last week when hearings on the law were scheduled in the legislature in Madison, the state capitol, he took a day off to testify to senators. But the Republican leadership cut them short and he didn't get the chance. The next day he took to the public gallery and gave them a piece of his mind. "You're turning Wisconsin into a banana republic," he yelled.
Mr Bryce, an Army veteran, was ejected by police that day, a symbol of the helplessness of the unions and the once mighty progressive left in Wisconsin to resist the conservative juggernaut that began rolling here in 2010 when Mr Walker won the governor's mansion and Republicans took control of both sides of the legislature. "If someone had told me in 2010 all this could happen in Wisconsin, I'd have laughed in their face," Mr Bryce mused this week. "And now it's a reality."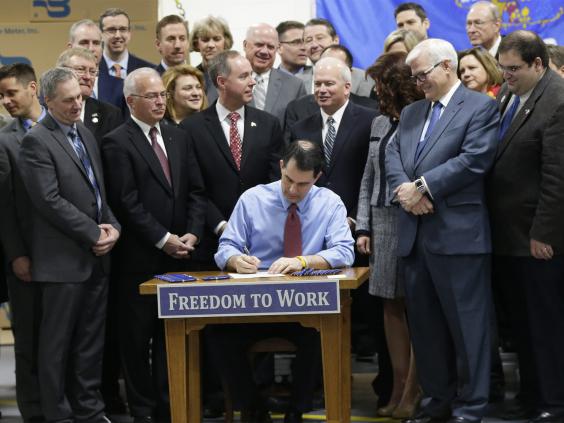 Mr Walker, 47, began his hot political streak in 1993 upon being elected to the state legislature. He may become the first serious presidential candidate since Harry Truman not to have a university degree. "Labour bosses will never forgive me for taking away their power," he boasted in an email to supporters late Monday, asking for more money to "continue our conservative reforms". There won't be a conservative political action committee in the land, including those funded by David and Charles Koch, that won't reward Mr Walker for his crusade.
It is four years since Wisconsin passed another law, Act 10, which gutted the ability of public sector unions to collectively bargain. "He is loved and hated in this state," reported Robert Kraig, director of Citizen Action of Wisconsin, a social justice advocacy group, and a critic of the governor. "But he is an extremely skilled politician and he shouldn't be underestimated as a serious threat to win the Republican nomination."
Mr Walker may already have the conservative, Tea Party flank of the party sewn up. Latest polls in Iowa, which will kick off the nomination race with caucus voting in January, give him a commanding lead over his rivals. A national McClatchy-Marist Poll released today had him tied in the lead among likely Republican voters alongside former Florida governor Jeb Bush at 19 per cent each.
While Mr Bush will find it hard to tap into Tea Party territory because of his support for giving illegal immigrants a path to legal status, Mr Walker does have credibility with the party establishment and has a chance therefore to straddle both factions in the party, a potentially serious advantage. If Mr Bush has a cash advantage now, that may vanish as conservative special interests warm to Mr Walker.
To conservative activists Mr Walker is a warrior who survived a vigorous recall attempt by the unions and Democrats in 2012 and then won re-election in a tight race last November. And they have looked on in unabated admiration as he has set about dismantling what used to be called the Wisconsin Idea, a progressive compact to forge a state where the people controlled government not special interests.
Nor is he done. The University of Wisconsin, which was at the heart of the Wisconsin idea, will be spun out of state control and stripped of $300 million in funding in his latest state budget. He is taking money from public schools to encourage a voucher system for private schooling and is promising to subject recipients of social benefits, like Medicaid, to drugs testing. Mr Kraig calls the drugs-testing proposal a "racially-coded" message to his white base who stereotype those on welfare as black.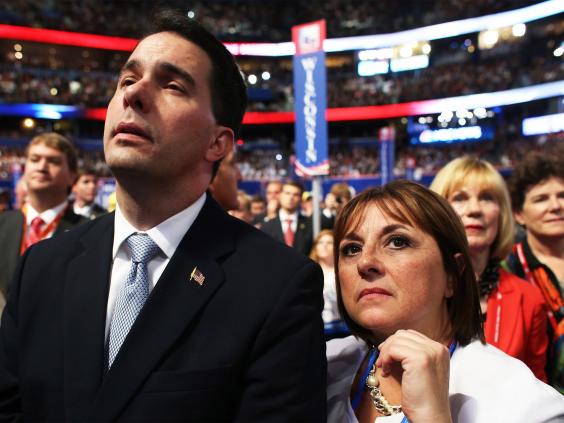 "It is a remarkable transformation from a progressive, pro-union state run mostly by Democrat governors and Democrat senators to a reactionary corporations-first, conservative state," Paul Secunda, professor of labour law at Marquette University, said. "The labour movement here is struggling to catch up, they are still in a state of shock and they still haven't figured out how to respond in the face of this assault."
Professor Secunda queries the pitch by Mr Walker and his allies that 'Right to Work' will make the state more competitive and help workers. "It's really about opening Wisconsin to businesses, to corporations run by the Koch Brothers, corporations that are part of the American Legislative Exchange Council , ALEC, that want one thing…one thing only, cheap labour." ALEC drafts model conservative bills for states to adopt. The Wisconsin Right to Work law matches the ALEC draft almost word for word. "The whole idea is to sabotage unions. This is a corporate conspiracy against working class Americans."
Now Mr Walker can expect his record to come under far greater scrutiny. As will his personal life. He met his wife, Tonette, who is twelve years his senior and works for the American Lung Association, in a karaoke bar. They married in 1993 just as his political career was taking off. They have two sons, Matt and Alex. But it will be his disappearance from Marquette University just months before he was due to graduate in 1990 that will attract the most attention. His student records are sealed and his own coyness has only fueled speculation over whether he dropped out or was forced out for some kind of lapse.
Questions may also multiply about his decimation of labour. Union membership in the public sector has imploded from 50 per cent to 37 per cent. The Wisconsin State Employees Union has had to slash its budget by two thirds. And workers are suffering. Act 10 forced them to start paying toward their pensions and health coverage out of pocket, cutting take home pay by over 10 per cent. If the Right to Work law similarly strips private sector unions of resources serious questions of worker safety arise.
"States that have enacted this legislation have a 52 percent higher fatality rate among workers," Mr Bryce asserted. His ironworking job is one of the more dangerous out there.  "One of thing the union stands up for is workplace safety and safety will be one of the first things to go, because it costs money."
An option, of course, is to move to a different state. But that would never cross Mr Bryce's mind. "I'm going to stick around for as long as it takes to get all those sons of bitches voted out of office."
Reuse content