If Georgia in the Deep South was vibrating with Tea Party fever this time four years ago, that is hardly the case now, with the two candidates most identified with the movement set to be shut out in a crowded primary election for a seat in the United States Senate.
One of six states with primaries on Tuesday, Georgia seems set to confirm what may be a defining trend of this year's mid-term elections: a resurgence of candidates backed by the Republican establishment at the expense of Tea Party extremists.
Polling in Georgia shows Paul Broun and Phil Gingrey, Tea Party-backed members of Congress, trailing badly before today's vote. Mr Broun said during his campaign that evolution and the Big Bang theory are merely "lies straight from the pit of hell".
Far better positioned are Jack Kingston, a congressman from Savannah who has the backing of the Chamber of Commerce; David Purdue, a businessman and former top executive at Reebok; and Karen Handel, a former senior state official. Only Ms Handel has received any overt backing from the Tea Party, including from Sarah Palin. The two leading candidates will compete in a run-off contest in July.
"Georgia's fire-breathing, flag-waving, tea-party-enamoured Republican electorate of 2010 has all but disappeared," Matt Towery, head of Insider Advantage, an Atlanta polling company, noted last week, adding that the shift could end up helping the Democrats if it leads to lower turnout among the Tea Party faithful. Tea Party-endorsed candidates are also expected to fare badly today in voting in Idaho and Kentucky.
Heading into a Texas Roadhouse restaurant in the Savannah Mall, Roy and Paula Bethel say they intend to vote in this primary but confirm also that their old enthusiasm for the Tea Party has waned. "I think they were right on the money on a lot of stuff, but they didn't have the political power to pull it off," says Mr Bethel, 65, a project manager for the army. He said he'll vote for Jack Kingston.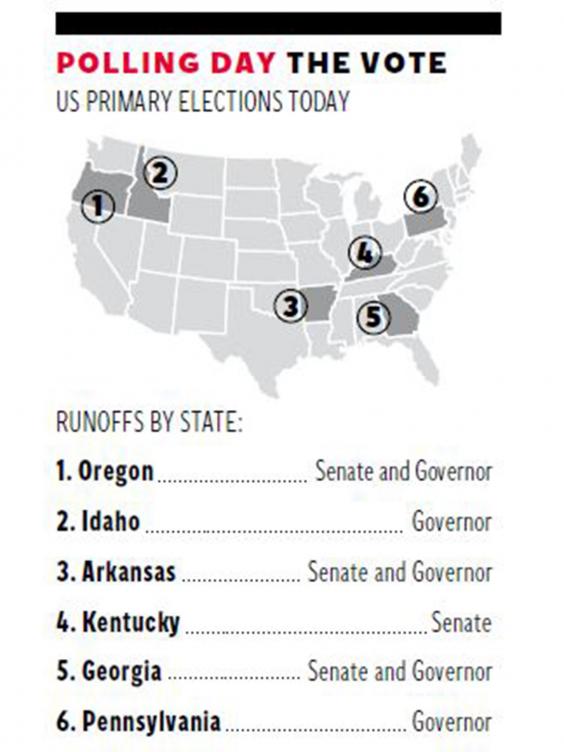 Mrs Bethel, 62, is more direct. "I think they were just a little too far out there," she said. "I think the party was really getting split and I don't think you can get anything done if the party is broken in half. It's time we get back together and get back on track."
The Democrat candidate is Michelle Nunn, a prominent Georgia civil rights leader and daughter of the former Democratic Senator Sam Nunn.
Most polling experts give the Republicans a more than even chance of taking control of the US Senate in November, an event that would all but straightjacket Barack Obama for the rest of his second term. To achieve that, they need to gain six seats. But they could be blocked if the Democrats in turn can steal at least one Senate seat from the Republicans – and the only place that seems feasible is here in Georgia, with Ms Nunn on the  ticket.
Reuse content