A flash flood close to the Utah-Arizona border has killed at least eight women and children, after their vehicles were swept off the road by what officials described as "a large wall of water and debris."
Sixteen people were travelling in a 4x4 and a van when the flood struck close to the town of Hildale late on Monday afternoon. Three reportedly escaped from the deluge, while a further five remained unaccounted for on Tuesday morning.
All the victims were mothers and children, the youngest of whom was about four years old, Hildale assistant fire chief Kevin Barlow told the Associated Press. "This hit with a vengeance we haven't seen for some time," he said.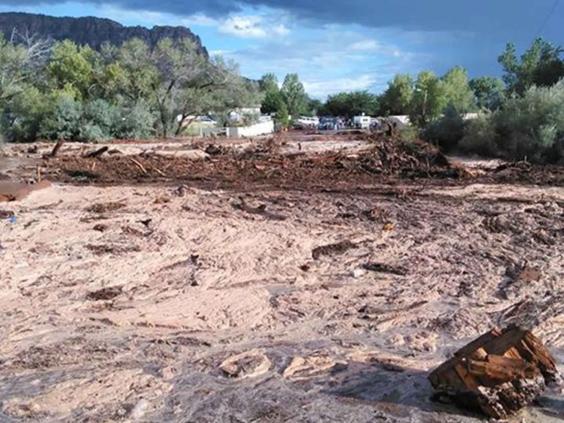 The floods followed a heavy downpour in canyons to the north of the town, between 4 and 5pm on Monday. The rain lasted only about 30 minutes, witnesses said, but it sent a torrent of water down into the streets of the town below.
Hildale is widely known as the headquarters of controversial polygamous sect leader Warren Jeffs, who was sentenced to life in prison in 2011, for sexually assaulting multiple underage girls whom he considered his wives.
Members of Mr Jeffs' Mormon fundamentalist group are said to be discouraged from watching television, using the internet or interacting with the outside world. The National Weather Service had issued a flash flood warning for the area prior to the incident, but Mr Barlow said he was unsure whether residents were fully aware of the threat.
Reuse content