A salesman has been banned from a South Dakota gun show after he was filmed selling racist pictures for target practice.
The man at the Collector's Classic Gun Show in Sioux Falls was filmed by a local television network offering for sale images of a caricature of a black man. The signs bore a racial epithet and the words "official target".
When questioned by a journalist from KSFY the salesman defended his actions and denied that the items were offensive.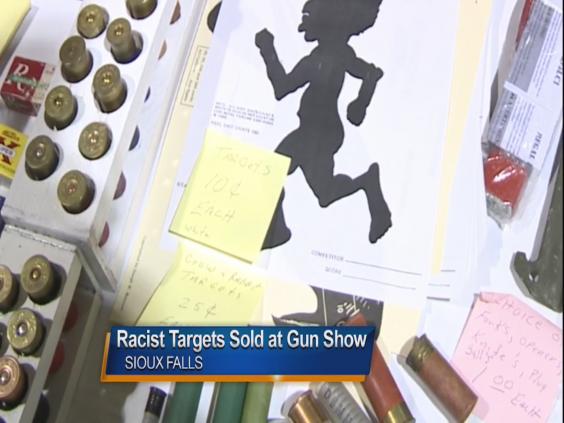 "To who," said the vendor. "Are you Negro? You know, there are some black people, and then there are some Negroes."
The salesman told the journalist that he had sold 500 of the targets at ten cents each.
Gun show organiser Bob Campbell insisted that he banned the vendor as soon as the racist targets were discovered.
"I take pride in the work I do and the quality of the shows I put out," Mr Campbell told KSFY. "And I'm very disappointed, disgusted to see what was on that table. I was not aware it was there or it would have been gone."
Reuse content