Disturbing video taken by the body camera of an American police officer has captured the final moments before he was shot and killed by a man he was questioning about what seemed to be a routine domestic disturbance call.
Officer Tyler Stewart had gone to the house of Robert Smith, 28, who had allegedly had a fight with his girlfriend in which he damaged some things in her apartment, according to local media reports.
The body camera video, recorded in Flagstaff, Arizona, shows Mr Stewart briefly entering Mr Smith's home and the two approaching the back door before Mr Smith turns and goes back into his bedroom, apparently to get his gun. He emerges with his hands stuffed in his pockets before leading the officer outside.
In a cruel bit of foreshadowing, Mr Stewart asks Mr Smith if he has any weapons in his pockets. Mr Smith replies, "No sir, I'm just cold." The two men talk for a few minutes outside of Mr Smith's home, when the officer decides he should check to see if he has a weapon and pat him down.
Mr Stewart pats Mr Smith's left jacket pocket, but when he reaches for the right pocket, Mr Smith whips out a revolver and the video shuts off. Mr Smith pulls the trigger six times, hitting Mr Stewart with five bullets, four in the head, according to reports. The man then grabbed the officer's weapon and killed himself.
The events in Flagstaff have drawn fresh attention to a debate taking place across the US over whether or not officers should be obliged to wear a body camera while on duty.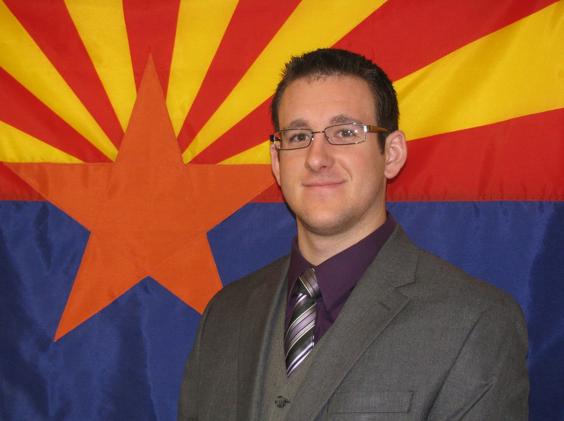 Incidents such as the one last summer in Ferguson, Missouri, in which a white police officer shot and killed an unarmed black teenager, have created a strong call for officers to wear body cameras. The officer in that case was not wearing a body camera.
Generally, the cameras have been talked about as a way to keep officers honest, or as a means to monitor police wrongdoing. But as the video above shows, body cameras catch everything, including the dangers faced by police on a daily basis.
"This is an enormous tragedy for our department and the family of our officer," Flagstaff Police Chief Kevin Treadway said in a statement  We are a very close knit organisation, and know that all members of the Flagstaff Police Department are grieving at this time."