A quick-thinking ski lift operator saved a child from potential injury after a young boy was left dangling several feet in the air.
Video filmed in Whistler resort, Canada, shows 11-year-old Tristan Stead hanging in the air having slipped from his seat.
A group of skiers, organised by a lift operator, quickly gathered below with a safety net to catch the boy.
The resort released a statement saying that the 11-year-old had slipped while attempting to pick up a loose pole with the safety bar still raised.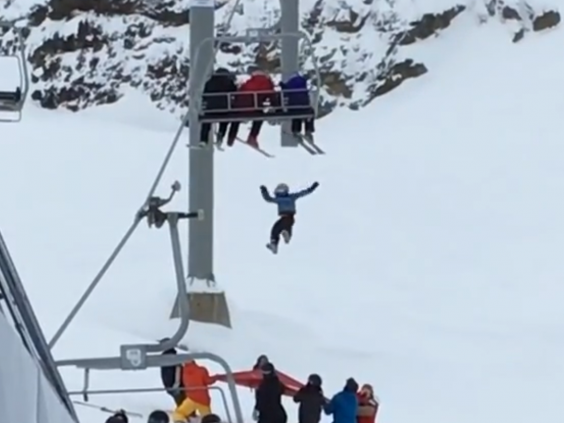 Fortunately the lift was quickly stopped and the boy kicked off his skis as his uncle held onto him.
The child's mother, Liz Stead, thanked the lift operator and those who volunteered to help her son.
Christopher Sakai, who filmed the incident, uploaded the video to YouTube where it has received hindreds of thousands of views.
The Essential Skiing Guide: The rest of the world
"Luckily, the quick thinking of the lift operator stopped the lift and got six guys to save the child," Mr Sakai wrote accompanying the video.
Mr Sakai also reported that the boy seemed fine after the fall.
"He just ran back and looked happy," he said. "It all happened so fast, and it was just great that he came out OK."