The descent system on Virgin Galactic's SpaceShipTwo deployed early seconds before it crashed, investigators looking into the tragedy have found.
Michael Alsbury, 39, who was co-piloting the test flight on Friday, died and pilot Peter Siebold, 43, is in hospital after ejecting and parachuting to the ground.
The US National Transportation Safety Board (NTSB) released its initial findings on Sunday, saying the "feathering function" intended to slow the craft as it re-enters the atmosphere had deployed during its ascent.
Christopher Hart, acting chairman of the NTSB, said the side wings are intended to open out at speeds above Mach 1.4 so "aerodynamic forces do not extend feathers prematurely" but they moved at Mach 1.
"Approximately nine seconds after ignition, the 'feather' parameters changed from lock to unlock," he added.
"Approximately two seconds later, just above Mach 1.0, feathers moved toward the extended position even though the 'feather handle' was not moved."
Communications from SpaceShipTwo then stopped, suggesting that was the moment break-up began and it crashed towards the earth in the Mojave Desert.
Investigators recovered the craft's propellant tanks and engine intact, indicating there was no explosion, and Mr Hart said the engine's ignition and release from its carrier craft was normal.
Cameras in the cockpit showed that Mr Alsbury moved the "unlock" lever but a second action to needed to move the feathers was not completed, meaning they extended "uncommanded".
Mr Hart emphasised that no cause had been found and the findings were merely a "statement of fact".
"We are a long way from finding a cause," he said. "There's much more that we don't know and our investigation is far from over."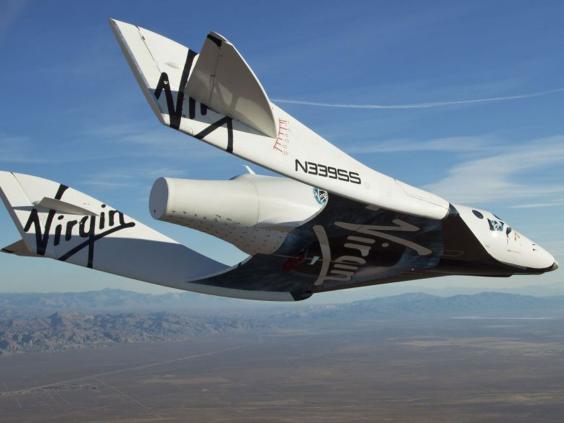 The NTSB will be looking at training issues, safety culture, design, and the procedure on the day in its ongoing investigation.
SpaceShipTwo was conducting test flights and was not yet certified for commercial operations when the crash occurred, delaying indefinitely the start of passenger service for Sir Richard Branson's fledgling space tourism company.
The billionaire and his son are among those planning to fly on the first commercial flight and about 800 people have already paid or put down deposits for the ride, which costs $250,000 (£156,000).
Sir Richard said he wanted the "dream" of commercial space flight to live on, adding: "We would love to finish what we started some years ago."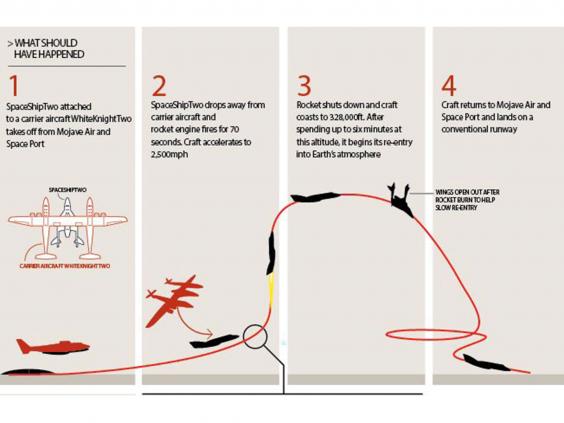 The two pilots involved were employees of Scaled Composites, a Northrop Grumman Corp subsidiary that designed and built the six-passenger, two-pilot craft.
Friday's crash was the second disaster in less than a week suffered by a private space company.
On Tuesday, an Antares rocket built and launched by Orbital Sciences Corp exploded after blast-off from Wallops Island, Virginia, destroying a cargo ship bound for the International Space Station.
In pictures: Virgin Galactic space rocket crash
In pictures: Virgin Galactic space rocket crash
1/8 Virgin Galactic space rocket

A three-image combination shows the Virgin Galactic SpaceShipTwo rocket separating from the carrier aircraft, left, before it exploded, right, during a test flight on 31 October 2014

AP Photo/Kenneth Brown

2/8 Virgin Galactic space rocket

Sir Richard Branson, founder of Virgin Galactic, with a scale model of the Spaceship Two attached to the White Knight carrier aircraft in this January 2008 photograph

STAN HONDA/AFP/Getty Images

3/8 Virgin Galactic space rocket

The Virgin Galactic SpaceShipTwo rocket explodes in the air during a test flight

AP

4/8 Virgin Galactic space rocket

Wreckage from Virgin Galactic's SpaceShipTwo

Reuters

5/8

A piece of debris after the crash of Virgin Galactic's SpaceShipTwo near Cantil, California

REUTERS/Lucy Nicholson

6/8 Virgin Galactic space rocket

The suborbital passenger spaceship being developed by Richard Branson's Virgin Galactic crashed during a test flight on Friday at the Mojave Air and Space Port in California

Reuters

7/8 Virgin Galactic space rocket

Police officers stand near wreckage from Virgin Galactic's SpaceShipTwo

Reuters

8/8 Virgin Galactic space rocket

The wreckage of what is believed to be SpaceShipTwo in Southern California's Mojave Desert

AP
A spokesperson for Virgin Galactic said the company's "thoughts and prayers" continued to be with the families and friends of Mr Alsbury and Mr Siebold.
"We understand that everyone is anxious to understand what happened on Friday; certainly no one wants to know more than we do," he added.
"At Virgin Galactic, we are dedicated to opening the space frontier, while keeping safety as our 'North Star'.
"This has guided every decision we have made over the past decade, and any suggestion to the contrary is categorically untrue."
Reuse content