People are waking up around the world to newspaper front pages covering the murder of two US journalists live on TV - but for some, the pictures used to illustrate the story have gone too far.
Live footage of reporter Alison Parker, filmed by her cameraman Adam Ward, was going out live on WDBJ-7 when the pair were shot and killed at a shopping mall on Virginia's Smith Mountain Lake.
Ward's camera captured Parker, smiling as she interviewed local business official Vicki Gardner, as well as their shock when shooting rang out and a flash of the gunman's face.
But it is the use of stills from a second video that has angered readers online. The shooting was also filmed by the suspected gunman himself, Ward and Parker's disgruntled former colleague Bryce Williams, who appears to have posted his video online before he was chased down by police and killed himself.
The New York Daily News, a US tabloid, sparked anger last night with its front page showing the shooting from the gunman's perspective, in three frames, including the flash of the first shot fired.
I hate that I just saw NY Daily News cover. What a repulsive decision. I went the whole day managing to avoid any images of it... Then that.

— Jeff Darlington (@JeffDarlington) August 27, 2015
NY Daily News just shared a disgusting image they plan to have on cover tomorrow. Can't imagine how anyone involved can sleep easy tonight.

— Hunter Walker (@hunterw) August 27, 2015
I buy both NYC tabs every day. Respect the hell out of many of the reporters there. The Thur. @NYDailyNews front page is awful IMO.

— Richard Deitsch (@richarddeitsch) August 27, 2015
Everybody should boycott buying the @NYDailyNews paper!! Who in their right mind would think it's OK to print that photo?? Shame on them!!

— Matthew Gregoire (@BreakngNewsPhtg) August 27, 2015
The @NYDailyNews should be ashamed, that cover is tasteless... Disrespectful to the victims, glorifies the "snuff film" (as they put it).

— MikeFerri (@MikeFerri) August 27, 2015
@NYDailyNews Have you no souls? Shame.

— Blaine Stewart (@BlaineStewart) August 27, 2015
Hm, just saw the Daily News cover so actually I'm just going to throw my phone in the river

— Caitlin Kelly (@atotalmonet) August 27, 2015
@NYDailyNews this cover is absolutely classless.

— Bryan (@BryanBut31) August 27, 2015
What the hell is wrong with you people ? @NYDailyNews Of all the pictures you could have used , you choose that? Her father might see that

— Laureen (@laureenm01) August 27, 2015
@NYDailyNews Using images from a murder as the NYDN cover is a great idea! ....said no sane human EVER.

— Tonya Crocker (@thecrockfam) August 27, 2015
In the UK, the Sun featured the moment the gun fired as a large, single image – as well as a prompt to "watch the chilling video at sun.co.uk".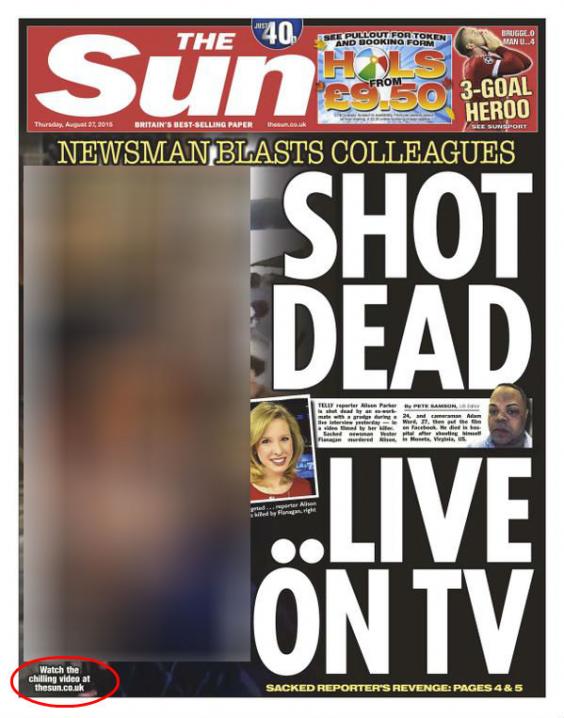 The Times and the Daily Mirror also featured front page images from the gunman's video, showing a gun pointing at Parker.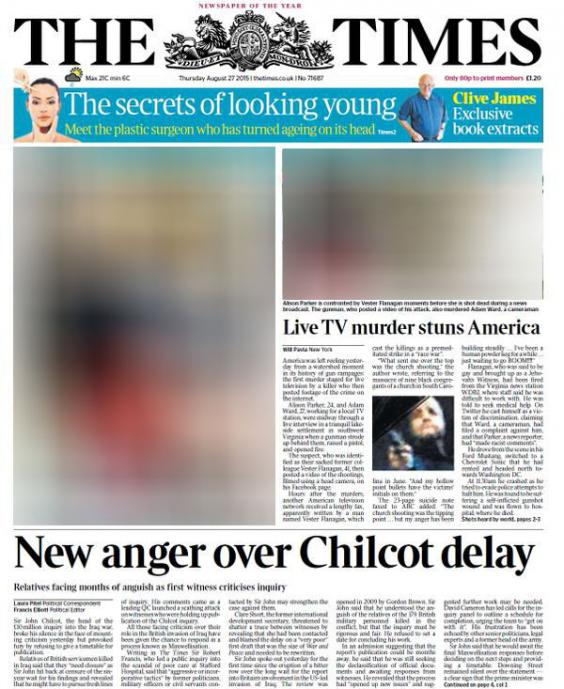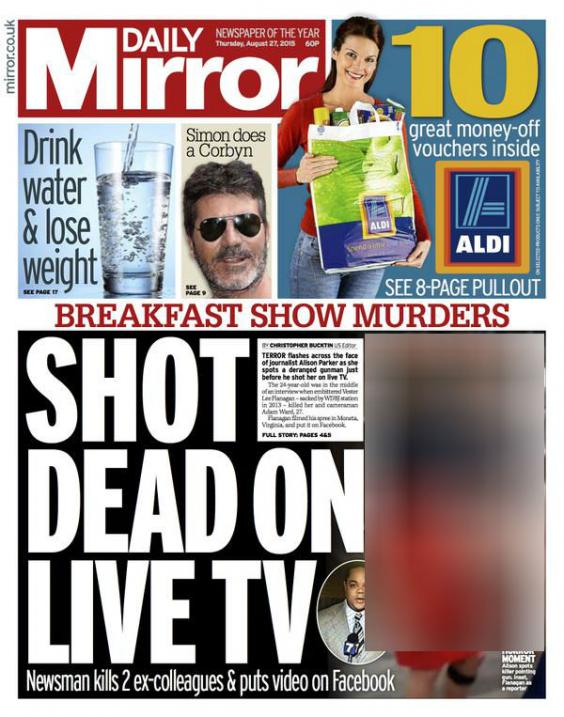 Xan Brooks, a writer and broadcaster, said: "Front pages that use the killer's footage and plug his video may as well give him a byline & copy approval. You're letting him tell the story."
Reuse content