Police have announced an "all clear" after a huge operation at the Naval headquarters in Washington DC after a lock-down was set in place following reports that a gunman was spotted there.
Scores of police and law enforcement personnel rushed to the offices of Washington Navy Yard, a former shipyard and ordnance plant southeast Washington that serves as the administrative headquarters of the US Navy.
The Navy confirmed that the base was on lock down but did not confirm reports of a shooter. Reports also said the area about the White House was placed under increased security and at around 9.30am police reportedly cleared people from an office building three or four streets from the naval facility.
The massive response came after police received a 911 call, claiming that a gunman had been spotted at the facility. Unlike during the shooting incident in 2013, none of the witnesses interviewed by US news channels reported hearing any shots.
#BREAKING: @CNICHQ @NavalDistWash #NavyYard lockdown/shelter in place. Investigation continues. No further info at this time.

— U.S. Navy (@USNavy) July 2, 2015
Lt Commander Scott Williams told CNN he had been at the cafeteria in the building at the time and been told to leave immediately.
"There was no mention of gun shots in the cafeteria," he said. "It was just get out of the cafeteria and stay away."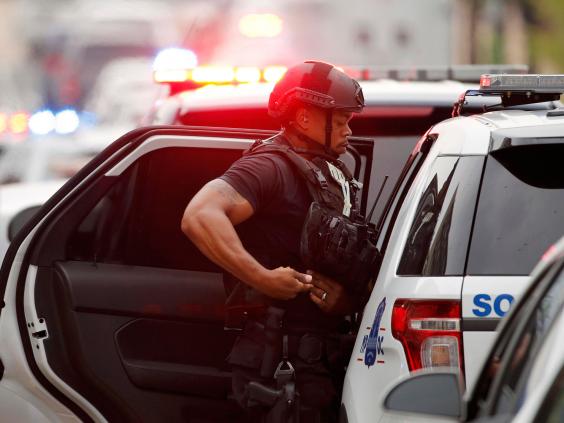 It comes amid heightening security across locations in the US ahead of the July 4 holiday weekend.
In September 2013, 12 people were killed in building 197 after troubled contract worker Aaron Alexis entered the base and opened fire.
Amazing the police response to #NavyYard: Thank you @DCPoliceDept @MetroTransitPD @usparkpolicepio DHS, etc., for responding/keep us safe

— BMK (@BrianKal) July 2, 2015
Below is a video of the yard soon after the reports emerged.
#Washington: Video of navy yard area - VIA @Glennard500 pic.twitter.com/RVZ0WyWy8g

— Amichai Stein (@AmichaiStein1) July 2, 2015
Reuse content