Three firefighters have been killed and four others injured as wildfires continue to rage in Washington state.
The sheriff of Okanogan County, Frank Rogers confirmed the men were killed in a fire near the town of Twisp in the north of the state on the US West Coast, but did not release their names.
He said the firefighters were involved in a car accident before being overcome by flames.
Speaking to local news channel KXLY-TV in Spokane, he said:  "It was a hellstorm up here. The fire was racing and the winds were blowing in every direction and then it would shift ... It was tough on 'em up here."
Governor Jay Inslee expressed his condolences to the firefighters' families and said: "I was just told that three firefighters died while battling the Twisp fire and four were injured."
County officials continued to evacuate residents in the area late on Wednesday and warned residents the fires could grow bigger as high winds have been forecast.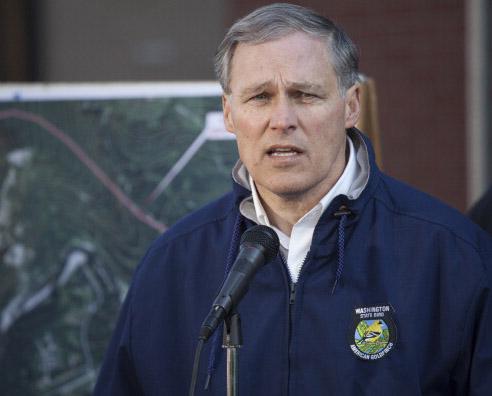 Based on "extreme fire danger", Washington state's Department of Natural Resources said it was moving to shut down all industrial forest activities, including timber harvest operations and road construction, across almost all of its eastern forested areas.
It is believed to be the first time the state has taken the measure in at least 20 years.
Governor Inslee has called for a federal emergency declaration to help cover firefighting costs.
He said the current outbreak had destroyed more than 50 homes and that over seven million acres of land has been burned.
Pictures that show we are killing our planet
Pictures that show we are killing our planet
1/21 Pollution

Getty

2/21 Plastic pollution

Getty

3/21 Melting icebergs

Getty

4/21 Human overpopulation

Getty

5/21 Sea level rise

Getty

6/21 Severe drought

Getty

7/21 Mudslides

Getty

8/21 Lake shrinking

Getty

9/21 Food and water crisis caused by drought

Getty

10/21 Water crisis

Getty

11/21 Rainforest logging

Getty

12/21 Habitat destruction

Getty

13/21 Fracking

Getty

14/21 Wildfires

Getty

15/21 Rubbish dump

Pope Francis said a 'throwaway culture' was damaging the environment and the world's social fabric

Getty

16/21 Hunger

Getty

17/21 Illegal poaching

Getty

18/21 Unsafe water

Getty

19/21 Scrap and metal waste

Getty

20/21 Smog

Getty

21/21 Oil spill

Getty
Fires have ranged down the West Coast, with 2,500 people forced to flee camps in California as the fire crossed Highway 180, according to officials.
Additional reporting by Reuters
Reuse content