A mountain lion, which is believed to be have been the last wild animal in a Peruvian circus, has been freed from the back of a truck where he had been chained for 20 years and released into the wild.  
The mountain lion Mufasa was kept at the back of a pick-up truck with rusting circus equipment as the Peruvian circus, Circo Koreander, was moving across remote villages.
He was freed after an eight-hour stand-off between police and members of the circus and was released into Animal Defenders International's (ADI) Spirit of Freedom, a rescue centre near Lima for rehabilitation.
In 2011, Peru banned wild animals in circuses and campaigners at ADI continue to support the authorities to enforce the law.
In April, the ADI received information that a mountain lion was illegally kept chained by Circo Koreander circus, with a heavy harness and chains wrapped around his body.
In what they have described as a "dramatic" raid, the ADI and wildlife officials, supported by riot police, rescued Mufasa from the truck where he had been chained for 20 years, after being taken from the wild as a cub.
Mufasa was brought back to health in the rehabilitation centre and released in September in the Tambopata reserve in the Amazon rainforest in southeastern Peru, which harbours some of the least impacted habitat in the world.
ADI President Jan Creamer, who led the rescue team in Peru, described the site of Mufasa at the back of the pick-up truck as "heartbreaking" and said: "It is magical to see him moving about in and out of the trees in his own piece of protected forest.
"Mufasa was torn from the wild and has endured the worst possible life and will need special care so I hope people will help us give him a wonderful retirement by making a donation today."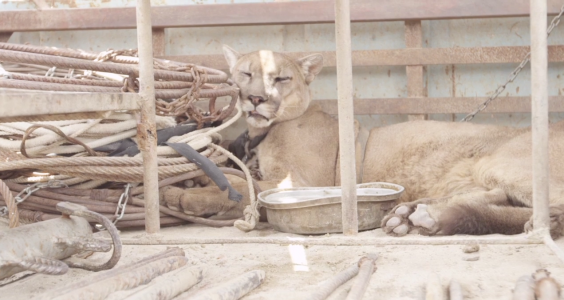 Nearly 100 animals have been rescued by the ADI and relocated to protected habitats in the Amazon since the start of an operation in January. 
Peru is the second South American country to ban wild animals in circuses after Bolivia's ban in 2009, the first country to ban all use of domestic and wild animals in circuses.
So far, 17 countries, not including the UK, have banned wild animals in circuses.