The White House has been evacuated after an intruder managed to jump the fence and enter building before he was apprehended by security last night.
The security breach occurred just minutes after President Barack Obama left with his daughters at around 7pm.
After scaling the fence on the north side of the White House the intruder, identified by White House security as Omar Gonzalez, 42, from Texas, ran towards the presidential residence, ignoring commands from officers to stop, to the North Portico doors - the columned entrance looking out over Pennsylvania Avenue - before he was apprehended and arrested.
His actions prompted a rare evacuation of the house, as journalists and White House staffers were rushed into the basement and then shepherded out of the side of the command centre by Secret Service agents.
A search of the Texan man, who was transferred to George Washington Hospital after complaining of chest pains, showed he was not armed.
Secret Service spokesperson Ed Donovan said: "This situation was a little different than other incidents we have at the White House".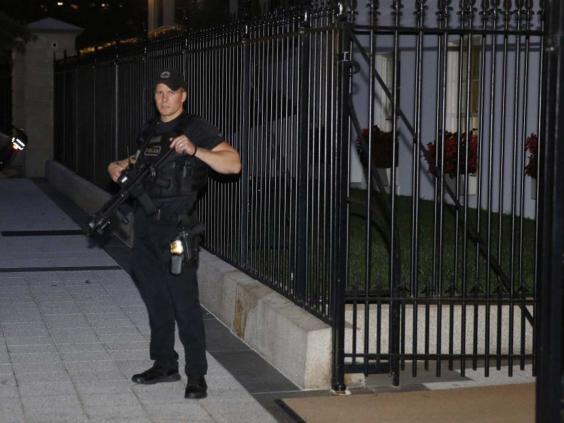 Although it is not uncommon for people to make it over the White House fence, they are usually stopped almost immediately and rarely get very far before being apprehended.
Mr Donovan added: "There will be a thorough investigation into the incident."
Evacuations at the White House are extremely rare. Typically, when someone jumps the White House fence, the compound is put on lockdown and those inside remain in place while officers respond to the situation.
Last week, the Secret Service apprehended a man who jumped over the same stretch of fence on the anniversary of the September 11 attacks, prompting officers to draw their firearms and deploy service togs as they took the man into custody.
Reuse content