A US aid worker who has spent more than 25 years travelling the world to help others, Alan Gross was initially sent to Cuba to help provide citizens with the internet.
After spending five years in prison, charged with importing banned technology and trying to establish clandestine Internet service for Cuban Jews, Gross has now been released by Cuba following an historic deal with America.
During his years in the Cuban prison however, Mr Gross's health has deteriorated markedly. According to a website campaigning for his release, the 65-year-old has lost more than 100 pounds and developed degenerative arthritis in his leg. He has also lost most of the vision in his right eye.
Mr Gross was working in Cuba as a subcontractor for the US Agency for International Development.
He was arrested in 2009 and went on to face trial before eventually being sentenced to 15 years in prison.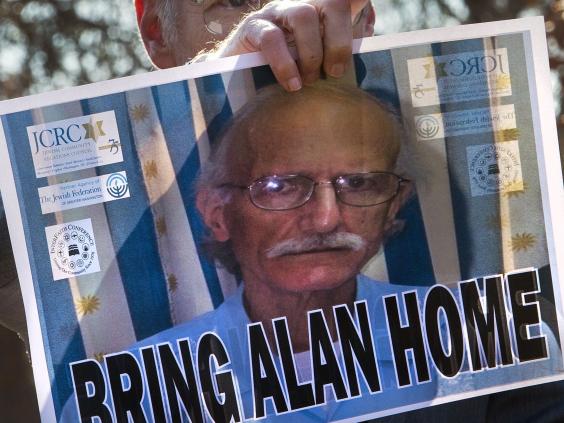 It has been reported that Cuba does not trust USAID's programmes and considers them illegal attempts by the US to undermine its government.
During five trips to Cuba in 2009, Mr Gross imported banned satellite communications devices and other high-tech gear and helped install it at Jewish centres in Havana, Santiago and Camaguey.
He later sued DAI and the US government for $60m, declaring he was inadequately informed of the dangers and illegality of the work he was carrying out.
He settled with DAI for an undisclosed sum, while his suit against the US was thrown out.
Mr Gross's family has recalled how during his year in prison, he never grew angry with the Cuban people and even jammed with his jailors on a stringed instrument they provided him with.
He went on a hunger strike for a week in April 2014 however, after it was revealed by the Associated Press that USAID secretly created a "Cuban Twitter" communications network to stir unrest after Mr Gross was arrested.
His mother, who was in her 90s, persuaded him to start eating again, before she died in June this year.
During his time in jail, Mr Gross is said to have become an embittered critic of both the US and Cuban governments.
He was released today from prison in an agreement that included the release of three Cubans jailed in the US, officials said.
Mr Gross, who is Jewish, was born in Maryland in 1949 and has two daughters with his wife Judy.
Reuse content