Josephine King cannot remember precisely how long she has been a member of the First African Baptist Church in the Georgia town of Bainbridge. It may be fifty years.
What the 92-year-old does know is that when her mobility was a little better, she attended the church every day. She also ensured she paid without fail a monthly tithe - ten per cent of her income – to the church.
But Ms King has now been told she is no longer welcome at the church after being accused of insufficient "financial and physical participation".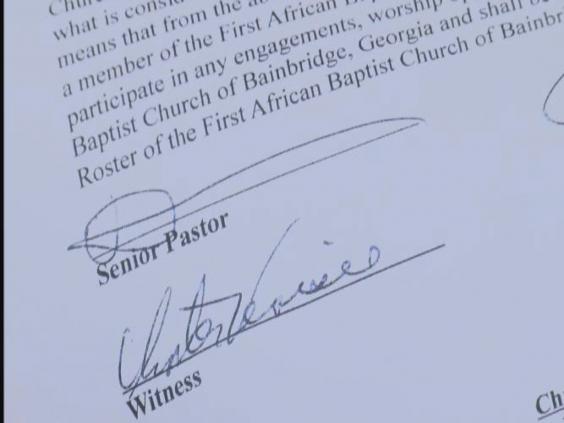 "I can't name the exact dates, but it has been a long time," she told The Independent of her membership.
"I went every day. If there was something that needed doing, I would step forward to do it. I volunteered for so many things."
Ms King said she had stopped paying the tithe earlier this year amid concerns about a former pastor and what was being done with the money.
Relatives of Ms King, a former school teacher, told the WALB television network she was one of two dozen people who had received a letter from the church informing them they were no longer members.
"Josephine King is no longer considered a member of the First African Baptist Church of Bainbridge, Georgia," said the letter to Ms King. It bore the signature of Senior Pastor Derrick Mike.
Nobody from the church was available for comment on Thursday.
Ms King said she was worried about what will happen to her friends who had received a letter but that she was not concerned for herself.
"My church is my heart," she said. "I know God has me in his care."
Reuse content