A "zombie" cat who "came back from the dead" will not be returned to its owner after "new information" emerged about his burial.
Bart, a black and white cat from Tampa, Florida, made the news when he was reportedly run over and buried, only to return to his owner's home five days later.
Ellis Hutson told vets that he had found Bart lying in a pool of blood after he was hit by a car, and had taken him away and buried.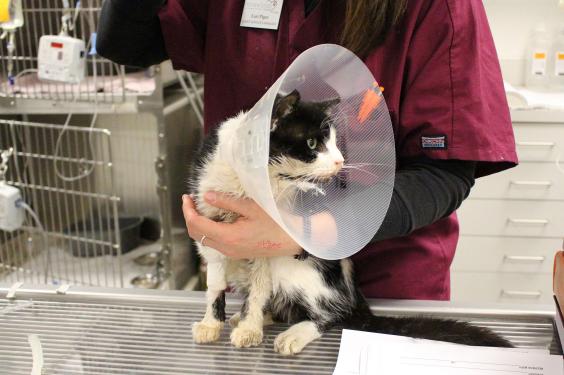 Bart was taken to the Tampa Bay Veterinary Emergency Service where he had his eye removed and jaw repaired.
The Humane Society of Tampa Bay has since released a statement saying that it does not intend to return Bart to the Hutson family.
"Recently we have learned new information about Bart's home environment and the circumstances leading up to his burial," the centre's statement read. 
"We are prepared to fight for the best interests of this cat."
Heartwarming news stories from around the world
Heartwarming news stories from around the world
1/30

A boy who saved the life of a suicidal man by simply asking him "Are you okay?" has said he did it because he likes to help people who need help. Jamie Harrington, from Ballymun, Dublin, told the Humans of Dublin project about a meeting with a man in his 30s sitting on the edge of a bridge and about to jump off it. After sitting down and speaking to the stranger for 45 minutes, 16-year-old Jamie persuaded the man to go to hospital and seek treatment

2/30 This little boy loves books so much that he cries when his mother stops reading to him

A good book can keep a child entertained for hours, but there aren't many that can actually make babies cry when they end. That's exactly what happened to one little boy, who looks completely engrossed while his mother reads him the book 'I Am a Bunny', a classic children's book about the pattern of the seasons. However, when the story ends and his mother closes the book, he immediately begins crying. The only thing that seems to placate him is opening the book at the beginning and reading the story again. It's heartening to see such a little child so completely in love with a book, but it must get a little wearing for his parents after a while

Leesedanielle/YouTube

3/30 Tattoo with a hidden message highlights the invisible battle faced by people with depression

A young woman has brought attention to the invisibility of depression - by getting a tattoo which sends out two opposing messages depending on how you look at it. The tattoo on her leg appears to say "I'm fine" when read by someone looking at her, but reveals its true secret to its wearer when she looks down at it, reading "Save me" instead. Bekah Miles, a 21-year-old US student who has struggled with depression for some years, got the inking on her leg to start a conversation about mental health and give voice to her experience

Facebook/Bekah Miles

4/30 Teen goes to extraordinary lengths to give autistic twin the high school graduation to remember

A teenager has earned herself an army of fans after she finally reached her goal to help her severely autistic twin brother across the stage at their high school graduation. Anders Bonville, 18, from Birmingham, Alabama, was diagnosed with autism when he was two, which left him non-verbal but – along with his sister, Aly – the pair developed their own unique language and set out to alter perceptions of the condition. Aly was called first on-stage to receive her diploma. With her brother being walked quietly behind a curtained area in his wheelchair to keep him calm, she quickly exited to get him before his name was called out. Aly zoomed down the hallway with her brother in his wheelchair so that he would be happy when the big moment came. Although the principal had ordered the audience to hold all applause until the end – the moment Aly took her brother's hand and led him across the stage – the entire hall rose to its feet and erupted into applause – including the principal herself

Benida Pillitary Bonville via Facebook

5/30 'Forrest Gump' completes 42 back-to-back marathons

A man has completed 42 back-to-back marathons – while dressed as Forrest Gump. Ewan Gordon, 42, from Oxfordshire, copied the popular film character by growing out his hair and beard to complete the 1,050-mile challenge in memory of nine-year-old Thomas Laurie who died last year. Thomas suffered from Cockayne Syndrome – a rare premature ageing disease – which is known to affect just 100 youngsters in the UK. Mr Gordon, a civil servant, ran about 26 miles each day (42km) – the equivalent of a marathon a day – for 42 days, from John O'Groats to Land's End. He said he was inspired to adopt the quirky persona following a bet when a friend said he would sponsor Mr Gordon more money for his charity run if he did

@OxLightBlues/Twitter

6/30 Charity shop thanks 'true gent' who donated late wife's wedding dress with heartfelt message

A charity shop in Leeds has tracked down the elderly man who donated his late wife's stunning 1950s wedding dress with a heartfelt note. St Gemma's Hospice, which runs a speciality bridal shop in Garforth, described the man as a "true gent" while appealing for help finding him on social media. The stunning vintage gown has a lace bodice and sleeves and full embroidered skirt. A note attached to it read: "I wish any lady who takes this dress to have a life with her loved one 56 years like I did. Happy years. I was a lucky man to marry a lady like mine"

St Gemma's Hospice

7/30 Blood donors in Sweden get a text message whenever their blood saves someone's life

With blood donation rates in decline all over the developed world, Sweden's blood service is enlisting new technology to help push back against shortages. One new initiative, where donors are sent automatic text messages telling them when their blood has actually been used, has caught the public eye. People who donate initially receive a 'thank you' text when they give blood, but they get another message when their blood makes it into somebody else's veins

GETTY

8/30 Guide dog jumps in front of oncoming bus to save blind owner

When Figo the service dog saw an oncoming mini school bus heading for Audrey Stone, the blind woman he was trained to guide, the golden retriever's protective instincts kicked in: He threw himself at the closest part of the vehicle he could. Police photos show the result: fur stuck to the front driver's side wheel and in the middle of Michael Neuner Avenue in New York, where the bus came to a stop after striking the pair. The driver of the Brewster school bus, carrying two kindergartners to St. Lawrence O'Toole Childhood Learning Center, told police he didn't see the pair crossing the road as they made their way home at about 8:15 Monday morning. But Figo saw the bus coming and leapt into action

AP

9/30 Florida boy grew his hair for two years and endured bullying to donate it to charity

After more than two years growing his hair, a boy from Florida has donated his locks to charity, despite being bullied along the way. Christian McPhilamy, an eight-year-old from Florida, began growing his hair after seeing an advert about paediatric cancer and has now donated four locks, each measuring over 10 inches, to charity

Facebook

10/30 A police officer who told a student his parents were killed surprised him at his graduation ceremony

Kazzie Portie's parents, Riley and Emily, were killed by a drunk driver. Eric Ellison, an officer at the Orange Police Department in Texas, broke the news to the couple's five children and told the youngest he'd be by his side during graduation

11/30 Cafe asks customer to leave after he tells breastfeeding mother to cover up

An Australian café has been praised for sticking up for a breastfeeding mother after a customer told her to cover up. Jessica-Anne Allen, owner of Cheese and Biscuits Café in Queensland, Australia, has described how she was approached by a male customer in the café on Thursday to complain that he was upset by a woman in the coffee shop breastfeeding her child nearby. The customer asked the café owner, 29, to tell the mother to cover up. When Mrs Allen refused to do so, he took matters into his own hands and challenged the woman himself. Staff at the café then asked the man to leave

12/30 Dog with cancer completes bucket list

When their dog was diagnosed with terminal cancer, Coco's owners put together a 'bucket list' and made sure their hound experienced an exciting few weeks before she died. Before she was put down on 5 May, Coco: visited a beach; took a ride in a helicopter; went in a fire engine; ate a steak at the pub; and also had a Big Mac from a McDonalds Drive Thru, amongst other activities

https://www.facebook.com/symon.spencer.9

13/30 Elderly cancer patient who rang 911 because he had no food is inundated with donations from well-wishers

An elderly cancer patient who called 911 because he was hungry and had no food is receiving donations from hundreds of people across America who were moved by his story. Clarence Blackmon was discharged from a private hospital in Fayetteville, in North Carolina, on Tuesday after spending months there for cancer treatment. The 81-year-old returned to his house without any supplies and anyone close by to call for help, leading him to call 911 in desperation and ask for food. An hour-and-a-half later, Marilyn Hinson, the operator who answered that call, arrived at his front door with police carrying bags full of food and made him some ham sandwiches

14/30 Son receives touching 30th birthday card from father who died in 1999

A son has revealed how he only just received a birthday card from his dad who died from cancer over a decade ago, with the father having the foresight to mark his children's milestone birthdays before passing away. It was inscribed with a simple 'Love ya - Dad', and was written such a long time ago that even the corny joke on the inside feels quite charmingly dated

ChrisBenRoy

15/30 Chinese student carries disabled friend to school every day for three years so he doesn't miss class

A teenager has been hailed as "the most beautiful student in China" after spending three years giving piggy-backs to his disabled friend so that he doesn't have to miss a class. The story of 18-year-old Xie Xu, who volunteered to look after his 19-year-old classmate Zhang Chi, has been shared widely on Chinese social media and received widespread local media coverage

16/30 Teenage Aldi worker Christian Trouesdale walkes an old man home

A young man from Horwich in Greater Manchester has become an unexpected internet sensation after he was photographed walking a frail old man home from the supermarket. Aldi worker Christian Trouesdale, 18, said he had received a "crazy reaction" with messages of support flooding in from as far afield as Dubai, Canada, the US, Australia and New Zealand. The image of Mr Trouesdale hand-in-hand with a 96-year-old customer on the street outside the shop was first shared by nearby worker and Horwich resident Samantha-Jayne Brady, 23, who said it was "a lovely thing to witness"

Samantha-Jayne Brady

17/30 8-year-old survivor of abuse writes inspirational 'thank you' letter to social workers

An eight-year-old girl who was abused as an infant has written a thank-you letter to social workers and detectives who helped to rescue her from a home where she had been left paralysed as a result of beatings. Marie Suprenant is not able to walk as a result of the injuries that she sustained before she was taken under the care of a foster parent. "I want to thank you for making me happy by giving me a new warm and safe environment," she writes. "Now I have a home that is nice and I have three nice meals a day"

18/30 Woman praised for defending Muslim woman 'harassed on train for wearing a hijab'

An Australian woman has been described as a "hero" for challenging a train passenger who was allegedly being abusive towards a Muslim woman sat in the same carriage. Stacey Eden claimed an older woman was accusing the unidentified Muslim woman and the man sat next to her of being an Isis supporter because she was wearing a hijab. Ms Eden, from Sydney, said the alleged tirade began "a good ten minutes" before she started filming the woman, later uploading the video on to her Facebook page. Footage from the alleged incident began as the unnamed passenger asked the woman, who was also sat with a pram on the opposite side of the train, "why do you wear it [a hijab] for a man that marries a six year-old girl?" The woman and the man remained silent, but Ms Eden responded: "She wears it for herself, OK? She wears it because she wants to be modest with her body, not because of people like you who are going to sit there and disrespect her"

19/30 Loving parents have got matching tattoos of their daughter's huge red birthmark

Honey-Rae Phillips was born with the large strawberry mark covering half her body. The Daily Mirror reports that Mum Tanya Phillips and dad Adam Philips, who are both from Grimsby, got the tattoos after people starting making comments about it in public. "We wanted Honey-Rae to feel special, that her birthmark was something to feel proud of and not embarrassed by," Ms Phillips told the newspaper

20/30 James Robertson who walked 20 miles to work every day for nine years is gifted new car

James Robertson – who was unable to afford a new car after his last one broke down nine years ago – was recently awarded more than $310,000 in donations by kind strangers who learned of his daily difficulties. Even though the money raised was meant for a new vehicle, a car dealership decided to give him a new one worth around $37,000 (around £24,000) for free in his preferred colour, red

Reuters

21/30 Stranger gives Kindle to homeless man

An anonymous do-gooder has shunned praise after he gave a homeless man his Kindle. The man from San Diego, California, was visiting Las Vegas last month, when he met a homeless man named Paul, who had read the same, worn book, each time he passed. The man said he had also been down on his luck in the past, and decided to give Paul his Kindle e-reader. A moving photo showing Paul with his Kindle has been viewed over 2 million times on Imgur

Mjuad/Reddit

22/30 Attacked pensioner Alan Barnes crowdfund passes £200,000 in donations

Pensioner Alan Barnes was mugged outside his home in Gateshead last week in an attack that left him with a broken collarbone and too scared to return to his own house. Katie Cutler, who lives nearby to Barnes, set up a crowdfunding page intending to raise £500 to help the disabled pensioner find a new home. Her efforts have led to more than £200,000 in donations being made

23/30 Man reunited with stolen dog during search for new pet

Richard Brower was "heartbroken" after his dog, a German shepherd called Dozer, was stolen from the Yard of his Alberta home, and his endless searching proved fruitless. But he had no idea that when he started searching for a new German shepherd, he would experience "the closest thing to a miracle" in his life – the Claresholm Animal Rescue Society, unbeknownst to its organisers, had Dozer safe and well, and now he's back at home

Global News

24/30 Bart the 'zombie cat' set to make full recovery following his unlikely return from the grave

Bart, the Florida cat who was buried after his owner found him lifeless in a pool of blood after being hit by a car, is set to make a full recovery when he returned from the grave five days later. Upon his return owner Ellis Hutson took the cat for surgery to remove his eye and have his jaw re-wired, and Bart is expected to return home soon

Reuters/Humane Society of Tampa Bay

25/30 Friendship Nine's civil rights-era convictions overturned by South Carolina court

It is 54 years since the 'Friendship Nine' walked into McCrory's in Rock Hill, South Carolina, and sat down at the whites-only lunch counter in a 'sit-in' that inspired non-violent protests across the South that were an integral part to the civil rights movement. The nine were arrested and convicted of ignoring a segregation order and sent to jail for 30 days, but this week their convictions were finally overturned

Reuters

26/30 'Humans of New York' blog raises over $1 million for Brooklyn school

Humans of New York, the photo blog that aims to capture daily glimpses into the lives of New York inhabitants, has raised over $1 million dollars for a school in one of the most-crime ridden parts of the city this week, all because of the story of 13-year-old 'Vidal'. The money is for Vidal's school to be able to make contributions towards its pupils' college tuition and to fund trips for sixth-graders to tour Harvard University

IndiGoGo/Humans of New York

27/30 Mystery man who gave heart-warming note to young mum on train to 'put a smile on her face' has been identified

The stranger who handed a small piece of paper and a £5 note to a 23-year-old mother just to tell her "what a great mum she is" has been identified, after recipient Sammie Welch was so overwhelmed by his kindness she started a Facebook search just to be able to thank him. Ken Saunders, 50, said he "just wanted to put a smile" on Welch's face

PA

28/30 Father calls out his daughter's racist bullies in emotional video

A father has taken to YouTube to shame bullies who bombarded his daughter with racist abuse on social media. Mr Knudson's daughter, from Prior Lake in the US state of Minnesota, was adopted and is of African American descent. He recounted how he approached the parents of the twin bullies only to be told that there was nothing wrong with the abuse. "I have a beautiful African American daughter who I love more than life itself and would do anything for," he said in the video

29/30 This kid thought the postman should get post too

It must be kind of lonely being a mailman, all this correspondence running through your hands every day but none of it addressed to you. It must be kind of lonely being a mailman, all this correspondence running through your hands every day but none of it addressed to you

absofaluminium

30/30 Student raises thousands of pounds for homeless man who offered her £3 for a taxi

Christmas is a traditionally a time for giving, particularly to the less fortunate members of society, but one homeless man was prepared to hand over everything he had. The man, named Robbie, offered a 22-year-old student £3 to help her get home safely after a night out - and now she is hoping to raise enough money to help him off the streets

Rex
Reuse content