A quarter of a century ago, Zaw Min was an idealistic Burmese geography student with a promising future. When students at Rangoon University started protesting against the ruling military regime, he joined in enthusiastically – and paid a heavy price. Now 44, the bespectacled, mild-mannered former radical has spent two decades behind bars as a political prisoner. Some of his comrades died in jail and others went mad, he says, admitting that he struggled to stay sane at times. He was released from his second term in January last year, and today he manages the office of the 88 Generation Students' Group – a pro-democracy movement led by student activists from that time. "I'm not angry or sad," he said at the group's office in a suburb of Rangoon. "I only want two things: national reconciliation and the promotion of citizens' rights."
Zaw Min is particularly busy right now, fielding numerous telephone calls from supporters and volunteers as the group prepares for the 25th anniversary next week of the historic "8/8/88" student uprising that rocked Burma. About 2,000 people have registered to take part in a forum marking the "silver jubilee" of the uprising, a turning point in the country's fight for democracy. Former protesters and leading pro-democracy activists are giving talks and attending seminars at an exhibition in Rangoon this week.
The mass protest "was a milestone in our history", one of the most prominent student leaders of the time, Ko Ko Gyi, told The Independent. "Because of the 8/8/88 uprising, so many social, political and economic reforms came to our country. But we cannot fulfil our goals and objectives yet. We are facing too many risks and challenges."
Burma is still transitioning from military rule to democracy, but in 1988 the country was a basket case. Years of misrule by a military junta, which seized power in 1962, had left it impoverished and isolated. Resentment and tension were building in Rangoon, which was then the capital city.
The previous year had seen demonstrations by students after the government demonetised the Burmese currency, wiping out the savings of millions of people, including students who had saved to pay for their tuition fees. The military ruler Ne Win introduced 45-kyat and 90-kyat banknotes, apparently because both were divisible by nine, his lucky number.
There were further protests from March 1988 after a brawl in a tea shop between students and other youths, including the son of a ruling party official who was arrested and then released. When a group of students protested against his freedom, police fired into the crowd, killing one.
Student groups were outraged and held more demonstrations, which quickly escalated and spread throughout Burma. They attracted hundreds of thousands of ordinary citizens who took the opportunity to voice their anger at corruption, economic mismanagement and police brutality.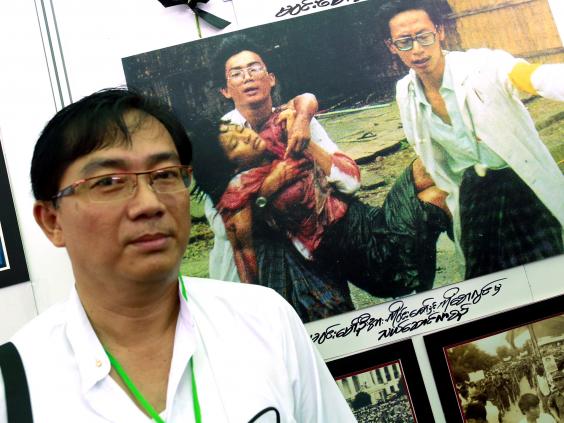 A nationwide general strike was planned for 8 August – 8/8/88 – a date of numerological significance in the deeply superstitious country. Mass protests were held across Burma and the authorities responded with brutal force. Human rights groups say up to 3,000 people died in the crackdown that followed. In the aftermath of the violence, a charismatic new leader of the democracy movement, Aung San Suu Kyi, rose to international fame.
Zaw Min was among those injured; he was shot in the thigh when soldiers opened fire on protesters on 9 August. He was too scared to go to hospital in case he was arrested, so a doctor friend treated him secretly instead.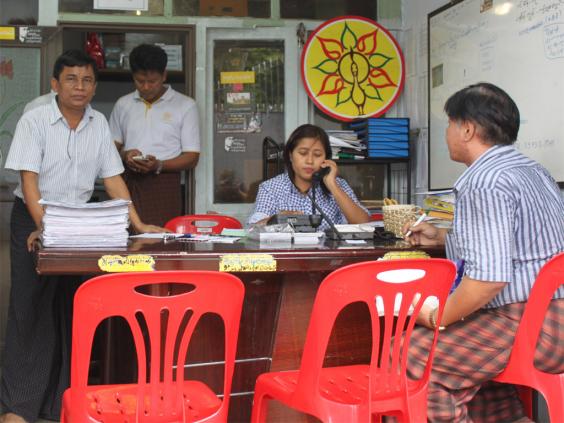 Another protester that day was Bo Kyi, a final-year student of Burmese literature at Rangoon Arts and Science University. He remembers how soldiers entered one of the city's hospitals and shot protesters being treated there. Bo Kyi, now 49, is one of the founders of the Assistance Association for Political Prisoners (Burma), based in the Thai border town of Mae Sot, where he fled in 1999 after two spells in prison – totalling seven years – for his pro-democracy activities.
He is now able to travel back to Burma after his name was removed from a blacklist last year. Like Zaw Min, he is busy preparing for the anniversary of the uprising. "We need to take lessons from the past and we should not forget," he said at the Rangoon office of the Former Political Prisoners (FPP) group. "On the 25th anniversary, we want to salute those who sacrificed their lives during the demonstrations and in prison and in the jungle, and we want a reunion of those who were fighting in 1988."
Among the volunteers helping out at the FPP offices this week is Ye Naing Aung, a jovial 51-year-old businessman who is organising the exhibition of old photos, diaries and other exhibits. He was a 27-year-old student at the Rangoon Institute of Technology and one of the leading protesters at the time of the uprising. He served six months in prison after attending a 1991 demonstration in support of Suu Kyi, and was detained for another three months in 1996-7, but since then has taken no part in political activities, he said. However, he was inspired to help out by "the spirit of the 1988 uprising".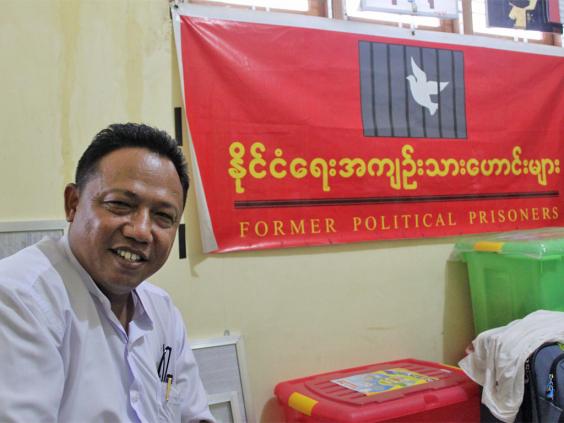 He acknowledges that in Burma's current transition to democracy. "we are facing a lot of challenges". "But if you believe you can do something, you can change society, that is very important," he adds. "In 1988, we had that feeling, that determination, so on the silver anniversary we are trying to pass this message to the younger generation."
Human rights group calls for investigation into 1988 massacre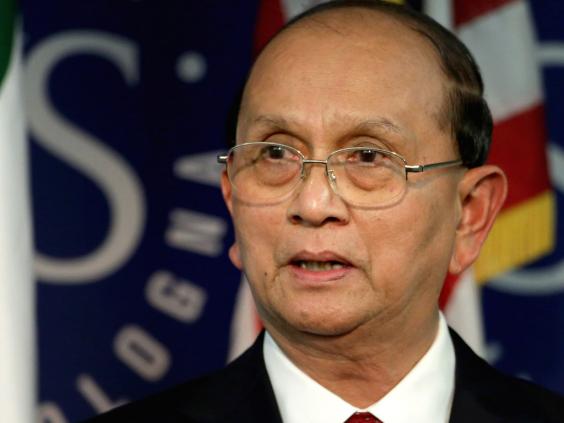 A human rights group wants the Burmese government to instigate an independent investigation into the massacre of thousands of pro-democracy protesters in 1988. The bloody repression of demonstrators contributed to the fear that fuelled military rule in the country, according to Human Rights Watch (HRW).
"The mass killings 25 years ago are an unaddressed open wound that challenges the government's rhetoric of reform," said Brad Adams of HRW. "The government should shed itself of 50 years of denial about military abuses by showing that it stands with the Burmese people and not with the killers of the past."
While welcoming events to mark the anniversary of the violent crackdown, HRW is calling on the government of President Thein Sein to release all remaining political prisoners and repeal laws aimed at stifling peaceful protest. It is also urging Burmese authorities to create an independent body to investigate major government crackdowns since 1988  in order to bring about prosecutions.
"If the government recognises past atrocities, the anniversary of 8/8/88 could be a pivotal moment in addressing decades of repressive rule," Adams said.
Reuse content