Ever since Subrata Roy was detained in prison earlier this year amid allegations of raising £2.3bn in illegal bonds, the Indian tycoon has not had everything quite his way.
Firstly, his request that he be held under house arrest instead of inside South Asia's largest prison was turned down. Then, a request for a cooling machine to be installed in his cell was rejected. Last month, he lost a request that he be released on parole.
But things finally appear to have turned in Mr Roy's favour. From tomorrow, the 66-year-old, currently lodged in Delhi's Tihar jail, will have access to an air-conditioned meeting room, video conference facilities and the services of up to three secretarial staff. He will also be able to make use of a private lavatory.
A greenlight for the unusual arrangements was given by India's highest court after Mr Roy said he needed to sell off some of his property assets, including London's Grosvenor House Hotel and New York's Plaza Hotel, in order to secure £950m for bail. The Supreme Court granted him 10 days to complete the sale of the properties.
"When he applied for parole he said 'if you want me to raise money I cannot do it from inside jail'," Mr Roy's lawyer, Harish Salve, told The Independent. "So the court said 'if you have a proposal, we will look at it'."
According to reports, Mr Roy will have use of a 30ft by 18ft conference room, internet and mobile phones, and a video conferencing facility that includes a 52-inch screen television.
Mr Roy and two officials from his company, also currently in jail, will stay in other rooms attached to the conference facility and will be free to work through the night, should the requirements of speaking to potential buyers in the US require them to do so.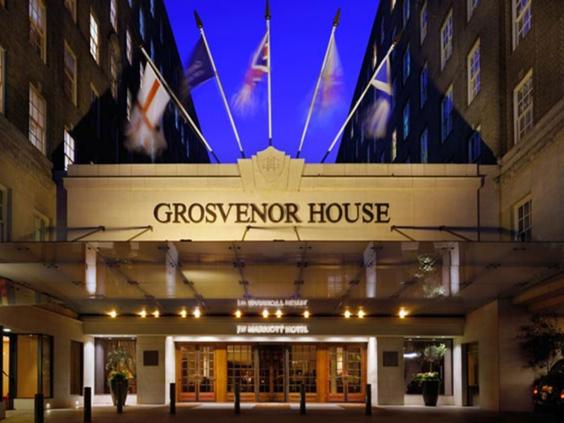 Mr Roy, whose Sahara Group conglomerate is said to be worth an estimated £6.6bn, is involved in a dispute with India's capital market's watchdog amid claims that two of his firms raised £2.3bn by selling bonds that were found to be illegal.
The companies have claimed they paid the money back to investors but the market regulator, the Securities and Exchange Board of India, has said they did not. Mr Roy, who sponsors a Formula One team and the Indian national hockey team, was ordered to be held in jail after he failed to answer a court summons in March.
Reports say that selling the Grosvenor House Hotel, which he bought for £470m in 2010, and the Plaza Hotel in New York, in which he bought a 75 per cent share in 2012 for £343m, are central to his plans to raise the bail fee. The Reuters news agency said the Supreme Court assessed his liability in the matter to be more than £3bn. Mr Roy's company also owns the Dream Hotel in New York.
Among the potential buyers for Mr Roy's properties, according to local media reports, are Indian billionaire Cyrus Poonawalla, US-based Madison Capital Holdings and the royal family of Qatar. Mr Poonawalla recently said he was prepared to bid up to £555m for Mr Roy's London hotel, which was reportedly valued at £520m by one property agent earlier this year.
Mr Roy, said to be India's largest private employer, who once owned a cricket team in the Indian Premier League, has denied any wrongdoing and claimed he missed the court's summons because he was attending to his ailing mother.
Nobody from the Sahara Group was available for comment. Sunil Gupta, a legal officer at Tihar Jail, which is said to be home to more than 10,000 inmates, said: "We are complying with the Supreme Court directive. From tomorrow, we will start."
Reuse content