There is a paradox in how it is often the most authoritarian regimes that prove most successful in preserving their country's architectural legacy and natural wonders. Not that they meant this to be the case. But the economic mummification caused by their enforced isolation results in them being trapped in time, unable to progress.
The past few decades have seen Burma's south-east Asian neighbours power towards modernity. Glistening skyscrapers now dominate their capitals; once pristine beaches host roaring jet skis; tourist destinations have become as artificial as a theme park, with locals changing from jeans into traditional dress at the sound of the latest coach party.
That passed Burma by. (The country is officially known as Myanmar, although Britain is among several Western countries that for human rights reasons have ignored the 1989 change of name.) Unsettlingly, the very survival of the unspoilt wonders that bewitch a visitor to this beautiful yet impoverished country owes much to the privations in which the ruling generals kept its people, just as their economic mismanagement helped preserve the people's open-hearted nature, with their devout Buddhism and ignorance of consumerism.
Adventures in unseen Burma
Adventures in unseen Burma
1/10 Unseen Burma

Bagan is one of the world's great archaeological sites. Almost 5,000 temples were built there between the 11th and 13th century before the kings of Bagan were swept away by Kublai Khan and his invading Mongols. Some 2,230 still survive

Kirill Serebrennikov

2/10 Unseen Burma

Most of the temples at Bagan are superbly preserved, or have been restored by Unesco, among others. Many contain frescoes and carvings and statues of Buddha. Here, Evgeny Lebedev views one such display

Kirill Serebrennikov

3/10 Unseen Burma

In Mandalay, stone masons work on creating new statues of the Buddha; 90 per cent of people in Burma are Buddhist, and the country is the world's most Buddhist in terms of the proportion of monks in the population and proportion of income spent on religion

Kirill Serebrennikov

4/10 Unseen Burma

Burma has high literacy rates with 98 per cent of 15-24-year-olds able to read and write. As many girls as boys receive a secondary education and many go on to university, like the woman whose diploma is celebrated in these pictures

Kirill Serebrennikov

5/10 Unseen Burma

A young girl sports traditional dress as she prepares for a ceremony in the ancient city of Bagan

Kirill Serebrennikov

6/10 Unseen Burma

Monks are venerated throughout society, where they wear maroon-coloured robes, unlike in neighbouring Thailand and Laos where the robes are saffron-coloured. There are around 500,000 monks in Burma

Kirill Serebrennikov

7/10 Unseen Burma

A statue in an alcove at a temple within the old trading city of Mrauk U. The name of the city means 'Monkey Egg' as legend tells that its founding prince was born from an egg conceived from a romantic liaison between a lonely female monkey and a peacock

Kirill Serebrennikov

8/10 Unseen Burma

A temple in Mandalay highlights its Buddha statue with multi-coloured LEDs

Kirill Serebrennikov

9/10 Unseen Burma

Green Hill Valley is a sanctuary for elephants formally used in the logging industry. Saved from a life of work, they receive urgent medical treatment and an opportunity to revert to their natural behaviour

Kirill Serebrennikov

10/10 Unseen Burma

Evgeny Lebedev with an elephant that is being bathed at Green Hill Valley elephant sanctuary

Kirill Serebrennikov
Yet the country does indeed bewitch. I was constantly amazed by the hospitality, warmth and curiosity with which visitors were greeted. At Lake Inle, rice paddies cascade down the surrounding hills as on its still water the fisherman cast their cone-shaped nets. In Pinday, the faithful still worship at the 18th-century shrines created deep within limestone caves. The sight of the pagodas of Belan emerging from the mist, or the wooden monasteries of Salay creaking in the wind, linger long in the mind once back under the grey skies of London.
Burma's period of isolation is over, gone since the ruling military junta unexpectedly abolished itself and announced democratic reforms in 2012. Sanctions have been lifted. Foreign investment flooded in. Where five years ago there were around 760,000 tourists a year, there are now around three million. The price of a mobile phone SIM card has fallen from $2,000 (£1,329) to $2.
For now, Rangoon – or Yangon – retains its 19th-century flavour, the city still almost as when seen by Rudyard Kipling or George Orwell. There is economic opportunity in the historic, not just for tourism but as a centre for creative industries searching for inspiration in a region that has largely turned its back on its past. But will that be enough?
The Yangon Heritage Trust has been founded and the city government imposed some height restrictions. Yet shiny office blocks are already beginning to pop up as crumbling colonial sites are destroyed.
The city's neighbouring capitals perhaps warn as to its future. What can be seen in Yangoon today may well be on the brink of going the same way as the old neighbourhoods of Bangkok and Beijing: bulldozed into history.
Evgeny Lebedev is the owner of 'The Independent' and 'Evening Standard' newspapers. Follow him at twitter.com/@mrevgenylebedev
Green Hill Valley elephant sanctuary
High up the twisting roads of the Shan Hills in central Burma, lies an example of how the country can develop in a way that stays true to the Buddhist principles that guide its people.
Green Hill Valley is a sanctuary for elephants formally used in the logging industry. Saved from a life of work, they receive urgent medical treatment and an opportunity to revert to their natural behaviour.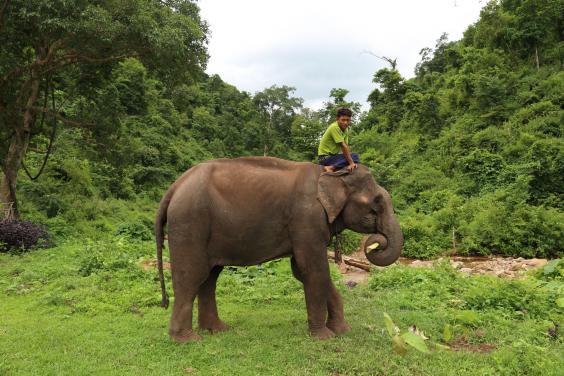 Husband and wife team Htun Htun Eynn and Tin Win Maw run the site, helped by Tin's uncle Ba Kyaw Than, a vet. Tin is stark about the elephants' state on arrival. "One had a problem with his eye; another with his heart; some with infections," she says.
To help fund the site, tourists can stay at their solar-powered camp and help feed, bath and walk the animals. Visitors are also encouraged to plant a tree to help reinvigorate the forest, part of Green Hill Valley's admirable commitment to a sustainable future.
How to help Burma's elephants
The Green Hill Valley elephant camp runs four different hiking tours where visitors can help wash and feed the centre's elephants, as well as riding them. For more information visit: ghvelephant.com or email ghv.elephant@gmail.com
Reuse content