With her soft French accent, self-deprecating laugh and modest Western attire, Afghanistan's first lady charmed a Washington audience this week at her first public appearance in the US in the nearly five months since her husband, Ashraf Ghani, was inaugurated as President in September.
The warm reception contrasted sharply with the one that Rula Ghani, a Lebanese-born Christian, has received at home. Her religious background and modern views have provoked a barrage of criticism and hostility in the traditional, male-dominated Muslim society, where many women do not leave their homes unveiled.
Women in Politics 2014: Females in Parliaments across the world
Women in Politics 2014: Females in Parliaments across the world
1/9 4th: Sweden

Swedish European Affairs Minister Birgitta Ohlsson pictured at the EU headquarters in Brussels. After Nicaragua, Sweden has the highest number of women in cabinet, with 56.5 per cent of Swedish ministers being female. 157 of the 349 seats in the single parliamentary house are held by women.

JOHN THYS/AFP/Getty Images

2/9 Afghanistan: 41st

Leading Afghan women's rights champion, author, lawmaker and former presidential hopeful Fawzia Koofi talks during an interview with AFP in Kabul. Not well known for its women's rights record, Afghanistan beats the UK. Of the 249 seats in the Afghan lower house, 69 are held by women. 28 of its the 102 seats in its upper chamber are taken by women.

JOHANNES EISELE/AFP/GettyImages

3/9 64th: UK

Home Secretary Theresa May leaves Downing Street in London, England. 147 out of 650 seats in the House of Commons are held by women, compared to 182 of 778 in the House of Lords.

Oli Scarff/Getty Images

4/9 1st: Rwanda

Rwanda Minister of Agriculture and Animal Resources Dr Agnes Kalibata, speaks at the African green Revolution Forum. 39 per cent of ministers in Rwanda are women, holding 51 out of 80 seats in the lower house. 10 of the 26 seats in the upper house are taken by women.

ISSOUF SANOGO/AFP/Getty Images

5/9 China: 61st

Chinese Vice Premier Liu Yandong pictured at the People-to-People Exchange at Diaoyutai State Guest House in Beijing, China. Outdoing the UK by three places, women hold 699 seats in the country's 2987-member-strong single house.

Feng Li/Getty Images

6/9 US: 83rd

Republican Senator Susan Collins speaks onstage at the FORTUNE Most Powerful Women Summit in Washington, DC. Hold its ranking joint with San Marino, only 79 of the 432 lower house members are women. 20 members of the 100-strong upper house are women.

Paul Morigi/Getty Images for FORTUNE

7/9 France: 47th

French minister Aurelie Filippetti attends the Opening ceremony and the 'Grace of Monaco' Premiere during the 67th Annual Cannes Film Festival. Sharing its ranking with El Salvador, 151 members of the 577-member-strong lower house are women. Meanwhile, female members hold 78 of the 347 seats of the upper house.

Pascal Le Segretain/Getty Images

8/9 Italy: 31st

Italy's Integration Minister Cecile Kyenge poses as she arrives for a lunch at the French embassy in Rome. 198 women of a possible 630 seats in the lower house are filled by women. 92 women hold seats in the 317-member-strong upper house.

GABRIEL BOUYS/AFP/Getty Images

9/9 South Sudan: 45th

South Sudan's Water Minister Jemma Nunu Kumba at the 10-nation Nile River forum in the Sudanese capital Khartoum. The world's newest country has 88 women in its lower house of 332 members. Of 50 seats in its upper house, women hold 5.

EBRAHIM HAMID/AFP/Getty Images
Mrs Ghani's message here, echoed in her recent interviews and speeches, was carefully modulated to dispel her image as a crusading feminist intruder among older, conservative Afghans – but without alienating a rising generation of young, educated Afghan women to whom she is a natural role model.
The event came during a two-week visit by Mrs Ghani to the United States, where she spent much of her adult life and where her two children live. Last week, she flew to Texas to visit the former First Lady Laura Bush, who has long supported the cause of Afghan women. This week in Washington, she has attended charitable board meetings. On Wednesday, she spoke before about 200 people at the Centre for Strategic and International Studies, a Washington think-tank. Mrs Ghani, 66, was educated in Paris and the US and met her husband at the American University of Beirut. She confirmed that she is Christian but did not elaborate on her religious beliefs.
"In Islam the place of women is an important place," Mrs Ghani said, adding that Afghan history is full of "formidable" female leaders. She noted that the wife of the prophet Mohamed was a powerful businesswoman, and that Queen Soraya Tarzi – the stylish wife of a reformist Afghan king in the 1920s – helped launch the country's modern education system.
Yet she played down her own aspirations for power, saying she sees her new role mostly as a "listener and facilitator" for Afghans who seek her help.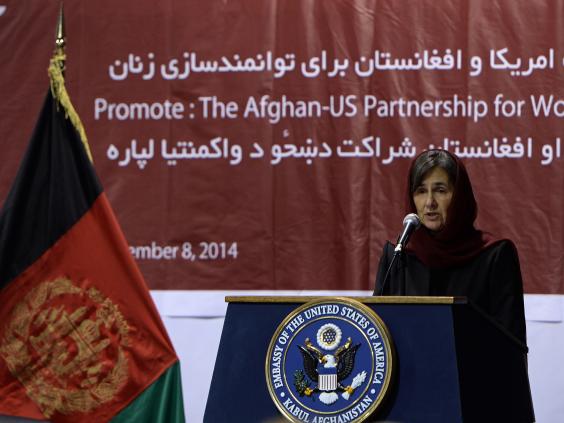 Mrs Ghani also skirted the volatile issue of women's rights, declaring that the widely documented plight of Afghan women – including domestic abuse, forced early marriage, bride barter and imprisonment for eloping – has been unfairly exaggerated by the foreign press and aid organisations.
"They say Afghanistan is the worst country for a girl to be born. Hogwash!" Mrs Ghani exclaimed to laughter.
Mrs Ghani's balancing act, though carried off with grace and wit, was a result of the condemnation she has encountered at home, simply by virtue of her Christian faith and foreign birth, and the potential damage the new government fears such controversy could do to her Muslim husband's efforts to modernise the struggling, conflict-ridden nation.
Afghanistan is 99 per cent Muslim, and it is a capital crime there to convert to Christianity. Moreover, the defeat of Soviet forces by Afghan religious militias and the subsequent years of Taliban rule in the 1990s made Afghan society much more conservative than in the early 1970s, when Mrs Ghani first came to live there as a bride.
The President, a former World Bank official, is in a hurry to revolutionise the country's corrupt and hidebound official culture, and he has already made many enemies. During his candidacy, a smear campaign began against his wife. Critics warned that she would seek to convert Afghan women, and doctored photos showed her husband praying in a church. There were even suggestions that he should divorce her. But on inauguration day, the new President publicly saluted Rula as his life partner.
Now, after a period of relative seclusion, the first lady has re-emerged with a less provocative persona, and she is officially referred to as Bibi Gul, a traditional Afghan name that means Flower Lady. "My aim is not to revolutionise," Mrs Ghani told one interviewer.
Mrs Ghani's words may help counter her critics' efforts to tar her as a subversive foreign influence. But merely by travelling alone to the West and appearing in public without her head covered, she is defying Afghan history.
@Washington Post
Reuse content