A teenage boy has been jailed in Singapore for "wounding the feelings of Muslims and Christians" in a series of YouTube videos, sparking condemnation from the United Nations.
It is the second time 17-year-old Amos Yee has been imprisoned over his blogs, being sentenced to four weeks in jail last year over footage where he compared revered former Prime Minister Lee Kuan Yew to Hitler and Jesus.
He has been jailed for six weeks and fined $2,000 (£1,150) on six charges of intending to wound the feelings of Muslims and/or Christians and two of failing to attend a police station, the Straits Times reported. 
Principal District Judge Ong Hian Sun told the court Amos had "deliberately elected to do harm by using offensive and insulting words and profane gestures to hurt the feelings of Christians and Muslims".
"His contemptuous and irreverent remarks have the tendency to generate social unrest and undermine the religious harmony in our society," he added.
The teenager's sentence was due to commence on 13 October and he faces another 10 days in prison if the fine is not paid.
Singaporean prosecutors called or a "clear message" to be sent by the case, in light of Amos' previous alleged offences.
N. Kanagavijaya, a lawyer for the teenager's defence, said he admitted a lack of "intellectual ability to discuss religion" and a "shallowness of thoughts in respect of both Christianity and Islam".
Amos' YouTube channel, which is still online, contains four videos in a section on "Religion Horrors", including two entitled "Refuting Islam With Their Own Quran", "Refuting Christians With Their Own Christian Bible" and "Responding to the Bullshit of Christians".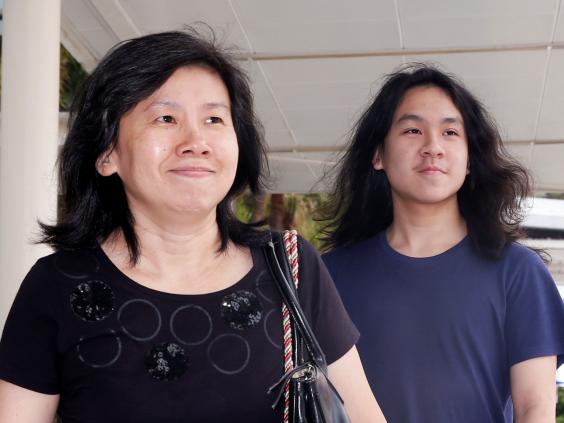 The videos see the teenager offering his interpretation of holy books and their interpretation, frequently using graphic and explicit language.
His posts have amassed hundreds of thousands of views, but a far larger section of Amos' channel is devoted to Singapore itself, which he calls "the most underrated dictatorship in the world", criticising the death penalty, compulsory national service and crackdowns on political dissidents.
He spent 53 days in detention last year after being convicted of charges of obscenity and wounding religious feelings in a video on free speech.
Human rights organisations have raised concerns about the prosecutions, which started when Amos was just 16, and cited them as an example of wide-ranging restrictions on human rights in Singapore.
The United Nations Special Rapporteur on freedom of opinion and expression, David Kaye, said last week's sentence violated international human rights law, which allows only serious and extreme instances of incitement to hatred to be prohibited as criminal offences.
"The lesson that somebody can be thrown in jail for their speech is exactly the wrong kind of message that any government should be sending to anybody, but especially to young people," he said.
"The criminalisation of a broad range of legitimate, even if offensive forms of expression is not the right tool for any State to pursue legitimate aims such as tolerance and the rights of others.
Human rights attacks around the world
Human rights attacks around the world
1/10 China

Escalating crackdown against human rights activists including mass arrests of lawyers and a series of sweeping laws in the name of 'national security'.

Getty Images

2/10 Egypt

The arrest of thousands, including peaceful critics, in a ruthless crackdown in the name of national security, the prolonged detention of hundreds without charge or trial and the sentencing of hundreds of others to death.

Getty Images

3/10 Gambia

Torture, enforced disappearances and the criminalisation of LGBTI people; and utter refusal to co-operate with the UN and regional human rights mechanisms on issues including freedom of expression, enforced disappearance and the death penalty.

Getty Images

4/10 Hungary

Sealing off its borders to thousands of refugees in dire need; and obstructing collective regional attempts to help them.

Getty Images

5/10 Israel

Maintaining its military blockade of Gaza and therefore collective punishment of the 1.8 million inhabitants there, as well as failing, like Palestine, to comply with a UN call to conduct credible investigations into war crimes committed during the 2014 Gaza conflict.

Getty Images

6/10 Kenya

Extrajudicial executions, enforced disappearances and discrimination against refugees in its counter-terrorism operations; and attempts to undermine the International Criminal Court and its ability to pursue justice.

Getty Images

7/10 Pakistan

The severe human rights failings of its response to the horrific Peshawar school massacre including its relentless use of the death penalty; and its policy on international NGOs giving authorities the power to monitor them and close them down if they are considered to be "against the interests" of the country.

Getty Images

8/10 Russia

Repressive use of vague national security and anti-extremism legislation and its concerted attempts to silence civil society in the country; its shameful refusal to acknowledge civilian killings in Syria and its callous moves to block Security Council action on Syria.

Getty Images

9/10 Saudi Arabia

Brutally cracking down on those who dared to advocate reform or criticise the authorities; and committing war crimes in the bombing campaign it has led in Yemen (pictured) while obstructing the establishment of a UN-led inquiry into violations by all sides in the conflict.

Getty Images

10/10 Syria

Killing thousands of civilians in direct and indiscriminate attacks with barrel bombs and other weaponry and through acts of torture in detention; and enforcing lengthy sieges of civilian areas, blocking international aid from reaching starving civilians.

Getty Images
"Threats of criminal action and lawsuits contribute to a culture of self-censorship, and hinder the development of an open and pluralistic environment where all forms of ideas and opinions should be debated and rebutted openly."
The Committee to Protect Journalists (CPJ) called for Amos' immediate release, saying it had documented moves to rein in Internet-based news outlets and gag bloggers with defamation cases  if they question the judiciary or investigate state financial bodies.
Online bloggers play a crucial role in Singapore, where most of the country's media are directly or indirectly controlled by the government, and self-censorship is prevalent, CPJ said.
Defending Amos' first prosecution in 2015, Prime Minister Lee Hsien Loong said internet posts can cause "a humungous row" and "must be taken seriously".
Singaporean law forces news websites and papers to register with authorities and be regulated, taking orders to remove any articles deemed to be against "public interest, public order or national harmony" or to offend "good taste or decency".
Numerous journalists have been arrested, along with people accused of posting disparaging comments on social media.

Reuse content