At least 17 people have been killed and 122 hospitalised after drinking toxic alcohol at a cricket match in India.
Doctors said some of the victims in the northern state of Uttar Pradesh had been blinded and others were in a serious condition being kept alive by mechanical ventilation.
Most patients had been among 200 cricket fans who gathered to watch a match on Sunday evening in a village outside the state capital, Lucknow.
Government officials put the death toll at 17 on Tuesday morning but unconfirmed reports said 22 had been killed.
A shop owner who sold the homemade spirit for about 20 pence per 200ml has been arrested and an investigation has been launched into police officers who allegedly took bribes to turn a blind eye to concerns about the drink.
District officials said a raid of the shop revealed large containers of chemicals, which have been sent for laboratory testing.
"The symptoms gave a clear indication that these patients were served methanol," which despite being toxic is sometimes mixed with ethanol to make a brew cheaper, said Dr Kausar Usman, head of the trauma centre at Lucknow's King George's Medical College.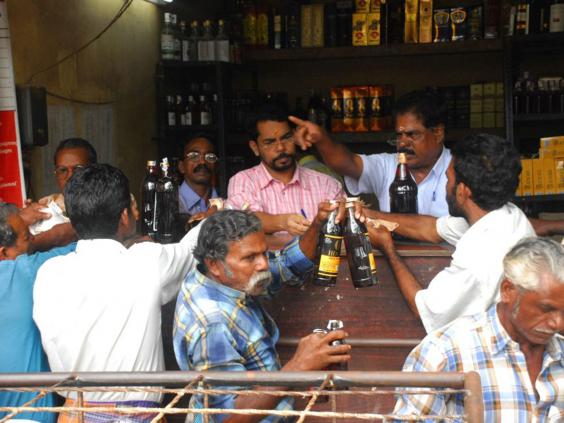 Rajesh Kumar, whose two older brothers became ill after drinking the unlicensed spirit on Monday, said the shop in Datli village was well-known for selling cheap alcohol that many men came from surrounding villages to buy.
Akhilesh Yadav, Chief Minister of Uttar Pradesh, suspended six police officers suspected of taking bribes to ignore complaints against the shop and its alcohol and announced that a "drive will be launched against those involved in the illicit liquor trade".
Deaths from drinking illegally brewed alcohol are common in India because prices for imported and licenced spirits are far higher.
In October 2013, 42 people were killed by a toxic batch in the same state, across eight villages in the Azamgarh district.
Around 170 people were killed in West Bengal in December 2011, while 107 people died in Gujarat in July 2009.
Nearly 200 people died in Orissa in 1992 after consuming a deadly combination of methyl and ethyl alcohol, thought to be the fatal mix in the latest case.
Additional reporting by AP
Reuse content