Abandoned orangutans are learning how to survive in the world thanks to a dedicated school, which they take a wheelbarrow to each morning.
Aside from their adorable school run, the orangutans at International Animal Rescue's school in Keptang, Indonesia, learn from each other how to be off the ground and among the tree tops, as well as what to eat.
These are the skills that are usually taught by the youngsters' mothers, as the animals learn by imitation and observation. They usually spend between seven and eight years with their mother.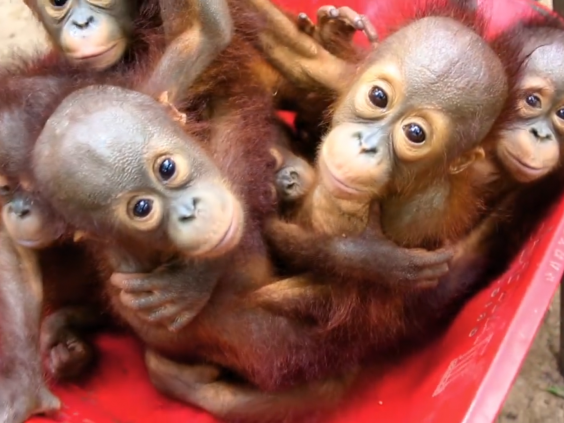 IAR tried to create an environment as close possible to nature for the orangutans, which resulted in forest schools being conceived, "where they can learn from each other". 
As IAR's project director, Karmele Llano Sanchez, says "When the orangutans arrive here we try to give them an environment that is as natural as possible, that is why we created the forest schools. 
"What we want is to try to replicate what an orangutan will do in the wild, so this is what they will learn during the process of rehabilitation."    
Wildlife Photographer of the Year
Wildlife Photographer of the Year
1/5 'Warrior of the grassland' bu Anup Deodhar (India) - Finalist

The male fan-throated lizard is highly territorial, constantly scanning his territory from the highest viewpoint. This image was made in Maharashtra state, India in the extreme summer - the breeding season for these reptiles. The fan-throated lizard is the only bipedal lizard found in India

(C)Anup Deodhar

2/5 'Black and white' by Darío Podestá (Argentina) - Finalist

Gentoo penguins ponder life in the Antarctic snow

3/5 'Berries for the fieldfares' by Joël Brunet (France) - Finalist

A harsh winter in the heart of the Massif du Bugey, eastern France. Driven by the cold, a group of fieldfares gather in a shrub, squabbling over its life-saving berries

4/5 'A swinging time'by Thomas Vijayan (India) - Winner

Grey langurs play and bask in the rays of evening light of Bandipur National Park, Karnataka, India

5/5 'A mother's courage' by Linc Gasking (Australia/New Zealand) - Finalist

The southern giant petrel is both terrifying and endangered; dark brown and vulture-like with a six foot wingspan. This rare all-white morph spreads its wings to shepherd a crèche of endangered Adelie chicks into a corner. But just when all seemed lost, the lone mother responsible for the crèche appeared. Striding out through the cowering group to face off against the giant petrel. She saved them all
The sanctuary currently houses 102 orangutans, with the chief aim of returning the animals to the wild once they are fully rehabilitated. 
According to WWF, the Borneo orangutan population is estimated to be between 45,000 to 69,000 while there are as few as 7.500 Sumatran orangutans left. 

Reuse content