The pipe bomb that exploded inside an open-air shrine in the heart of tourist Bangkok had been planted, said authorities, with cruel precision. Streets thick with tourists, shoppers, office workers and devotees ran with blood. Body parts were strewn far and wide. 
The bombing in central Bangkok was, Thailand's military junta said, a savage attempt to destroy the nation's tourist economy.
The number of dead last night stood at 19, but that was almost sure to rise as hospitals struggled to treat the 123 injured, some critically so. In London, the Foreign Office said it was "urgently seeking" further information about the welfare of British citizens in the Thai capital.
No group immediately said it was responsible for the attack. It appeared the bomber, or bombers, had chosen their target carefully. The Hindu Erawan Shrine and streets surrounding it were sure to be busy at 7pm on a Monday when people pour out of office buildings, shopping malls and hotels at the Ratchaprasong intersection.
The attack has brought fear and chaos to Thailand, which has been led by a military Junta since May last year. "Be careful of spreading false rumours," warned the junta after the attack.
Police found two more explosive devices, which were safely defused.
Leify Porter, from Sydney, Australia, saw the explosion. "We were on the skybridge, where everyone walks to cross over a road," she told the BBC. "It was directly above where the explosion went off, and we heard a huge bang, there was flames, there was smoke, debris flying everywhere, everyone was running, it was quite chaotic. We saw cars on fire, and a lot of people seriously injured and deceased."
The bomb exploded inside the Erawan Shrine, said national police chief Somyot Poompummuang. It was made from a pipe wrapped in cloth.
The shrine is at the site of many contentious political demonstrations in recent years and the centre of one of Bangkok's main shopping districts.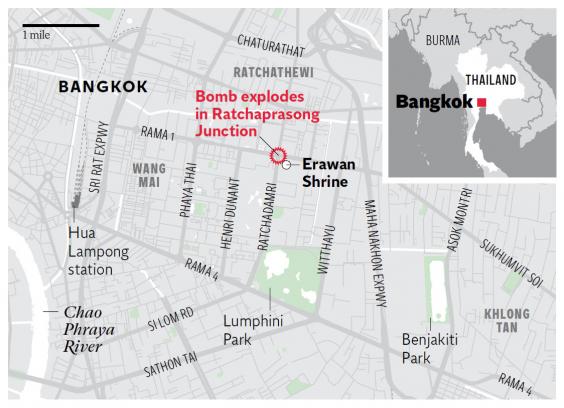 "Those who have planted this bomb are cruel. They aim to kill because everyone knows that at 7pm the shrine is crowded with Thais and foreigners. Planting a bomb there means they want to see a lot of dead people," Mr Poompummuang said.
"It was like a meat market," said Marko Cunningham, a New Zealand paramedic working with a Bangkok ambulance service. "There were bodies everywhere. Some were shredded. There were legs where heads were supposed to be. It was horrific."
"Police cordoned off areas and took away most of the bodies but there were still body parts and human flesh on the ground, and body bags. It was gruesome," said Alessandro Ursic.
"I heard it from a few blocks away. The bomb site was absolute carnage, shocking," added Taryn Wilson. "When I got there, barriers had been set up and casualties had been removed but there was what I assume was a body under a white sheet, and several smaller sheets around. It's heartbreaking for the victims and their families, as well as this beautiful, vibrant city."
The explosions took place just one day after Bangkok's "Bike For Mom" event, a cycling event led by the Crown Prince Vajiralongkorn in honour of Queen Sirikit's 83rd birthday, attended by thousands of cyclists.
Anusit Kunakorn, secretary of the National Security Council, said Prime Minister Prayuth Chan-ocha, the former army chief, was closely monitoring the situation. "We still don't know for sure who did this and why," said Deputy Prime Minister Prawit Wongsuwan. "We are not sure if it is politically motivated, but they aim to harm our economy and we will hunt them down."
Although Bangkok has seen a period of relative calm since last year's coup, there has been some tension in recent months, with the junta making clear that it may not hold elections until 2017 and wants a constitution that will allow some type of emergency rule to take the place of an elected government.
While bombings are rare in Bangkok, they are more common in southern Thailand, where a Muslim separatist insurgency has been flaring for several years.
The last major bombings in Bangkok occurred on New Year's Eve at the end of 2006, when a series of bombs at celebrations around town killed at least three people and wounded dozens. Those bombings occurred just three months after a military coup ousted Prime Minister Thaksin Shinawatra, and there was speculation that his supporters carried out the attacks in revenge. However, the bombings were never solved.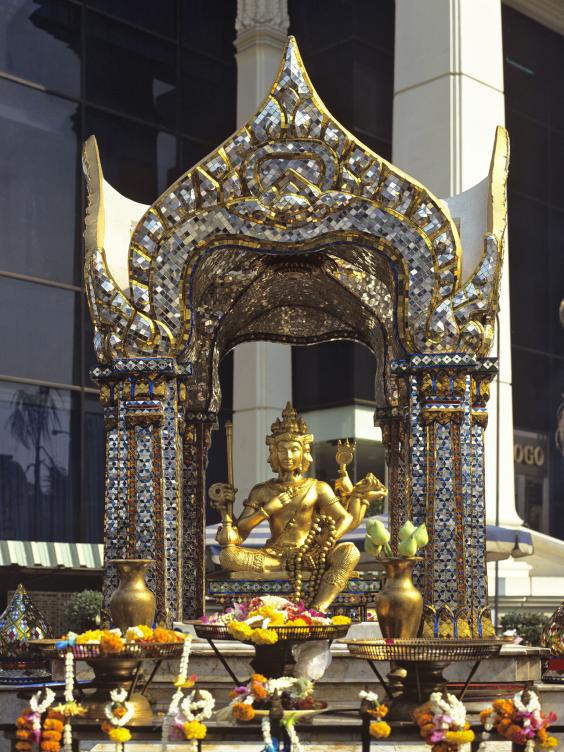 The 2006 coup set off a battle for power among Mr Thaksin's supporters and opponents, sometimes in the form of violent protests.  Protesters from both sides sometimes faced armed attacks by unknown groups, with more than 90 people killed in 2010 during pro-Thaksin demonstrations that were quashed by the army. The focus of the 2010 protests was the same intersection where Monday's blast took place.
In March this year, several arrests were made in connection with a grenade that was tossed at Bangkok's Criminal Court. Those detained were apparently sympathizers of the pro-Thaksin Red Shirt movement. Critics of the current military government say some of the bombings may have been carried out by the junta to justify its continued suppression of basic rights and liberties. The government denied that.
In April, a car bomb exploded at a shopping mall on the resort island of Samui, injuring seven people. The motive was unclear, though the government suggested it was linked to politics.
Erawan Shrine: A sacred, troubled spot
The Erawan Shrine has quietly become one of Bangkok's most sacred spaces. It is dedicated to Thao Maha Brahma, the Hindu god of creation, and was built in the 1950s in a bid to bring luck to the builders of a hotel. Featuring four faces representing kindness, mercy, sympathy, and impartiality, the statue attracts hundreds of worshippers each day.
In 2006 a mentally ill man attacked the Erawan's four-faced statue with a hammer. A group of devotees chased him down and beat him to death.
During a red-shirt rally in 2010, protesters set a stage with its back to the Thao Maha Phrom statue, believing it would strengthen their cause. Yesterday's attack will have its spiritual relevance under scrutiny once again.
Kunal Dutta