Conjure up an image of an Afghan woman and it is unlikely that the vision will involve her tackling, scrummaging or rucking. Even though the Taliban was forced from power more than a decade ago, many women must still fight for the most basic rights and freedoms.
With the help of a British aid worker, however, a group of energetic volunteers has made sporting history by taking part in what is thought to be Afghanistan's first female rugby session.
Malinee Wanduragala, 32, is a keen sportswoman who used to play for the London club Wasps. Posted to Kabul with the Department for International Development (DfID), she teamed up with local sports enthusiasts to arrange a training session on the British embassy's artificial grass tennis court for about two dozen girls and young women.
The event began inauspiciously when some of the players turned up in jeans and high heels, despite being asked to wear sports clothes. Undeterred, Ms Wanduragala handed out some spare T-shirts and invited everyone to play barefoot.
They quickly got the hang of it. "You see a totally different side of women compared to the image that is portrayed back here," Ms Wanduragala said. "Some of them were quite bolshie. They were all really noisy as well, and pretty aggressive. But they really got into the spirit of the game."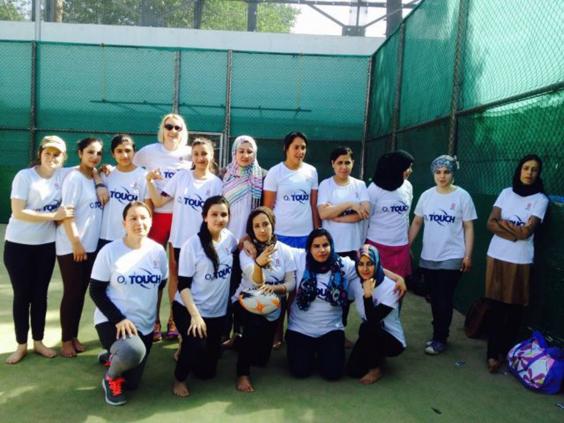 Men's rugby has already laid down tentative roots in the country, largely thanks to the enthusiasm of Asad Ziar, who founded the Afghan Rugby Federation in 2011 after learning the game while working with foreign troops. 
He has drawn parallels between the sport and buzkashi, an aggressive Afghan game in which players on horseback jostle for the carcass of a headless goat. There is a men's national rugby squad that has taken part in seven-a-side tournaments in the United Arab Emirates and the UK.
It was after meeting Mr Ziar at a British embassy event in the capital that Ms Wanduragala suggested expanding the efforts to women.
She herself took up rugby 10 years ago, having already played netball growing up in Hartlepool, and later at university. After arriving in Kabul to help co-ordinate and monitor Britain's £178m-a-year aid programme in Afghanistan, she began playing rugby with diplomats and soldiers. They used the tennis court or a nearby military helipad that periodically required everyone to pick up the cones and run off the pitch when a craft came in to land. 
Hidden Faces: Women and Girls in Afghanistan
Hidden Faces: Women and Girls in Afghanistan
1/13

Kate Holt/CARE International

2/13

Photo: Tabitha Ross/Christian Aid

3/13

Photo: Kate Holt/CARE International

4/13

Photo: Jonathan Saruk/International Medical Corps

5/13

Olivia Arthur Magnum photos for Save the Children

6/13

Afghanaid

7/13

Photo: Tabitha Ross/Christian Aid

8/13

Photo: Kate Holt/CARE International

9/13

Photo: Abbie Trayler-Smith/Oxfam

10/13

Photo: Leslie Knott/Afghan Connection

11/13

Photo: AbbieTrayler-Smith/Oxfam

12/13

Photo by Leslie Knott

13/13

Photo: AbbieTrayler-Smith/Oxfam
With the help of the Afghan women's cricket coach, she collected together a group of sporty young Afghan women between the ages of 16 and 25. They also invited five female schoolteachers, while an Afghan colleague from the DfID team was the translator.
Given that it was the first session, they started with the basics. The group played touch rugby instead of the full contact sport. "They showed a lot of talent," Ms Wanduragala said. "A couple of the younger girls got it a lot quicker than some of the others, so they were shouting at their team-mates to pass them the ball and telling them what to do."
Afghanistan still faces enormous challenges after decades of war. Apart from continued fighting between the Taliban and the Afghan National Army – now further threatened by the appearance of Isis in some regions – it remains one of the world's poorest countries, where many women still have to struggle for independence against controlling male family members for any personal autonomy.
But Ms Wanduragala believes that ingrained social views are changing. "In some parts you would still get very conservative attitudes towards women in sport, but having been there for the past year or so, I have met quite a lot of Afghan sportswomen," she said.
There is a national women's football team, a boxing team and even a women's cycling squad whose members, according to Ms Wanduragala, are "tiny" and wear jackets that make them look like the Pink Ladies from the musical Grease.
The British government is mulling over the prospects for building on the inaugural rugby session to provide more training as part of its broader efforts to improve the lives of Afghan girls and women. Ms Wanduragala's dream is to see the game expand into schools across the country. 
She stressed that it is still very early days, and it would take time and effort for a new game to take hold and grow. She is quietly confident, however, that it could happen. "The younger generation is really interested in sport and there's real potential," she said. "In the long term I'd love to see them playing in the Rugby World Cup. That would be awesome."
Reuse content