Liu Fei was nine when he became a smoker. Or, as he puts it, "a real man".
"Everyone around me smoked wherever I went so it was natural," the 31-year-old Beijinger says, lighting up another fag in the small bar he co-owns in the Dongcheng district of Beijing. "We learned to smoke to prove that we were mature guys. Real men knew how to smoke and drink, and we'd seen loads of cool characters in films smoking."
Mr Liu is hardly alone in China where 28 per cent of the population smokes (and nearly 48 per cent of men), according to the World Health Organisation (WHO).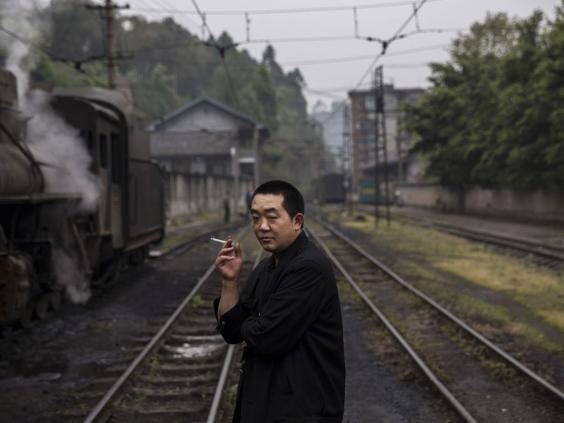 A public smoking ban that comes into effect in Beijing on Monday is likely, therefore, to face a steep challenge. Unlike in many Western countries, smoking hasn't gained the cultural stigma that its health risks perhaps deserve.
There's certainly no tone of wistful regret when Mr Liu discusses his 22 years of heavy lung abuse. He loves smoking and all his friends do it; tonight they take turns plucking cigarettes from minimally-designed packets that are unsullied by British-standard warning pictures of tumour-addled organs or rotting teeth.
When it comes to concerns about cancer, he shrugs. "I heard about a foreigner who was diagnosed with cancer – he was a non-smoker who did lots of jogging," he says. "Compare the lungs of a smoker to those of someone from a coal city and you'll get the same result," he adds, referring to China's heavily polluted industrial cities.
Like Liu Fei, many Chinese start young. Nearly 7 per cent of all 13- to 15-year-olds have smoked, according to the 2014 China Global Youth Tobacco Survey. A 2013 study by Johns Hopkins University found that 20 per cent of five- and six-year-olds expected to be smokers when they grew up, and 90 per cent of them could recognise the logo of at least one cigarette brand.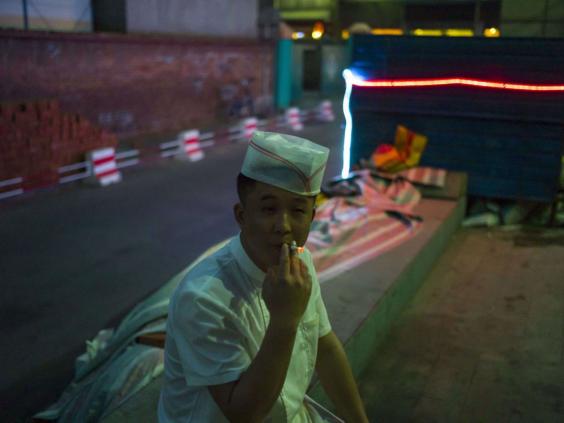 The percentage of teenagers who smoke in China is only slightly more than the UK's 6 per cent, but more than double the US rate. With China's population of 1.35 billion, that equates to a "ridiculously big" problem, says Dr Bernhard Schwartländer, the WHO's representative in Beijing.
Smoking is deeply ingrained into Chinese culture, with scant education about its dangers. Workers smoke at desks in badly-ventilated offices; tin can spittoons in public toilets overflow with fag butts; grandparents amble down rickety Beijing lanes, a cigarette in one hand and their grandchild's hand in the other. But despite this, Dr Schwartländer believes the country may be on the brink of a turning point with regard to changing children's attitudes .Earlier this month a tobacco tax increase was announced that made cigarettes less pocket-money friendly, and Beijing's public smoking ban is accompanied by prohibitions on all forms of tobacco advertising in the city.
"This Beijing ban is incredibly important – if it succeeds it will bring up all the arguments needed for a new national law," Dr Schwartländer said. "I've already had authorities in Shanghai knocking on my door asking for the WHO's help there – they're jealous of the Beijing ban and that's a good thing."
But Beijing has tried to ban smoking before and resolutely failed. A 2008 ban was viewed as a short-term effort to shore up China's international image during the Beijing Olympics. A ban issued in 2011, vague in its wording, has been largely ignored by the public.
In pictures: Air pollution in China
In pictures: Air pollution in China
1/30

Skyline of Puxi, Huangpu River and the Lujiazui Financial District with the Oriental Pearl TV Tower, right third tallest, the Shanghai Tower, right tallest, the Shanghai World Financial Center, right second tallest, and other skyscrapers and high-rise buildings in Pudong at sunrise in heavy smog in Shanghai

2/30

A commuter walks in front of the China Central Television (CCTV) building on a smoggy day in Beijing

3/30

A magpie flies in heavy pollution in Beijing

4/30

A woman wearing a mask practices roller blading at Olympic Park during heavy smog in Beijing

5/30

Cyclists and vehicles travel on a road in heavy smog in Beijing

6/30

An electronic screen is seen through pollution in Beijing

7/30

Ground-staff (L) are seen under an Air China plane at the airport on a polluted day in Beijing

8/30

A man wearing a protective mask walks in Beijing

9/30

A subway passing bridge on a day of heavy pollution in Beijing

10/30

Visitors walk toward Linglong Tower during an extremely polluted day

11/30

Policemen wear protective masks at the Tiananmen Square on an extremely polluted day as hazardous, choking smog continues to blanket Beijing

12/30

Apartment rooms are lit up with lights during daytime on an extremely polluted day

13/30

A pedestrian walks on a bridge on an extremely polluted day as hazardous, choking smog continues to blanket Beijing

14/30

A man pulls his luggage past electronic screens showing the Olympic Green park under blue skies, near the National Stadium (R), or the Bird's Nest, amid heavy smog in Beijing

15/30

Chinese workers work on a unfinished building during a hazy day in Beijing

16/30

Heavy smog is seen in Beijing

17/30

Tiananmen Square is seen in heavy smog on a day of high pollution in Beijing

18/30

A Chinese paramilitary policeman stands guard on Tiananmen Square in heavy smog in Beijing

19/30

Tourists visit the Olympic Park during dheavy smog in Beijing

20/30

woman wears a face mask next to traffic shrouded in heavy smog in Beijing

Getty Images

21/30 China

Heavy smog has been lingering in northern and eastern parts of China, disturbing the traffic, worsening air pollution and forcing the closure of schools

22/30 China

Buildings are shrouded in smog in Changsha, Hunan Province

23/30 China

A ship sails up the Huangpu River as heavy smog engulfs the city in Shanghai

24/30 China

A man looks towards a bridge in heavy fog in Beijing

25/30 China

A man and his child wear masks as they visit The Bund in Shanghai. Heavy smog covered many parts of China worsening air pollution

26/30 China

Four workers walk through a panda sculpture during severe pollution in Beijing

27/30 China

A truck containing used plastic bottles travels along a highway covered in haze in Beijing

28/30 China

An attraction for visitors on Chaotianmen beach in Chongqing. The city of Chongqing is one of the fastest-growing urban centres on the planet but it is also suffering from very high pollution

29/30 China

Smoke rising from land as Chinese farmers clear their land for replanting on the outskirts of Tianjin. China's Environment Ministry said it will send inspection teams to provinces and cities most seriously affected by smog to ensure rules on fighting air pollution are being enforced

30/30 China

Steelworkers work at the Chongqing Iron and Steel Factory in Chongqing Municipality
The 2015 ban is designed to be more enforceable by relying on public snitching. People are invited to submit photos of illegal smoking to a smartphone app, with inspectors then dispatched to investigate. Venue owners will be punished with fines and repeat offenders risk losing their licences. "Unlike last time, the law is very clear now," says Dr Schwartländer. "That's why I'm confident things will be different."
He is also heartened by anecdotal evidence that fewer families are tolerating their children smoking at home. "I have personally noticed that fewer families I know allow it. There does seem to be some kind of change happening."
The example set by the government may be helping. In 2013, President Xi Jinping banned government officials from smoking in public, while his wife, Peng Liyuan, acts as a "tobacco-control ambassador". The WHO estimates that overall smoking levels are gradually decreasing in cities such as Beijing, but not in rural areas, further from authorities' influence.
Yet the vast amount of money the government earns from the state-owned China National Tobacco Corp, the world's biggest cigarette producer, presents another serious obstacle. In 2014, the government earned 911 billion yuan (£96 billion) from tobacco tax and profits.
The health of much of the wider population's lungs could depend on the success of the Beijing ban. If things go well, it is likely to get rolled out nationwide.
"That's why this Beijing law is just so important," says Dr Schwartländer. "All our analysis shows that if the capital moves successfully on something with the support of top leaders, that can change the whole of society."
Reuse content