Yin He designs and sells gold jewellery. The 26-year-old entrepreneur has been running her Beijing business for a little over a year. May was one of her best months, coinciding with the boom in China's stock market. But since then, it's all been downhill.
In June the market experienced its first big crash, and with it her jewellery sales fell 40 per cent. July was a similar story. "People who lost a lot in the stock market also lost their willingness to buy unnecessary jewellery," she said.
And for those who have been more directly affected by the stocks market, tales of woe are common.
Lin Mo, a business reporter who runs a public WeChat account (China's answer to WhatsApp) about finance, aimed particularly at women, said she had been badly affected. "I watch [the stocks] every day. I almost cannot do anything else during trading time," she said.
Many people had made money before June, she said, but now that China's "bull market" had gone the feeling was very pessimistic.
Chinese media have been cooler in their response, though. Nor is the mood on the street one of panic – certainly not compared with the 2008 financial crisis. Coverage on Chinese television has been thorough, with reports mostly factual in content, focusing on the numbers.
While the rest of the world watched in horror as global share prices plunged this week, the People's Daily, a state newspaper, did not even mention the stock market on its front page.
But for many Chinese, the stock market tumult has been one of the biggest talking points of the year, its rise and fall influencing daily conversations as never before.
Guo Ting, 28, a purchasing supervisor at a metals trading company, started playing the stock market in February, one of a growing number of younger Chinese investors attracted by what seemed the safe bet of upward prices.
"I started because I thought it was a good time and because my friends started talking about it," she said. Her peers would share information on social media, read articles online about the rising stock market and watch similar reports on television. She invested ¥20,000 (£1,985) on three stocks: a bank, an LED producer, and a medical company – chosen, she admits, entirely by random.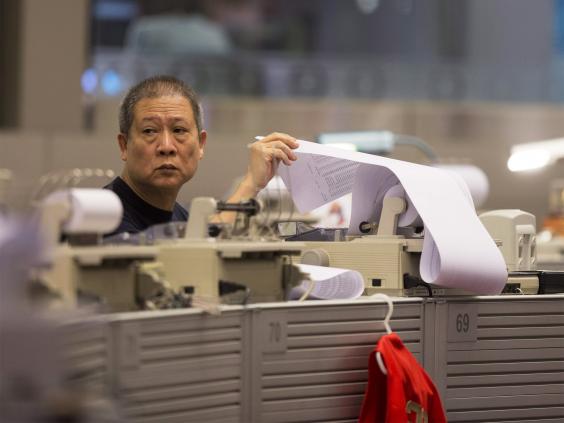 By May she had sold them all, making a profit of ¥15,000, part of which she used to buy a new 13-inch Macbook Pro. "I was so excited and felt so lucky," she recalled.
She reinvested the remainder of her money but has seen the share values steadily erode; now, after selling them again, she has only a few thousand yuan left of her original investment. Ms Guo is philosophical about the loss, which she says does not affect the quality of her life, but you can hear the sting in her voice.
The craze for playing the market was also encouraged by new smartphone apps, linked directly to bank accounts, that enable people to buy and sell shares wherever they are. "It's almost like you're playing a game," said Ms Guo.
She pulled out her phone to show the stocks she follows – a blaze of green on her screen. In China red is considered a lucky colour, so green is used to indicate when a share drops in value.
For Lin Mo, the sudden focus from abroad on the weaknesses in China's economy has been puzzling. "China's economy has been weak for years now," she said. "Why has there been such an intense reaction to the capital market these past few days?"
She remains bullish, however, and is still trading, buying stocks and watching the news. But a note of despair has crept in. "The market is so hard to comprehend. It badly affects my life. When I try to think about this year, it's all been about stocks," she said.
Reuse content