Professor Muhammad Shakeel Auj knew very well that not everyone agreed with his moderate views about Islam. There had been messages and threats over the years, some of them serious enough to warrant reporting to the police.
But the academic never stopped debating or discussing or writing. Indeed, he encouraged people to challenge him. "Convince me or be convinced," the Dean of the faculty of Islamic Studies at the University of Karachi, would say.
Last Thursday, such discussions were ended forvever. As Mr Auj made his way to a function at the city's Iranian cultural centre, two gunmen on a motorbike opened fire on his car. The 54-year-old was was fatally injured in the head while a junior teaching colleague was wounded in her arm. It was the fourth such deadly attack on the department.
Mr Auj was known as someone who had spoken out on many issues in Islam and written a number of articles. One of them had suggested Muslim women should be allowed to marry non-Muslim men. He had also said Muslim women did not need to remove lipstick or make-up before going to prayer.
In 2012, Mr Auj had complained to police that four colleagues from the university had threatened him and sent him text messages accusing him of blasphemy. They had claimed a speech he had made that year in the US represented an insult to the prophet Mohamed.
One of the academics he complained about had previously held his position within the department. The four men face charges but are currently out on bail, according to reports. They have denied any involvement in the attack.
Yet the killing is a reminder of the lethal grip exerted by Pakistan's blasphemy laws. The legislation, introduced under British rule and then tightened during the years of military dictator Muhammad Zia-ul-Haq, has become increasingly controversial and ever more deadly.
Campaigners say that the laws, which carry the death penalty, are routinely used to settle personal scores and grudges that have nothing to do with Islam.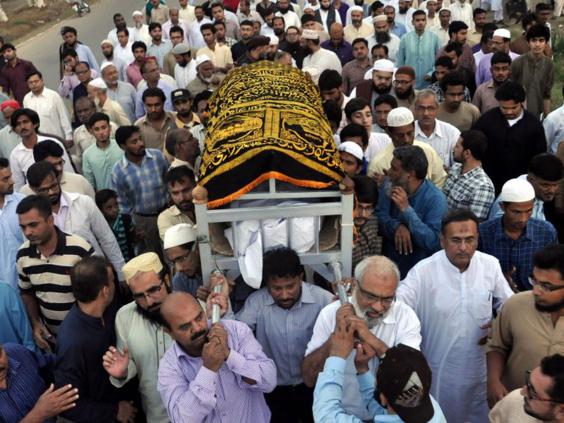 While no-one has ever been executed for blasphemy, many accused have been attacked and killed and lawyers and judges have been threatened. A recent report by a US government advisory panel said there were 14 people on death row in Pakistan and 19 others serving life sentences for insulting Islam.
Among those on death row is a 70-year-old British citizen, Muhammad Asghar, from Edinburgh, who was sentenced in January after being convicted of claiming he was a prophet. His lawyers and family said he has been suffering from mental health issues for several years.
Efforts to reform the laws by Pakistan's previous government were scrapped in the aftermath of the murder in January 2011 of Salmaan Taseer, the governor of Punjab province, who had spoken about the misuse of the laws and the need to reform them. A second politician, the then-minorities minister, Shahbaz Bhatti, who also supported reforming the laws, was murdered two months later.
Since then, efforts to reform the laws were put aside. The government of Nawaz Sharif, elected last year and whose supporters include many conservatives, has shown no interest in changing the laws.
"The momentum that the Christian and minority community felt in 2005, 2006 and 2007, has gone," said Prof Shaun Gregory, a South Asia expert from Britain's Durham University. "Nawaz and the Pakistan Muslim League-N are not persuing a liberal agenda. They are trying to reach out to conservative voters."
In May this year, the lawyer for another academic who had been accused of blasphemy was shot dead in the city of Multan. Rashid Rehman had agreed to represent Junaid Hafeez, a lecturer at Multan's Bahauddin Zakariya University, who had been accused of defaming the prophet Mohammed on social media last year.
Reports said the accusations were levelled by hardline university students who had pushed for him to be charged. Mr Rehman took on the case after no other lawyer would represent the lecturer.
In Karachi, students held a demonstration in protest over Thursday morning's killing of their teacher. They demanded the authorities do more to protect teaching staff. One placard being carried by students, read: "The murder of a teacher is a murder of the whole society,"
Muhammad Yamman Khan, 22, the youngest of Mr Auj's three sons, said his father had been flexible in in his views on Islam but that they were always based on the Koran. He said he believed there was a lot of interal "politics" within his father's department.
"He would write an article and he would encourage people to criticise or rebut him even," he told The Independent on Sunday. "He would say convince me or be convinced."
Mutahir Shaikh, Chairman of the university's International Relations Department, said this was the fourth killing of a member of the Islamic Studies Department. A lecturer and two students had previously been attacked.
"He was a very sound academician and represented the liberal tradition in the Pakistani academia," added Mr Shaikh.
A spokesman for the Karachi Police, Insp Attiq Sheikh, said investigators were looking at several possibilities. He said police were trying to establish whether the attack had a religious, professional or personal motive. "The police are also looking in other directions," he added.
Reuse content