The price of brooms has almost doubled in Delhi after an anti-corruption party swept to a landslide victory in the state elections.
Brooms are a symbol of the Aam Aadmi Party (AAP), whose supporters took to the streets in their thousands brandishing the household tools to symbolise the "cleansing" of Indian politics.
Television channel NDTV reported that the prices of brooms rose dramatically as votes were counted and the party's victory looked ever more  certain.
Prices topped 100 rupees (£1) in Delhi's Gole Market – twice the normal price.
"Last night, there were some brooms in my shop but now can you spot any? The last piece I sold for Rs 120 (£1.20)," a shopkeeper told NDTV.
Broom wholesalers were reportedly struggling to meet demand as they flew off the shelves, with retailers raising the price because of the shortage.
"I don't want to go into politics but yes I am selling brooms for Rs 30 more," a shopkeeper in Burari, north Delhi, admitted.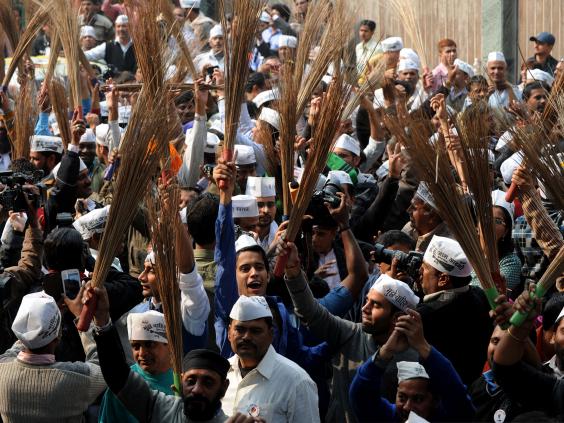 Arvind Kejriwal, the AAP leader and Delhi's new chief minister, deliberately chose the broom as the symbol of his party in 2013 in preparation for elections.
"I am hopeful with this broom we will be able to cleanse society. With this, the cleansing of nation and politics has begun," he said at the time.
The AAP won 67 of the 70 seats in the Indian capital's Legislative Assembly, beating the governing Bharatiya Janata Party (BJP) into second place with just three seats.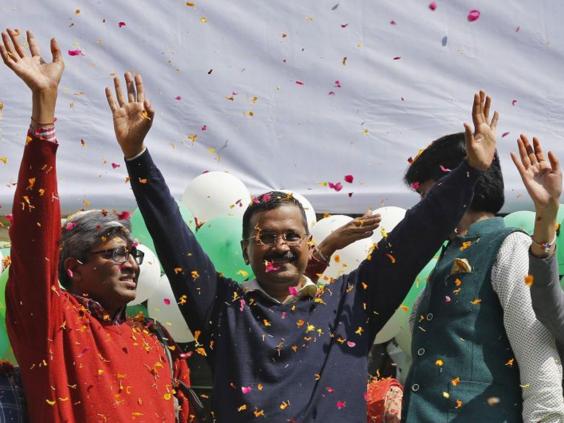 The result was a huge embarrassment for the Prime Minister, BJP leader Narendra Modi, who congratulated his rival after the results were announced on Tuesday.
It follows a successful run by the Hindu BJP, which backed up its general election victory with positive poll results.
Its traditional opposition party, Congress, has been thrown into disarray by the Delhi elections, with its campaign chief resigning after it failed to win a single seat.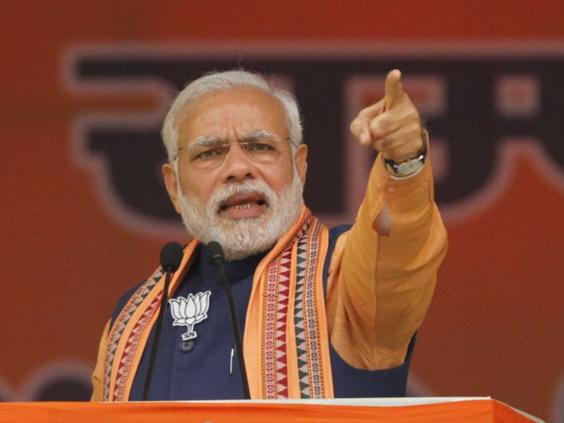 Mr Kejriwal has invited all of Delhi to his swearing in ceremony on Saturday, the BBC reported.
"I'm not the chief minister, you are all Delhi's chief minister," he said in a public radio address.
A former tax inspector, Mr Kejriwal, left the civil service in 2006 to fight corruption and launched the AAP six years later to fight bribe taking.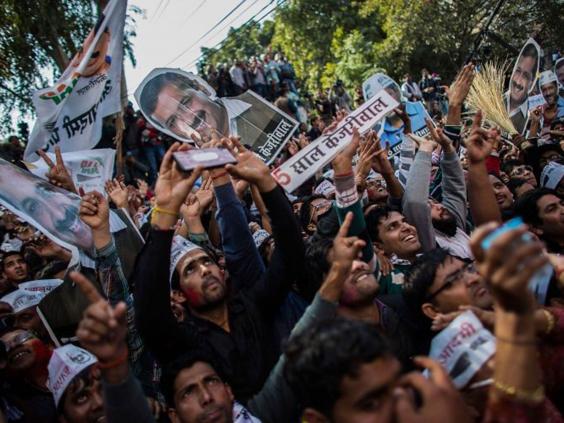 He previously became Delhi's chief minister in 2013 but stood down after just 49 days when an anti-corruption bill supported by his party was blocked.
The AAP, whose name translates roughly as the "common man's party", has growing support among India's working class and those disaffected with widespread corruption in politics and administration.
Its other policies include subsidising electricity and water, making wi-fi free in public places across Delhi, improving safety for women and opening new colleges.
Reuse content