China has reportedly deployed surface-to-air missiles on disputed islands in the South China Sea, in an apparent response to so-called "freedom of navigation" fly-bys conducted by the US.
American and Taiwanese officials said missile batteries had been set up on Woody Island, part of the Paracels chain that has been under Chinese control for more than 40 years – but which is also claimed by Taiwan and Vietnam.
Speaking in Beijing, Chinese officials denied the reports, but foreign minister Wang Yi told reporters any "self-defence facilities" that might be stationed on the islands were "consistent with the right to self-protection that China is entitled to under international law so there should be no question about it".
The deployment was first reported by Fox News in the US, citing American defence officials. Mr Wang said "certain Western media" would be better off focussing on China's construction of lighthouses to improve the safety of shipping in the region.
It represents a ramping up of both the military presence and rhetoric in the South China Sea, where islands are variously claimed by the Philippines, Malaysia, Vietnam, Brunei and China itself.
Admiral Harry Harris, commander of the US Pacific Command, said the missiles would not deter American "freedom of navigation operations", but he did say they were a concern and contrary to China's promises not to militarise the region.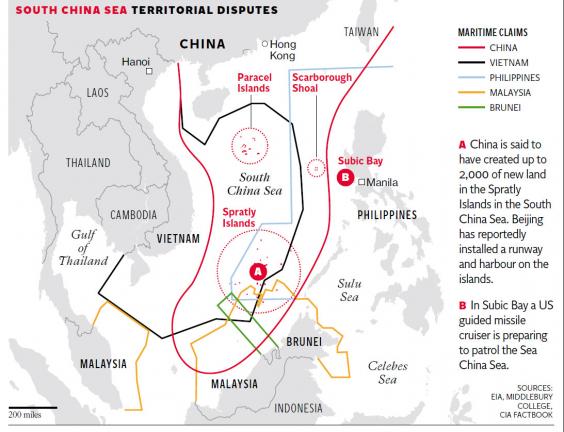 Mira Rapp-Hooper, a South China Sea expert from the Centre for a New American Security, told Reuters the missiles were a "considerable development" in the dispute.
"If they have been deployed they are probably China's effort to signal a response to freedom-of navigation operations, but I don't think it is a totally unprecedented deployment," she said.
Taiwan President-elect Tsai Ing-wen said tensions were now higher in the region.
"We urge all parties to work on the situation based on principles of peaceful solution and self-control," Tsai told reporters.
China's most dramatic militarisation effort in the region has been on the disputed Spratly Islands, considerably further south from the Paracels towards the Philippines and Brunei.
China's territorial disputes
China's territorial disputes
1/5 South China Sea

A satellite image of what is claimed to be an under-construction airstrip at Fiery Cross Reef in the Spratly Islands in the disputed South China Sea

2/5 South China Sea

Chinese dredging vessels are purportedly seen in the waters around Mischief Reef

3/5 South China Sea

A Chinese Guided Missile Frigate Hengshui docked at a port in Yalong Bay in Sanya, south China's Hainan Province. China's military compared its controversial island reclamation project in the South China Sea to ordinary construction going on in other parts of the country, such as the building of roads and apartments

4/5 South China Sea

The alleged on-going land reclamation of China at Subi reef is seen from Pagasa island (Thitu Island) in the Spratlys group of islands in the South China Sea, west of Palawan, Philippines

5/5 South China Sea

U.S. military forces aboard Amphibious Assault Vehicles (AAV) manuevre on South China Sea near the shore of San Antonio, Zambales during the annual "Balikatan" (shoulder-to-shoulder) war games with Filipino soldiers in northern Philippines. The U.S. Marine Corps is bringing together foreign commanders from amphibious forces deployed mostly in the Asia-Pacific for a conference aimed at taking initial steps to integrate their operations, with China excluded from the event, according to officials and planning documents
Satellite images there show on island which was little more than a reef has been turned into an enormous military base, complete with a deep-water sea port and airstrip.
The deployment on Woody Island is suspected to involve an HQ-9 air defence system which, with a range of 125 miles, would pose a threat to any aircraft flying over the whole of the Paracel Islands chain.
Ni Lexiong, a naval expert at the Shanghai University of Political Science and Law, defended China's move.
"Woody Island belongs to China," he said. "Deploying surface-to-air missiles on our territory is completely within the scope of our sovereign rights. We have sovereignty there, so we can choose whether to militarise it."
Reuse content