Construction of a bridge, set to become to longest glass-bottomed walkway in the world, is underway in China.
The bridge, in the Tianmenshan National Forest Park in Zhangjiajie, will stretch 430m across a deep gorge with a terrifying 300m drop to the bottom of the valley.
It has cost approximately £2.6 million to build and will have a maximum visitor capacity of 800 people.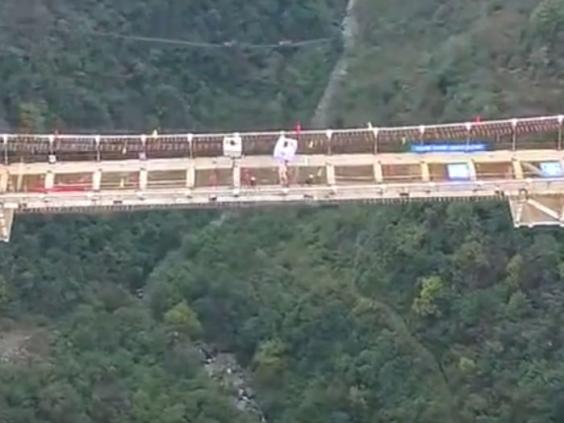 Comparatively, those walking across the glass walkway above the Grand Canyon in Arizona will only have to endure seeing a 220m drop beneath their feet.  
The final steel decks were added to the bridge last month, however glass panels are still yet to be fitted and it will be officially opened to the public by June this year, according to Mashable.
Once completed tourists will be able to bungee jump and zip line from the bridge.
The bridge's designer said the walkway has been constructed in conjunction with the complex geography of the National Park's canyon and is built to withstand the fast wind speeds that flow through the area.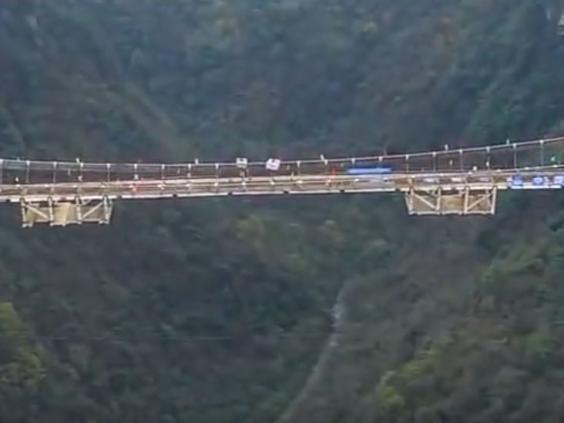 Wan Tianbai, deputy chief engineer of China Railway Major Bridge Reconnaissance and Design Institute, told People's Daily Online: "When lots of people walk on the bridge in quick progression, it is easy to cause resonance, which can lead to structural deformation.
"To avoid this, we placed a number of giant glass balls on the deck to restrain vibration."
Each glass ball is estimated to weigh 850lb and have been placed irregularly to interrupt the tread of pedestrians and restrain any vibrations.
This is not the first bridge of its kind to be built in China, in September the country opened a glass-bottomed suspension bridge in Shiniuzhai Geopark, nearly 200m above the ground.
It was previously the longest bridge of its kind in the world, at nearly 300m long, however the Zhangjiajie bridge will eclipse this.
Designed with thrill-seekers in mind, the walkway was dubbed the 'hero bridge' by the Chinese press because of how much courage it takes to cross.