China has said it will finish its man-made islands in disputed areas of the South China Sea within days, heightening tensions with neighbouring countries.
Taiwan, Vietnam, the Philippines and Malaysia all claim various islands and reefs in the Spratly Islands, many of which are occupied by military forces.
Lu Kang, a spokesperson for the Ministry of Foreign Affairs announced the approaching completion of land reclamation today, calling the work "lawful, reasonable and justified".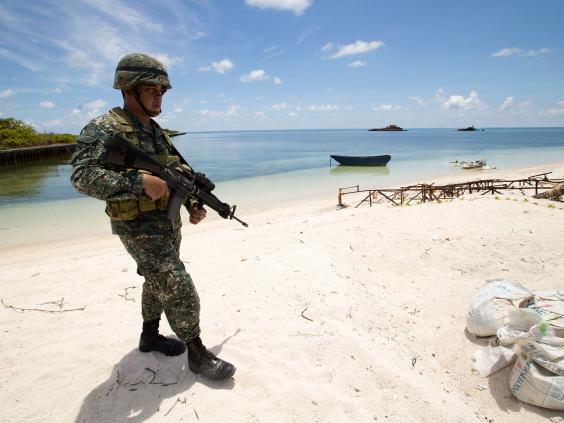 "They are not targeted at any other country, do not affect the freedom of navigation and overflight enjoyed by all countries in accordance with international law in the South China Sea, nor have they caused or will they cause damage to the marine ecological system and environment in the South China Sea, and are thus beyond reproach," he added.
That claim is likely to be examined by the US military, following an incident last month where a Navy plane flying near one of the reclaimed islands was repeatedly challenged by the Chinese military and told to leave the area.
Mr Lu admitted that the islands satisfy "the need of necessary military defence" but insisted the main purpose was peaceful, including plans for maritime search and rescue, disaster prevention, marine scientific research, meteorological observation, conservation, navigation and fishing.
China's territorial disputes
China's territorial disputes
1/5 South China Sea

A satellite image of what is claimed to be an under-construction airstrip at Fiery Cross Reef in the Spratly Islands in the disputed South China Sea

2/5 South China Sea

Chinese dredging vessels are purportedly seen in the waters around Mischief Reef

3/5 South China Sea

A Chinese Guided Missile Frigate Hengshui docked at a port in Yalong Bay in Sanya, south China's Hainan Province. China's military compared its controversial island reclamation project in the South China Sea to ordinary construction going on in other parts of the country, such as the building of roads and apartments

4/5 South China Sea

The alleged on-going land reclamation of China at Subi reef is seen from Pagasa island (Thitu Island) in the Spratlys group of islands in the South China Sea, west of Palawan, Philippines

5/5 South China Sea

U.S. military forces aboard Amphibious Assault Vehicles (AAV) manuevre on South China Sea near the shore of San Antonio, Zambales during the annual "Balikatan" (shoulder-to-shoulder) war games with Filipino soldiers in northern Philippines. The U.S. Marine Corps is bringing together foreign commanders from amphibious forces deployed mostly in the Asia-Pacific for a conference aimed at taking initial steps to integrate their operations, with China excluded from the event, according to officials and planning documents
Consultations will continue towards a new "code of conduct" aimed to lessen tensions in the South China Sea and China is working with members of the Asean group of Southeast Asian nations, he added.
"China will continue to uphold the freedom of navigation as well as peace and stability in the South China Sea," Mr Lu said.
The disputed islands lie amid some of the world's busiest shipping lanes, rich fishing grounds and potential undersea reserves of oil, gas and minerals.
The reclamation work has sparked fears China will use the artificial islands as military bases and to assert control over navigation in the South China Sea, most of which it asserts a claim to.
According to the US, Beijing's building programme on reefs and atolls now totals more than 2,000 acres and includes up to two airstrips capable of handling large military planes.
The issue was raised in a meeting between China's defence minister, Fan Changlong, and the US Defence Secretary earlier this month.
Ash Carter called on China and others to "implement a lasting halt on land reclamation", while Vietnam has also sent envoys to Beijing.
Following the installation of a Chinese oil rig in the disputed waters last month, the British government warned against increased tensions.
Hugo Swire, a foreign minister, said: "We urge all parties to exercise restraint and seek to de-escalate the situation."
Additional reporting by AP
Reuse content