A BBC reporter has been threatened by the Chinese navy while flying over disputed island chains where secretive construction has raised fears of a new regional arms race.
China is one of several countries, including Vietnam and the Philippines, controlling islands, reefs and atolls in the South China Sea amid conflicting territorial claims.
World leaders have called for all involved countries to lower tensions by pledging to halt further land reclamation and militarisation but satellite images show construction continuing at an incredible rate on Chinese-controlled reefs, including a 10,000-foot airstrip on one of the sites.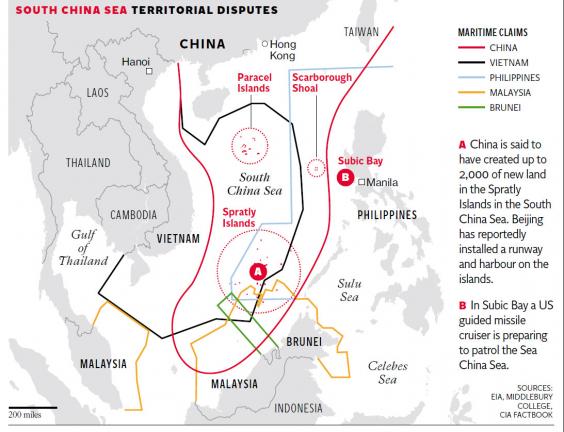 BBC correspondent Rupert Wingfield-Hayes and his crew took a plane to investigate the work earlier this month, sparking a confrontation with the Chinese military.
He reported that the Chinese embassy warned of "problems" if the flight was attempted before they took off from the Philippines in a Cessna 206 with two pilots, an engineers and cameraman.
Under the UN Convention on the Law of the Sea (Unclos), which was ratified by China, it cannot claim reefs and other structures below the sea's surface as sovereign territory, nor anything built on top of them.
A border of 12 nautical miles can be claimed at sea and in the air around natural islands but as many of China's reefs in the Spratly Island do not meet that definition, they are not its territory and borders cannot be enforced.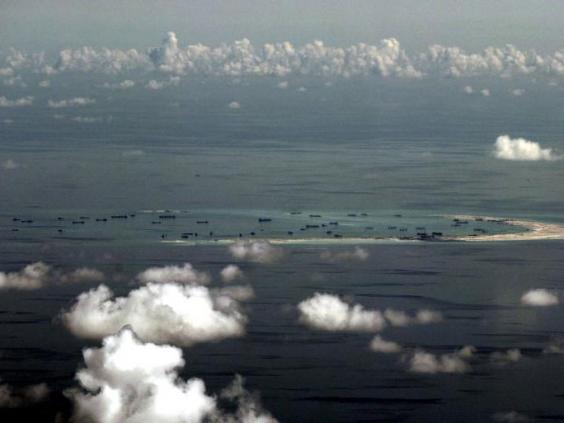 But the international laws seemed to be ignored when the BBC's plane approached, with the first warning coming near Nanxun Reef, accusing the tiny propeller plane of being a "military aircraft".
"Unidentified military aircraft in west of Nanxun Reef, this is the Chinese Navy. You are threatening the security of our station! In order to prevent miscalculation leave this area immediately," it reportedly said.
The plane moved away but further threats came in within 20 nautical miles of Yongshu Island, when another message said it was "threatening security".
Eventually the aircraft managed to close in on Mischief (Meiji) Reef, which has been transformed by construction since 2012, but further warnings came in over the radio and reportedly continued after pilots stated the plane was a Philippine civilian aircraft en route to Palawan.
Images taken by the BBC showed a huge new runway, ships, military vehicles, troops and continuing land reclamation and building work.
China's territorial disputes
China's territorial disputes
1/5 South China Sea

A satellite image of what is claimed to be an under-construction airstrip at Fiery Cross Reef in the Spratly Islands in the disputed South China Sea

2/5 South China Sea

Chinese dredging vessels are purportedly seen in the waters around Mischief Reef

3/5 South China Sea

A Chinese Guided Missile Frigate Hengshui docked at a port in Yalong Bay in Sanya, south China's Hainan Province. China's military compared its controversial island reclamation project in the South China Sea to ordinary construction going on in other parts of the country, such as the building of roads and apartments

4/5 South China Sea

The alleged on-going land reclamation of China at Subi reef is seen from Pagasa island (Thitu Island) in the Spratlys group of islands in the South China Sea, west of Palawan, Philippines

5/5 South China Sea

U.S. military forces aboard Amphibious Assault Vehicles (AAV) manuevre on South China Sea near the shore of San Antonio, Zambales during the annual "Balikatan" (shoulder-to-shoulder) war games with Filipino soldiers in northern Philippines. The U.S. Marine Corps is bringing together foreign commanders from amphibious forces deployed mostly in the Asia-Pacific for a conference aimed at taking initial steps to integrate their operations, with China excluded from the event, according to officials and planning documents
Communications intercepted by the aircraft showed that Australian aircraft were also flying over the area, broadcasting messages to the Chinese Navy saying they were exercising "freedom of navigation rights in international airspace".
Australia's Defence Department confirmed one of its aircraft was involved in "a routine maritime patrol" over the South China Sea from 25 November to 4 December. 
The US has also conducted several high flights in the area, including by bomber planes, and sailed its naval ships through the region. 
Admiral Scott Swift, Commander of the American Pacific Fleet, has warned that a possible arms race in the South China Sea could engulf the region.
"My concern is that after many decades of peace and prosperity, we may be seeing the leading edge of a return of 'might makes it right' to the region," he said on Monday.
"Claimants and non-claimants alike are transferring larger shares of national wealth to develop more capable naval forces beyond what is needed merely for self-defence."
Hong Lei, a spokesperson for the Chinese Foreign Ministry, said: "Certain countries are exaggerating tensions in the South China Sea region, which is in reality to create confusion and meddle…China is resolutely opposed to this."
When asked about the Australian flight, he said countries outside the region should "respect other nations' sovereignty and not deliberately complicate the issue", adding:  "There is no problem with freedom of navigation and overflight in the South China Sea."
Meanwhile, the Hague's Permanent Court of Arbitration continues to examine the case between the Philippines and China as Manila attempts to have its sovereign right to a maximum 200-mile "exclusive economic zone" from its coast enforced.
Additional reporting by Reuters
Reuse content