A man was forced to have his foot amputated after trapping it in an escalator at a Chinese shopping mall – just days after a woman was killed in an escalator accident that shocked the country.
The shopping mall cleaner, 35, who has been identified only as Zhang, was mopping the escalator's steps on Saturday when he caught his left foot between the stairs and the floor plate, the South Morning China Post  reported.
Zhang's foot was so seriously damaged that Shanghai doctors were forced to carry out an amputation to prevent further deterioration.   
Zhang told Eastday.com that the escalator began to shake when his foot became trapped.
"The escalator did not stop," he said, "I had to press the emergency button."
Emergency services spent 20 minutes trying to free him according to reports.
Chinese state television service CCTV has said that he is still recovering in hospital.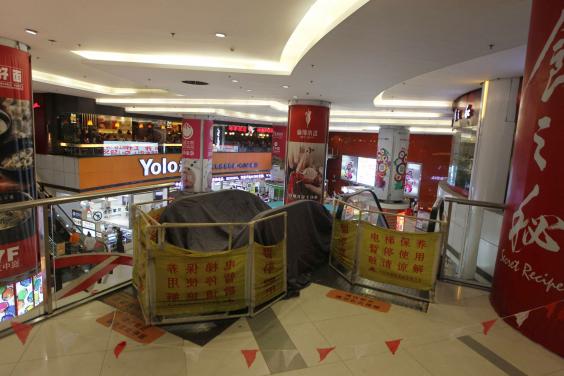 In a statement the shopping mall in Changning district said that Zhang had "improperly" stepped on his mop.
"The brush of the mop was trapped inside the gap in the stairs," the statement said, "which caused cracks in the comb plate."
This is the second serious escalator incident to have taken place in China.
Last week, Xiang Liujuan, 30, was killed after falling through an escalator floor plate at a shopping mall in Jingzhou in southern Hubei.
Xiang, who was with her two-year-old son at the time, managed to push him to safety before being dragged into the machinery.
Local media reported that the floor plate had been left loose after maintenance work had been carried out on the escalator.
37 people were killed in China in escalator accidents last year, according to the South China Morning Post. The country has almost 3.6 million registered escalators in total.
Reuse content