A Chinese tourist had to get stitches on her nose after a reticulated python bit her when she tried to kiss it during a snake show in Thailand.
A video clip of the incident in Phuket shows two snake handlers holding a python up to a pair of tourists.
The woman wearing a backpack leans forward to kiss the snake, when it suddenly launches at her and grabs her nose.
The crowd can be heard screaming while the handler closest to her tries to pry the snake off, and the other winces.
Local news outlet Phuket News identified the woman as Jin Jing, 29, and said she was taken for treatment to Phuket International Hospital in Phuket Town.
Ms Jin Jing posted a selfie after she received stitches for the bite, which was circulated on Chinese social media.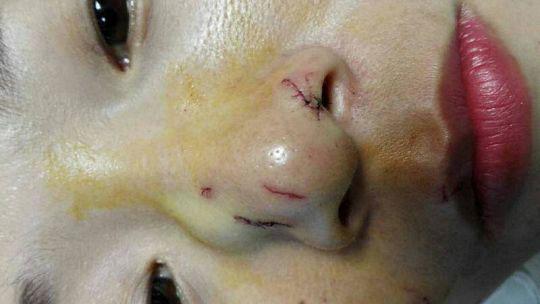 The python, a non-venomous snake, is understood to be a regular part of a tourist attraction snake show held by the Phuket Biotechnology Institute in Chalong.
According to the Bangkok Post, the company offered 135,000 baht (approximately £2,550) to Ms Jin Jing as compensation for her medical bills, pain and stress.
Reuse content