A diesel-fired portable generator sits in pride of place on a wooden table in the compound of Haji Abdul Tanai's mud house.
A motley crowd of inquisitive children watches intently as he goes about what has become his daily routine since he bought this used generator for $250 (£165) from a shop in Kabul, 15 miles away.
Through his thick spectacles, Mr Abdul checks the oil and coolant levels of the generator, cleans the terminals and inspects the wires. "I don't want anything to go wrong," says the 60-year-old, wiping black stains of grease off his palms.
The generator, Mr Abdul's most prized possession, will be put to the test today in his village, Ahmazazai, when Afghanistan makes its ICC Cricket World Cup debut against Bangladesh in Canberra, Australia.
With the electricity supply erratic and power cuts long and unplanned throughout most of the country, no one in the village – as in much of Afghanistan – is taking any chances. "We don't want to miss the match. The whole village is banking on this generator," Mr Abdul told The Independent.
Its electricity will power his neighbour Haji Mohammad's newly installed satellite dish and the attached television. "The entire village will gather to watch the match," said Mr Mohammad. "Arrangements are being made so that everyone enjoys the game." He pointed to a pile of worn-out mats, collected from around the village and haphazardly thrown down by the low boundary wall. "Children will sit on rugs, men on plastic chairs and women on wooden cots behind a makeshift veil. It will be a visual feast."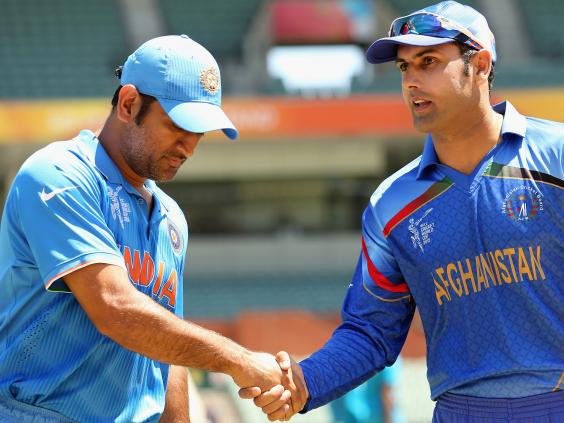 The preparations in this village near Kabul reflect the mushrooming interest in cricket in Afghanistan over the past few years. The game has done to this war-ravaged nation what repeated government attempts failed to do – it has blurred ethnic and tribal fault lines, evoked a sense of national pride, and given the people hope and a reason to cheer.
"For once, people are talking of Afghanistan as a nation," Mohammad Nabi Eisakhil, captain of Afghanistan's World Cup squad, said minutes before departing for Australia. "This isn't just a game, this isn't just about winning, it's about bringing joy to a shattered nation, it's about bringing the people together. We are carrying dreams on our shoulders."
Eisakhil's words have a deep resonance and carry a message far beyond the pitch for which he is about to pad up. For cricket has not only brought Afghanistan together; it has, at least for now, dissolved the bitterness that came to define relations between Afghanistan and neighbouring Pakistan.
Cricket World Cup 2015: 10 young players to watch
Cricket World Cup 2015: 10 young players to watch
1/10 Usman Ghani, 18, Afghanistan

At just over 18 years old, Ghani is the youngest player at the tournament, but the attacking opener already has an ODI century to his name. If the Aghans are to spring a shock, much will depend on him getting them off to a good start.

AFP/Getty Images

2/10 Pat Cummins, 21, Australia

With his wonderful action and searing pace, Cummins burst onto the scene when he took seven wickets as an 18-year-old Test debutant against South Africa. Terrible injuries have prevented him from adding to his solitary Test cap, but now the stage is set for Cummins to re-establish himself as one of cricket's hottest talents.

Getty Images

3/10 Mominul Haque, 23, Bangladesh

A compact left-handed batsman, Haque will occupy the No.3 spot in the Bangladeshi batting order. He has already made 24 ODI appearances, but thus far has enjoyed more success in the longer format - in 12 Test appearances he has plundered almost 1200 runs at 63.05, with four centuries.

AFP/Getty Images

4/10 Jos Buttler, 24, England

One of the genuine box-office talents in the England squad, Buttler's 121 against Sri Lanka last summer was the most eye-catching innings of the season. His keeping needs work, but as a mid- to lower-order batsman he has the talent to change the course of a game in the blink of the eye.

Getty Images

5/10 Akshar Patel, 21, India

One of the few positives of India's disastrous recent Tri-Series with Australia and England was the consistency of Patel, who was miserly and probing with his tight left-arm spin. He enjoyed a superb 2014 IPL season with 16 wickets and an economy rate of just 6.22 for Kings XI Punjab.

AFP/Getty Images

6/10 George Dockrell, 22, Ireland

Despite having been a mainstay of the Ireland side since his debut in 2010, and with four county seasons at Somerset under his belt, Dockrell is still only 22. The canny spinner was named the ICC Associate Player of the Year in 2012, and he has been touted to follow Eoin Morgan into England colours.

AFP/Getty Images

7/10 Kane Williamson, 24, New Zealand

Williamson is the most consistent performer in a dangerous New Zealand batting line-up, his devastating recent form in all forms of cricket cementing his reputation as one of the most exciting, talented batsmen in world cricket. Having recently had his action cleared, he can now resume bowling his useful off-spin.

Getty Images

8/10 Ahmed Shehzad, 23, Pakistan

Despite his tender age, Shehzad boasts a wealth of experience, with over 50 ODI appearances and six centuries to his name. More of a classical, patient opener than a David Warner-esque pinch-hitter, he will lay the foundation from which Pakistan's big-hitting middle order can tee off.

AFP/Getty Images

9/10 Quinton de Kock, 22, South Africa

Since making his debut just after his 20th birthday, De Kock has been an aggressive, punchy performer at the top of the South African order, plundering six hundreds in just 36 matches. A tidy gloveman, who by taking over keeping duties has allowed AB De Villiers to focus on his batting, to devastating effect.

AFP/Getty Images

10/10 Tendai Chatara, 23, Zimbabwe

An athletic opening bowler with a curious, idiosyncratic action, Chatara takes the ball away from the right-hander at decent pace and is Zimbabwe's key strike bowler. His maiden Test five-wicket haul set up a famous victory over Pakistan in 2013.

AFP/Getty Images
Cricketers and enthusiasts of the game in Afghanistan gratefully acknowledge the role of Pakistan, where the journey of Afghan cricket began in the 1990s.
At that time, most of the current crop of Afghan sporting heroes was living in refugee camps in Pakistan, having escaped the civil war and tyranny of the Taliban that had banned cricket back home.
While there, it was difficult for Afghan youngsters to overcome Pakistan's national obsession with the game, which would often acquire manic proportions, especially when the country played its traditional rival India.
"Whenever Pakistan won a cricket match against India, there would be spontaneous celebrations in the streets," recalls Mohammad Sami, a Kabul resident who lived in a refugee camp in Pakistan in the 1990s.
"Revellers would beat drums, burst crackers, ride on top of cars shouting slogans in praise of their heroes. Afghan refugees like me would also join such victory parades."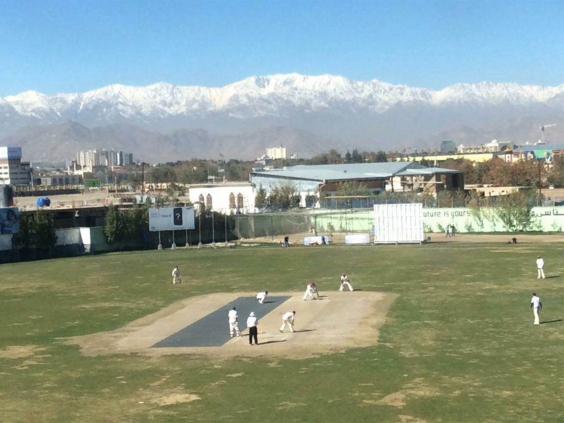 Cricket fever has now touched a similar high in Afghanistan. While people like Mr Abdul and Mr Mohammad have pooled their limited resources to make the most of the 44-day cricket extravaganza, merchants and businessmen have arranged for matches to be shown on big screens being erected in town squares and provincial capitals. "I'm going to be allowing people to watch the game on a huge screen in Jalalabad city," said Haji Zarjan, a trader in dried fruits.
Keeping up with the tempo, some local traders have announced cash rewards for players who excel in the tournament – a Kandahari property developer, Munir Khan, has promised to give batsman Asghar Stanikzai $10,000 (£6,500) if he scores a century against Bangladesh, while Shamim Katawazi, a trader from Paktika, has promised $10,000 to any Afghan bowler who gets five wickets in a match.
Dealers of electrical goods in Kabul say sales of generators, televisions and satellite dishes have boomed in the run-up to today's match. "I've sold 50 television sets in the last two weeks compared with five or six a month before January," said Janbaz Khan, who owns a shop in Kabul's Electric Avenue market.
The Afghan security forces and the Taliban, too, seem to be consumed by the cricket frenzy. A senior Afghan official told The Independent that the two sides had agreed in back-channel talks to observe "unofficially" a ceasefire on days when the Afghan cricket team is playing.
Shah Jahan, an Afghan National Army commander in the south-eastern province of Paktika, summed up the mood: "If we don't fight, we, too, can enjoy the game."
Reuse content