They are the life blood of any Indian city, but street food sellers in Delhi say their livelihoods are being threatened by the authorities' plans to open canteens across the capital, selling meals for as little as five rupees – or around 5p.
The so-called "common man canteens", bearing the name of the populist Aam Aadmi Party (AAP) that rules Delhi, promise freshly cooked, nutritious meals prepared in hygienic kitchens for the city's bulging ranks of the poor and needy.
"Whether it is a college-going youth or an office-going executive or a small trader, everyone feels the pinch of having a good meal at food stalls and restaurants," the city's authorities said in a statement announcing the roll-out of the canteens, the first of which is set to open within two months.
However, the thousands of hawkers serving up piping hot curries on Delhi's bustling street corners fear the scheme will tempt away their regular customers.
For labourers, rickshaw drivers and other low wage earners on meagre daily incomes of a few hundred rupees, a cheaper lunch is sure to be attractive.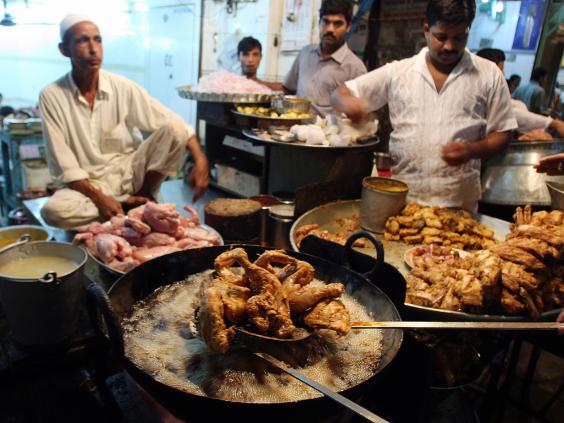 "We will not let the canteens happen," Arbind Singh, from India's National Association of Street Vendors told The Independet on Sunday. He claimed his members were already penalised by typically having to pay bribes to city officials and police to maintain their pitches  and has demanded an urgent meeting with the Delhi authorities.
Officials say they have studied the budget "mother restaurants" in the southern state of Tamil Nadu, introduced by its popular matriarch leader, which serve up fresh local dishes for next to nothing and have been widely praised for their success. 
This new scheme of the chief minister of Delhi, Arvind Kejriwal, promises to trump the smattering of stalls in the capital brought in by the previous administration that dish out daal, rice and vegetables for around 20 rupees.
"For a daily-wager, spending up to 20 rupees on a meal is not a small amount," said Ashish Khetan, of the Delhi Dialogue Commission, which was behind the common man canteen idea.
Mr Singh believes that the proposed scheme should look to subsidise the food sold by existing vendors.
"Street food vendors already provide cheap food at convenient locations. These people are already linked to the community… The government should integrate them into their projects," he said.
Street traders fear the new establishments will be far more widespread than the existing government stands, which number 38 in a city of 17 million people. At one of the battered yellow cabins during the lunchtime rush, diners were largely unaware of the new plans, but many were encouraged to hear that prices would be low.
"If it's funded by a subsidy and taxpayers' money – why not make it free?" asked Anirudh, a teacher, who, like many Indians, goes by only one name .
The common man canteens form part of a raft of pro-poor measures promised by the Kejriwal's AAP since it returned to power in Delhi earlier this year.
The ingredients that make national dishes national dishes
The ingredients that make national dishes national dishes
1/26 African: caraway

Rex

2/26 American: apple

Getty

3/26 Asian: sesame oil

Rex

4/26 Cajun/Creole: okra

Getty

5/26 Central/South American: avocado

Getty

6/26 Chinese: peanut oil

Rex

7/26 Eastern European/Russian: egg noodle

Rex

8/26 English/Scottish: current

Creative Commons

9/26 French: tarragon

Craetive Commons

10/26 German: sauerkraut

Creative Commons

11/26 Greek: feta cheese

Creative Commons

12/26 Indian: Black mustard seed oil

Creative Commons

13/26 Irish: whisky

Getty

14/26 Italian: romano cheese

Cretive Commons

15/26 Japanese: katsuobushi

Creative Commons

16/26 Jewish: apricot

Getty

17/26 Middle Eastern: roasted sesame seeds

Rex

18/26 Scandinavian: herring

Getty

19/26 Southern states: corn grit

Creative Commons

20/26 Southwestern: black beans

Creative Commons

21/26 Spanish/Portuguese: saffron

Getty

22/26 Thai: galangal

Creative Commons

23/26 Vietnamese: Thai pepper

Creative Commons

24/26 Moroccan: caraway

Creative Commons

25/26 Mexican: avocado

Creative Commons

26/26 Mediterranean: feta cheese

Creative Commons
Mr Kejriwal surprised the country when his newly formed party emerged victorious in the state elections in 2013, after campaigning on an anti-corruption platform.
However, the upstart former tax inspector resigned after only 49 days in office when he failed to get a key bill passed.
In state elections in February, the AAP won by a landslide, capturing 67 out of 70 seats in the Delhi assembly in a major upset for India's ruling BJP party, led by the Prime Minister Narendra Modi.
Mr Kejriwal has since adopted a confrontational, anti-establishment stance, launching attacks on the central government and demanding extra powers for Delhi.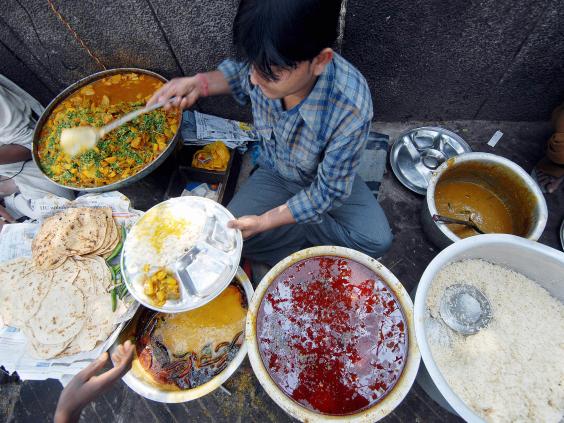 The proposed new canteens chime with other promises that court poor voters, such as to halve electricity bills, provide clean drinking water for all and open a thousand "common man clinics" across the capital this year.
On the streets of Delhi, at one corner stall doing brisk trade in meals for around 50 rupees, the stand's owner, Yogesh Kumar, was defiant, confident that his offerings would continue to attract customers despite the new competition.
"My food is more oily and spicy," he said distributing freshly baked naan and chillis to accompany the main dishes.
"And we also serve salad."
Reuse content